Stateline
Coronavirus and the States: Unemployment Sites Jam, Evictions Pause and More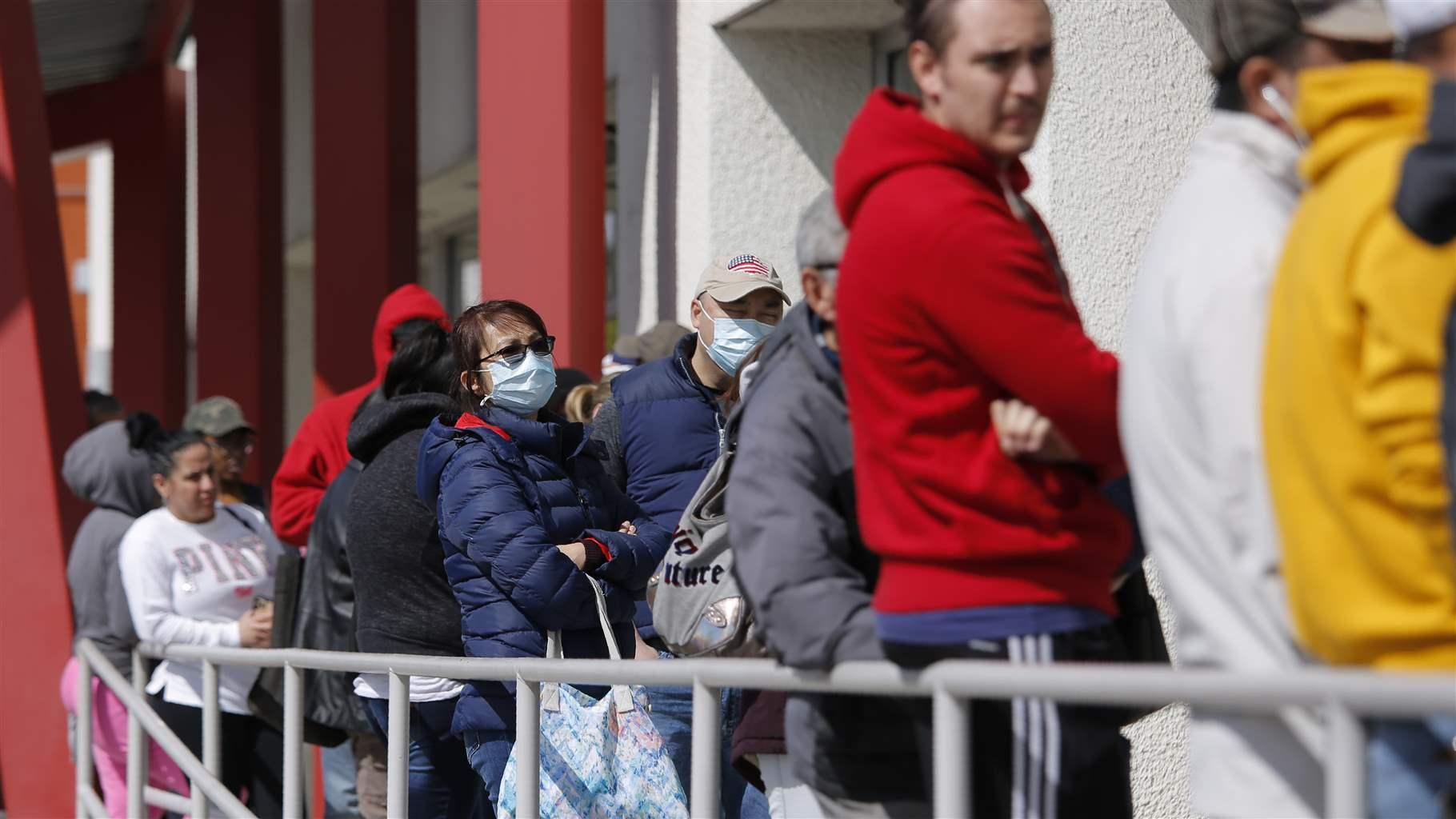 Read Stateline coverage of the latest state action on coronavirus.
A wave of laid-off workers, mostly from restaurants and bars that together form the nation's largest private employer, overwhelmed state unemployment systems as states relaxed rules on coronavirus-related unemployment insurance.
Northeastern and New England states were the first to see websites jammed by new jobless claims, as more governors opted to close restaurants and other public gathering places.
At least 20 states and the District of Columbia have announced emergency help for laid-off workers, usually waiving waiting periods for benefits and extending temporary benefits during the crisis, according to Stateline research.
In New York, New Jersey and Connecticut, online systems jammed as thousands took advantage of emergency rules allowing internet applications for unemployment benefits without the usual waiting period and in-person appearance.
Connecticut claims reached about 12,000 yesterday and 30,000 in the past week, 10 times the rate before the crisis, threatening to deplete the state's reserve funds. A record 15,000 filed in New Jersey Monday.
Rhode Island estimated that almost 7,000 people filed for unemployment Monday, compared to 160 the previous Monday. Thousands of restaurant workers in New Hampshire faced layoffs, according to Republican Gov. Chris Sununu, who ordered restaurants to cease dine-in operations.
If claims in Rhode Island reach 10,000 a day, the state's unemployment funds would run out in about six weeks, Democratic Gov. Gina Raimondo estimated.
In Colorado, the Department of Labor and Employment announced more than 6,800 "attempts to file" for unemployment insurance Tuesday before the state's system was shut down for maintenance.
U.S. Treasury Secretary Steven Mnuchin warned that the unemployment rate could hit 20% if federal stimulus funds don't stop layoffs. An emergency bill pending in the U.S. Senate would help states with unemployment benefits once their unemployment rates rise above 10%.
Some of the fastest-growing state economies in the West and South are based heavily on low-wage jobs in hospitality, creating a precarious situation for downturns like the one to come, economists say.
Restaurants and bars employed almost 13 million people in 2018, according to Bureau of Economic Analysis data reviewed by Stateline. Only local governments employed more people, about 14 million, and employment in bars and restaurants dominated the tourism-dependent hospitality industry, accounting for almost two-thirds of its jobs. The tally includes both full-time and part-time jobs.
In California, layoff notices filed recently included a Sacramento craft beer distributor catering to bars and restaurants, and an equipment rental company near Los Angeles that specializes in tents for weddings.
California's state Employment Development Department told Stateline that it doesn't have specific estimates on recent filings but has seen a "marked increase" in recent days. California has the largest number of restaurant employees among states, about 1.6 million.
Farm Groups Fear Labor Shortage as Mexican Visas Halted
Agriculture groups are worried about disruptions to the farm labor force and food supply chain following the federal government's decision to suspend visa applications in Mexico.
Beginning Wednesday, the U.S. Embassy in Mexico City and all U.S. consulates are no longer processing visa applications until further notice. Those applications include the H-2A visa program that farmers use to enlist temporary international workers. Mexico has confirmed at least 82 positive cases of COVID-19.
The decision is expected to reduce the number of immigrant workers who may enter the United States as several states prepare for their spring and summer growing seasons for fruits and vegetables.
"Under the new restrictions, American farmers will not have access to all of the skilled immigrant labor needed at a critical time in the planting season," Zippy Duvall, president of the American Farm Bureau Federation, said in a statement. "This threatens our ability to put food on Americans' tables."
Returning laborers who do not require an in-person interview may still return to the United States, according to the Farm Bureau.
But states such as Oregon have many first-time workers, said Dan Fazio, executive director of Wafla, which helps provide seasonal farm labor to the Pacific Northwest.
"People are absolutely freaking out here," Fazio said, though he added, "I think we'll get through it."
The H-2A program has grown from just over 48,000 positions in fiscal 2005 to nearly 258,000 in fiscal 2019, according to the U.S. departments of Agriculture and Labor.
The top five states for certified positions are Florida (13%), Georgia (11.4%), Washington (10.2%), California (9.1%) and North Carolina (8.4%), according to the Labor Department.
Some farms should be able to adjust, especially since they're supposed to bring in H-2A workers only if there are labor shortages, said Bruce Goldstein, president of Farmworker Justice, an advocacy group based in Washington, D.C. If the coronavirus results in less agriculture production, fewer workers would be needed, Goldstein said.
Many H-2A workers live in barracks-style homes with dozens of people in close quarters.
"If one person gets sick, it's more likely that the whole camp is going to get infected," said Janeth Tapia, outreach coordinator of North Carolina Farmworkers Project, which supports more than 3,000 farmworkers in five counties around Benson, North Carolina.
Legislators Quickly Approve Funding Measures
State lawmakers are scrambling to approve emergency spending packages.
After a marathon session, the Michigan House and Senate voted unanimously for a $125 million spending bill that includes money for virus monitoring, infection control and medical supplies. That comes on top of a $25 million coronavirus funding bill legislators approved last week.
In Maine, lawmakers quickly passed a package of bills before adjourning. One measure granted Democratic Gov. Janet Mills access to at least $11 million to respond to the crisis.
The package also would set up a consumer loan guarantee program, temporarily expand eligibility for unemployment benefits for workers affected by the coronavirus and authorize the governor to prohibit utilities from terminating residents' electric and water service.
In California, Democratic Gov. Gavin Newsom signed a $1 billion legislative package that would increase hospital bed capacity, buy medical equipment, protect hospitals and nursing homes and provide safe beds for homeless populations. A second, $100 million measure would pay for protective equipment and cleaning for schools.
In Georgia, Republican Gov. Brian Kemp signed off on $100 million in emergency funding. Minnesota Gov. Tim Walz and Washington Gov. Jay Inslee, both Democrats, each approved a $200 million coronavirus measure.
States Call for More Testing
U.S. Sen. Rick Scott, a Republican who previously served as Florida's governor, called on the nation to set up mobile coronavirus testing in every county by the end of the week.
"Every county in the country should have at least one mobile testing site by Friday — counties in hot spots like New York and South Florida need more than one," Scott tweeted. "There's no excuse anymore."
Maryland is addressing the testing issue by converting its vehicle emission inspection sites into drive-thru testing centers. While the state is working to set up the sites, Republican Gov. Larry Hogan said officials still lack supplies to carry out tests.
In Alabama, a hospital in Huntsville put its drive-up testing on hold because it lacked adequate supplies.
Scores of New Jersey lawmakers have signed a letter to President Donald Trump, urging him to use his authority to launch a World War II-like effort to scale up production of supplies, including testing kits.
Meanwhile, Vice President Mike Pence announced that state health authorities were given the go-ahead to authorize labs to conduct coronavirus testing.
Cities and States Pause Evictions and Foreclosures
To stave off a wave of new homelessness, some cities and states are placing emergency moratoriums on evictions and foreclosures.
Yesterday, California Gov. Gavin Newsom, a Democrat, issued an executive order authorizing local governments to halt evictions for renters and homeowners, slow foreclosures and stop utility cut-offs. And New York last night suspended eviction proceedings indefinitely.
In Delaware, the state Justice of the Peace suspended all eviction proceedings Friday.
Connecticut, Maryland, Massachusetts, North Carolina, South Carolina and Virginia also have moratoriums in place, according to the National Low Income Housing Coalition, a research and advocacy group based in Washington, D.C.
Cities also have delayed evictions. Boston, Baltimore, Charleston, Chicago, Cincinnati, Los Angeles, Miami, Nashville, New Orleans, New York City, Philadelphia, Pittsburgh and Seattle have all suspended removals, as well as Washington, D.C.; Orlando, Florida; Portland, Oregon; and San Francisco and San Jose, California.
Housing advocates are lobbying Congress to institute a national moratorium as part of its coronavirus aid package, said Sarah Saadian, vice president for public policy at the housing coalition.
Hospitals Ask Congress to Enhance Medicaid
The country's safety net hospitals are urging Congress to bolster Medicaid to help ensure those hospitals can continue to treat low-income Americans.
In a letter to U.S. House and Senate leaders, Bruce Siegel, president and CEO of America's Essential Hospitals, the organization representing safety net hospitals, urged the federal government to increase the match rate it pays to states in Medicaid, increase federal compensation to hospitals for caring for uninsured patients and require the Trump administration to drop a proposal that would curtail Medicaid spending.
Safety net hospitals generally treat patients regardless of their ability to pay. Other hospitals are under the obligation to treat only non-paying patients experiencing medical emergencies.
The hospital association didn't specify how much it wants Congress to increase the federal match. Currently, the match is between 50% and nearly 78% for Medicaid spending, depending on each state's per capita income.
It also asked Congress to insist that states not change Medicaid eligibility requirements to keep people out of the program.
The association also asked for Congress to block a Trump administration proposal that would reduce the federal Medicaid spending. According to one estimate, if enacted the proposal could reduce Medicaid spending between 5.8% to 7.6% and deprive hospitals of between $23 billion and $31 billion a year.
The Kaiser Family Foundation also published a brief detailing other steps the federal government could take to enhance Medicaid to help respond to the crisis. Chief among them is that the 14 states that have refused to increase Medicaid eligibility under the Affordable Care Act do so. That would broaden coverage to 2.3 million more poor adults, the foundation said..
Some Parks Close to Enforce Social Distancing
The National Park Service has closed busy sites like the Statue of Liberty and Washington Monument, while shutting down visitor centers and lodges at other parks.

In Moab, Utah, local health officials say leaving nearby Arches National Park open encourages tourists to visit and places the small town at risk. Other health experts say it's still important to get outside and exercise, though perhaps without congregating in tourist towns.

While Seattle's neighborhoods are full of shuttered storefronts and barren grocery stores, city parks still have a sense of normalcy, with dog-walkers, Frisbee tossers and tennis players all enjoying the fresh air. State parks in Washington, among the hardest-hit states in the pandemic, remain open, though visitor centers and programs have been shut down.
Hawaii closed many of its state parks, but New Jersey and Delaware waived entry fees at their parks to encourage residents to spend time outdoors. Florida is cutting back hours at its state parks.
A day after images of packed beaches in Florida drew the ire of many on social media, the city of Boca Raton closed its parks to limit the spread of the virus. Boston, meanwhile, is urging residents to practice social distancing if they choose to visit city parks.
Stateline staff writers April Simpson, Jenni Bergal, Alex Brown, Teresa Wiltz and Michael Ollove contributed to this report.