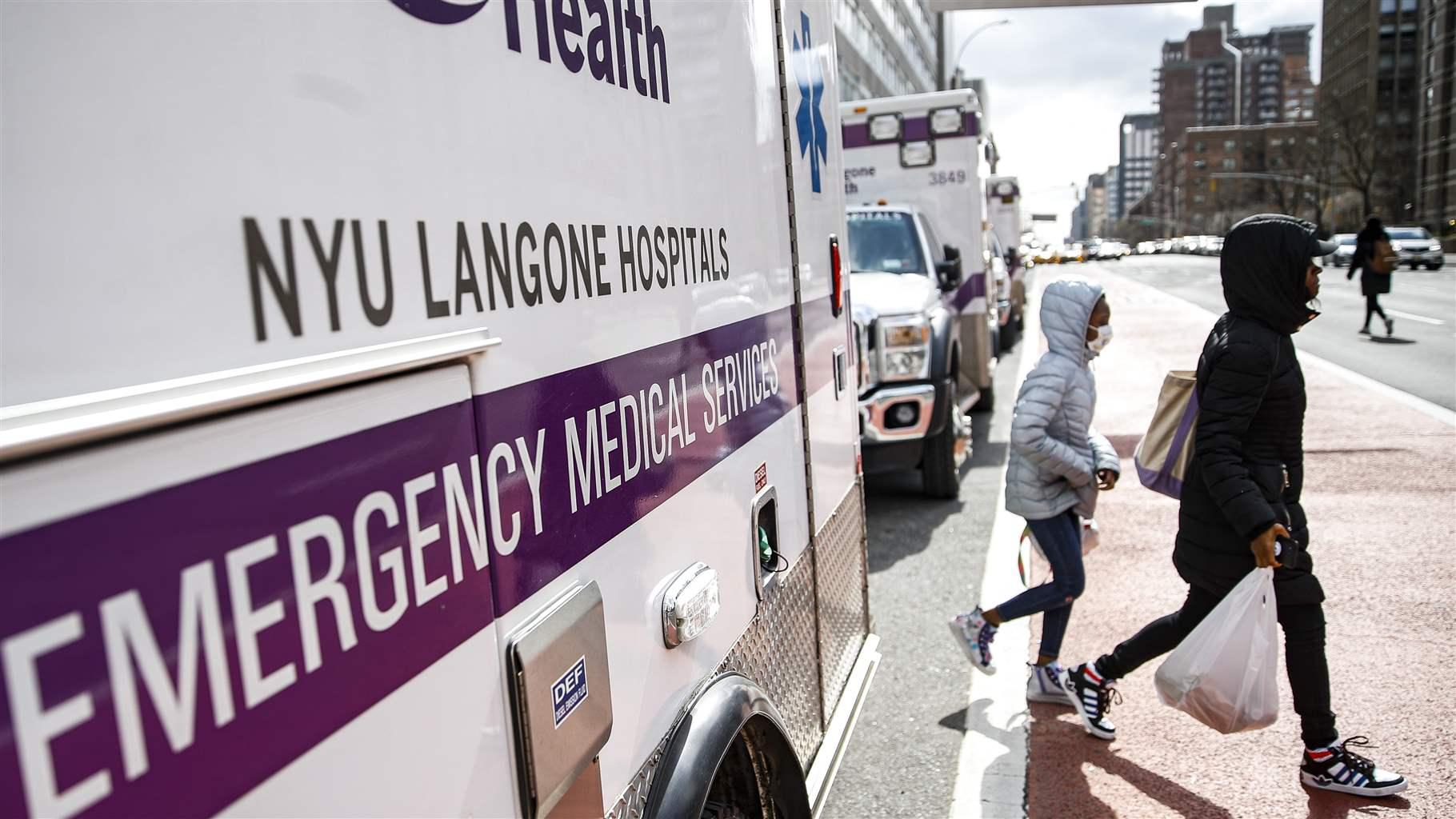 Read Stateline coverage of the latest state action on coronavirus.
With New York state now surpassing Washington state with the largest number of coronavirus cases, Gov. Andrew Cuomo announced his administration's priority to increase hospital capacity to meet the expected surge in patients needing care.
He characterized the situation as dire. "I've said that the curve is going to turn into a wave and the wave is going to crash the system," Cuomo, a Democrat, said at a news conference in Albany.
He said that the state is in touch with the Federal Emergency Management Agency, the Army Corps of Engineers, the National Guard and building trade unions do discuss the construction of temporary hospitals.
Other states are moving in the same direction. Maryland Gov. Larry Hogan, a Republican, asked health officials to investigate reopening closed hospitals in the hopes of raising the number of hospital beds in the state from around 8,000 to 14,000.
New York has about 53,000 hospital beds, but Cuomo said that based on the experience of the coronavirus in China, Italy and elsewhere, the state is projecting a need for 55,000 to 110,000.
The state has about 3,000 intensive care beds and estimates it will need 18,600 to 37,200 ICU beds. The coronavirus is a respiratory illness, which in serious cases leads to pneumonia and the need for care that can best be delivered in an intensive care unit.
New York currently has 1,700 coronavirus cases and a dozen deaths, according to Johns Hopkins University, which is tracking the global spread of the disease.
New York health officials met today with hospital executives to discuss what state regulations the state can suspend to enable the hospitals to treat more patients.
Aside from the lack of beds, Cuomo said he expects the health system to lack medical providers to meet the crisis, particularly if, as is already occurring, doctors and nurses treating the virus succumb to it themselves.
Cuomo said the state is sending out alerts to retired nurses and doctors to ask if they can be available. He said the state also is going to tap medical and nursing students for extra help. Like other states, including Maryland, the state also is suspending some licensing and certification requirements to bring in medical providers from other states.
The state also expects it will need more than the 4,000 ventilators now in use in hospitals across the state. "We can't find a ventilator for sale," Cuomo said. "We're looking desperately."
Four States Extend Obamacare Signups
At least four states have opened special enrollment periods to allow residents to sign up for health insurance on state marketplaces in response to the new coronavirus, and others are considering doing the same.
Maryland, Massachusetts, Rhode Island and Washington state announced special enrollment periods for uninsured residents. Washington, site of the most severe U.S. outbreak, was the first, and the others followed suit.
Maryland's and Rhode Island's enrollment windows will stay open through April 15. Massachusetts' sign-up period will run through April 25, and Washington's will run through April 8.
"What we know is that people who are uninsured are less likely to seek care, and more likely to delay or forgo care due to costs," said Jennifer Tolbert, director of state health reform for the Kaiser Family Foundation. She said that especially in parts of the country with significant coronavirus outbreaks such as Washington or Massachusetts, opening insurance policy enrollment may help people seek treatment without worrying too much about costs.
While not related to the COVID-19 outbreak, the District of Columbia already has an extended enrollment period through tax season for people who were not aware that they were required to have health insurance.
Twelve states and D.C. operate their own health insurance exchanges, giving local authorities the ability to change enrollment dates. Most of the rest of the states subscribe to the federal exchange, which only federal authorities can reopen.
Lawmakers Race to Appropriate Money, Extend Benefits
Legislators in at least 27 states and the District of Columbia are considering or have passed measures to deal with the coronavirus, as of Tuesday. The bills range from beefing up funding to helping with unpaid leave to extending medical coverage.
At least 14 state legislatures have approved bills to spend millions or, in some cases, hundreds of millions, to deal with the pandemic.
Lawmakers in Arizona appropriated $55 million from the state's rainy-day fund; Massachusetts authorized $15 million from general revenue. And before recessing, legislatures in Minnesota and in Washington state — the epicenter of the virus in the United States — each approved $200 million packages, while California lawmakers allocated up to $1 billion for the state's emergency medical response.
At least 90 bills or resolutions have been filed as of Tuesday. While a number deal with appropriations or paid sick leave, others are focused on more specific issues.
In Hawaii, legislators are considering a measure that would require agencies and nonprofits that get funding from the state's office on aging to set up sanitation protocols for caregivers in long-term care facilities.
In the District of Columbia, a city councilman has proposed a bill that would establish a grant program to help small businesses hurt during the public health emergency and spare renters from evictions or utility cutoffs.
In Minnesota, a state legislator has proposed a bill that would require school districts and charter schools to compensate hourly employees when school days are canceled.
All Minnesota schools will be shut down to students starting Wednesday, but employees will be required to continue reporting to work to do emergency management planning. Once that is finished, teachers will continue to get paid because they will be providing distance learning, said the bill's sponsor, Democratic state Rep. Jim Davnie.
But others, such as school bus drivers and some nutrition staffers, won't be getting paychecks, he added, and it's going to be tough on them if schools close for an extended time.
"This bill is a way to make sure hourly employees will get paid," Davnie said in an interview with Stateline. "A lot of these folks are working paycheck to paycheck."
In New York, legislators are considering a measure that would ensure that people quarantined or required to stay home from work or school because of coronavirus have an additional 30-day supply of prescription medications. Insurance companies would be required to cover those costs.
Many of the emergency appropriations bills state legislatures have passed are getting bipartisan support, even in state capitols that have been battlegrounds between Democrats and Republicans.
States Grapple With Waiving Work Requirements
With much of the nation on lockdown, states are working to figure out how to handle the millions of people who are subject to work requirements because they receive cash benefits or food stamps.
In California, the Department of Health and Human Services told county agencies they can provide "good cause/exemptions" for Temporary Assistance to Needy Families (TANF) recipients "to avoid face-to-face interactions and mitigate the impacts of COVID-19."
In Indiana, state officials asked the federal government to waive the renewal process for residents who use TANF or food stamps.
Congress passed a coronavirus aid bill Friday that would, among other things, grant the U.S. Department of Agriculture (USDA) authority to approve state plans to provide nutrition assistance to schoolchildren, provide emergency food stamp benefits and suspend time limits for people who are either not working or are underemployed.
And because TANF is a block grant, states have more flexibility to waive work requirements, said Liz Schott, senior fellow with the left-leaning Center for Budget and Policy Priorities, a Washington, D.C.-based think tank.
"The good news, bad news," Schott said, "[is that] states can do whatever they want with TANF. And for the most part, that's meant they've done a lot of bad things. But that means at a time like this, they can also do whatever they want."
Stateline staff writers Elaine S. Povich, Jenni Bergal and Teresa Wiltz contributed to this report.