Stateline
Coronavirus Will Slam States Dependent on Tourism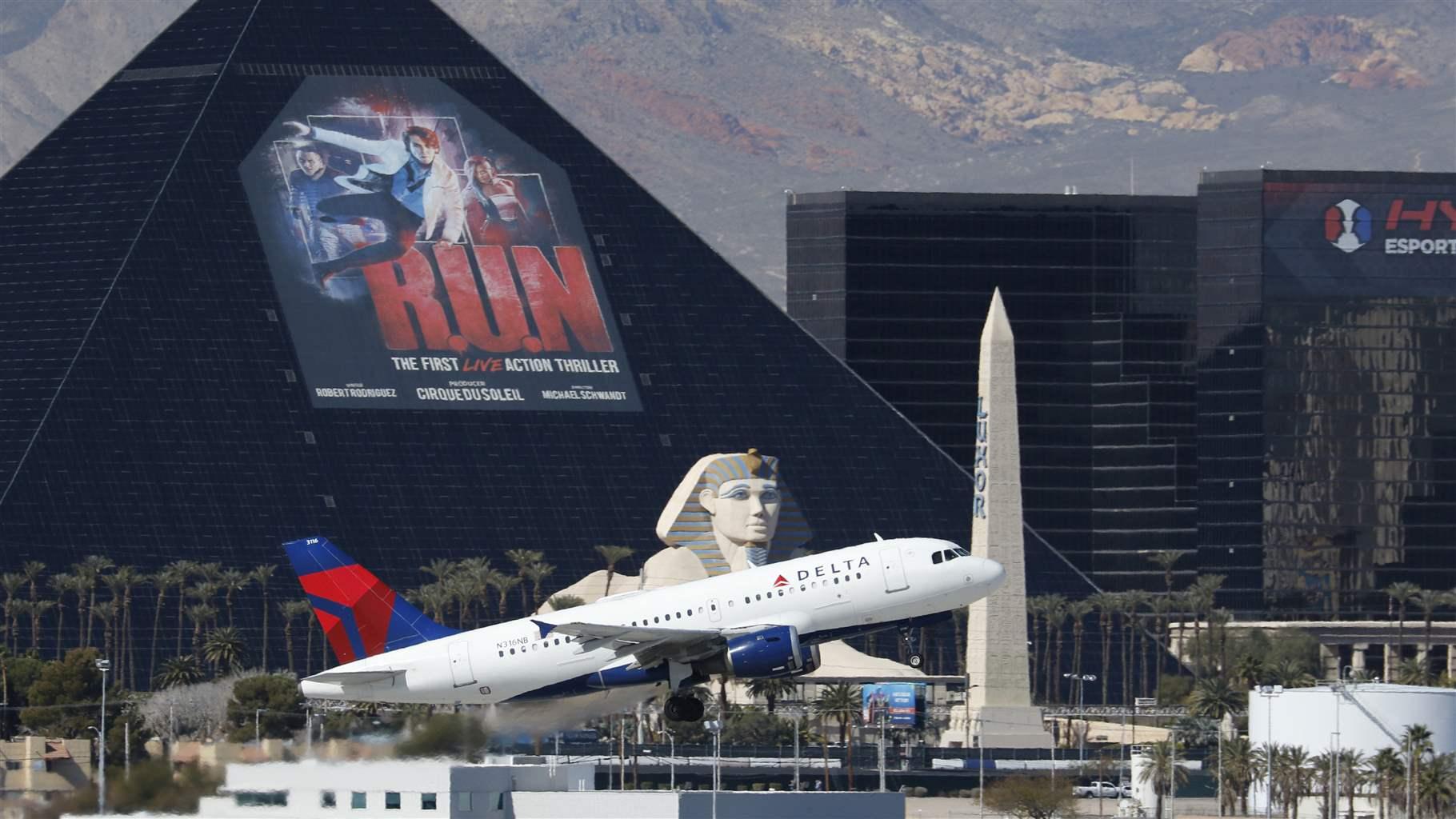 The new coronavirus will produce economic crises in the states and cities most dependent on tourism, with lower tax revenue resulting from empty hotel rooms and canceled trips, conventions and events.
However, analysts predict those economies may improve dramatically starting in several months if tourist facilities can hang on until the pandemic subsides. Residents cooped up by quarantines are likely to seek relief from cabin fever at beaches and casinos, some experts say.
The states most affected will be Nevada and Hawaii, which have by far the highest share of tourism in their economies, according to a Stateline analysis of federal Bureau of Economic Analysis figures on state-level economic output.
Hawaii already is projecting a $300 million hit to tax collections and a loss of 6,000 jobs in the service industry because of a decline in visitors, and Las Vegas Mayor Carolyn Goodman told the area's convention authority board at its monthly meeting that publicity about coronavirus "is absolutely destroying us."
Florida, another tourism-intensive state, backed off some of its coronavirus advisory plans amid concerns from the tourist industry. First state health officials said anyone returning from abroad should isolate themselves, then walked that back.
State-level figures can't capture everything counted as part of the tourism economy, but Stateline captured most of the more than $1 trillion that tourism contributed to the U.S. economy in 2018 as identified by the National Travel and Tourism Office.
About 16% of Nevada's economy came from tourism in 2018, almost $28 billion, and Hawaii was at 10% and about $10 billion. Other states that ranked high were Vermont, Florida and Tennessee, at about 6%.
Individual counties with a heavy reliance on tourism included those around the Great Smoky Mountains of Tennessee (where Sevier County's economy is 34% tourism); Erie County, Ohio, on the Lake Erie shore (32%); Pitkin County, Colorado, home of Aspen (32%); and Key West's Monroe County, Florida (20%).
Those shares are likely understated because they don't include air and ground transportation, tourist shopping and other items not broken down by state. For instance, Hawaii does its own internal studies estimating 17% of the state's economy depends on tourism, said Carl Bonham, director of the state's University of Hawaii Economic Research Organization, adding that data on the drop-off in visitors is worsening by the day.
Hotels in such areas are likely to see a "depression-like" crisis in the short term, said Jan Freitag, a hotel industry analyst in Nashville.
But based on similar crises in Mexico and Thailand after SARS and H1N1 epidemics, things may start looking up after six to nine months, Freitag said. Demand for hotel rooms quickly dropped by up to 50% during those outbreaks but then increased. The H1N1 crisis hit Mexico in 2009 and the SARS outbreak in Thailand was in 2003.
"We're going to see severe, depression-like conditions but the impact will be relatively short-lived, if you can call six to nine months short," Freitag said.
Conventions and large events such as the canceled South by Southwest festival will undoubtedly take longer to return to typical levels, because of the organizers' burden of responsibility for the health of so many guests.
But individuals feeling cooped up will start traveling sooner, Freitag predicted.
"People may not want to fly but they might say 'Hey, I can drive,'" Freitag said. In 2001 that benefited tourist areas in driving distance of large cities, such as San Diego, with its proximity to Los Angeles.
In the meantime, tourist areas will feel the pinch as travel continues to contract.
"Tourism services are perishable, so these opportunities will be forgone for the states that depend on these industries," said Tarik Dogru, assistant professor of hospitality management at Florida State University.
"People will be laid off because of the lack of business," Dogru said, adding that state and federal authorities should help with paid leave and tax relief in the short term.
But he said the problem, while severe, "is likely to fade out in a few months."
John Cromartie, a geographer at the U.S. Department of Agriculture's Economic Research Service, said he had been considering driving to a now-canceled demographic conference in Washington, D.C., next month from his home in Kansas City.
"I don't want to fly but I figure I could take a couple of days and drive it," said Cromartie, who said the impact on the Kansas City area could be severe because of the number of soccer and basketball events being canceled.
"Kansas City is a sports-crazy town. They depend on it," Cromartie said.
The USDA compiled statistics on recreation-based economies, many in rural areas and small towns, and those areas also are vulnerable to tourism downturns.
Linda Hoath, executive director of the Sault Ste Marie Convention and Visitors Bureau in Michigan, said visitors haven't yet stopped coming to see the Soo Locks, where giant cargo ships pass from Canadian waters.
"We're a border area so we usually see things first, but so far so good," Hoath said. "There's a lot of workers in town to build a seventh lock, so the place is hopping."
Some hotels and restaurants may not survive the crisis, but they can try to adapt with such things as food delivery, said Amit Sharma, a professor at Penn State University's School of Hospitality Management.
Emily Feiner, a social worker and former Nyack village board member in suburban New York — not far from the city of New Rochelle that has been designated a containment zone — said a dream vacation to the Deep South has turned into a nightmare.
"I wanted to indulge two of my greatest interests, American music and the history of the civil rights movement," Feiner said in an email from Mississippi. Her next planned destination is New Orleans. She's not sure if she should continue.
"It's become fraught with anxiety. I cannot go to music venues and museums and practice social distancing," Feiner said. "And when I return home to work with recovering addicts and care for a 91-year-old mother, can I do that responsibly?"