Stateline
Coronavirus Could Get U.S. to Vote by Mail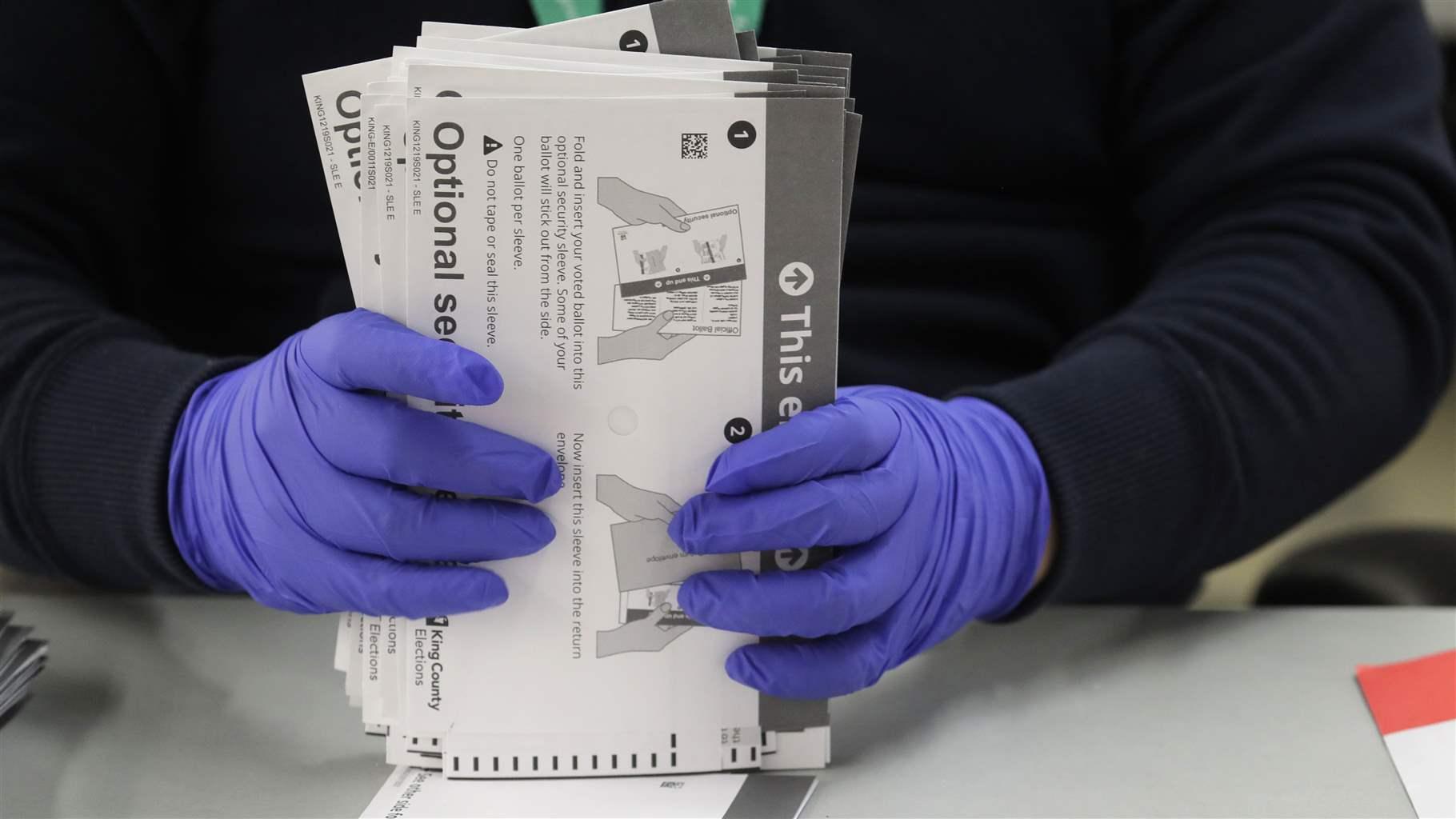 Editor's note: This story was updated March 13 to reflect the number of states that have made emergency declarations.
Read Stateline coverage of the latest state action on coronavirus.
Primary season is a lousy time for a global pandemic.
As states across the country closed schools, banned large gatherings and encouraged liberal work-from-home policies this week, local election officials have been adamant that voters in upcoming primaries should vote by mail ahead of their election day.
Top election officials in Illinois, Maryland, Ohio, Pennsylvania and Wisconsin — which have primaries for president and state and local positions in the coming weeks — told Stateline that along with working with state health agencies they are reminding voters of their no-excuse absentee ballot alternative. Florida and Arizona, which have primaries Tuesday March 17, also allow for no-excuse absentee voting.
The Wyoming Democratic Party, which was set to hold its presidential caucus April 4, canceled in-person voting and announced a system for voters to pick up and drop off ballots. In Wisconsin, the state elections commission voted in an emergency session to halt municipal-led, in-person voting assistance for nursing home residents during the state's April 7 primary and opted instead for sending mail-in ballots.
Officials in Louisiana also announced this week that they would postpone April's primary — the first state to do this.
"Sending people into nursing homes and other kinds of health care facilities is the wrong thing to do right now," said Reid Magney, the Wisconsin commission's public information officer.
At least 34 states and the District of Columbia already allow voters to cast their ballot via mail. Colorado, Hawaii, Oregon and Washington, meanwhile, run entirely vote-by-mail elections. Other states offer limited mail-in ballots, requiring voters offer specific excuses for not being able to vote in person.
But even with mail-in ballots, officials urged caution. Washington state, which had its primary this week, encouraged voters not to lick their mail-in ballots to prevent the spread of coronavirus. Instead, officials asked voters to use a wet sponge or cloth to seal them.
Given the coronavirus situation, some lawmakers want to take mail-in voting further.
U.S. Sen. Ron Wyden, an Oregon Democrat, introduced legislation that would require every state in the country to conduct November's election entirely by mail if a quarter of states declare a state of emergency from an infectious disease or natural disaster. (As of Friday, 38 states and the District of Columbia had done so for coronavirus.) Voters could also drop off their hand-marked paper ballot under his bill.
While this won't be easy, Wyden said, Americans should not have to choose between casting a ballot and protecting their health. The legislation also would provide $500 million to pay for these efforts, which he said is essential in helping states buy new systems and equipment.
"The reality is every level of government is going to have to cope with the fallout if this virus continues to spread," Wyden, whose state was the first to go to all-mail elections, told Stateline. "Vote by mail is a time-tested method of exercising our constitutional rights."
While elections are decentralized, administered by 10,000 jurisdictions nationwide, Congress can legally regulate federal elections, several election experts agree. Wyden's bill would mean superseding state laws on absentee voting.
Whether this bill gets traction in the Senate is another story.
Republican Senate Majority Leader Mitch McConnell of Kentucky has firmly opposed Democratic-sponsored bills that attempt to enact progressive changes to election systems nationwide. H.R. 1, which would have, among other things, implemented automatic voter registration and independent redistricting commissions, was blocked by McConnell last year.
Just this week, McConnell in a floor speech called H.R. 1 and other Democratic-sponsored election legislation "an unprecedented Washington power grab over the nuanced details of how states and localities conduct elections." However, the Republican leader, speaking separately this week on the coronavirus, also said "this does not have to be a time for partisan bickering." McConnell's office did not respond to a request for comment.
Companion legislation in the U.S. House is cosponsored by Democratic Reps. Suzan DelBene of Washington, Earl Blumenauer of Oregon and Jamie Raskin of Maryland.
States aren't starting from scratch on a vote-by-mail system — they already send mail-in ballots to overseas military personnel and to voters with disabilities. But scale is another question, said Tammy Patrick, a senior adviser to the election program at the Democracy Fund, a Washington, D.C.-based bipartisan organization. Wyden's bill would reshape roles of election administrators who may not have the infrastructure or training to pull off an entirely vote-by-mail election, she said.
"There's some really good stuff in the Wyden bill," she said. "The reality is, though, we really can't support the entire country going vote-by-mail tomorrow."
For states that will lean heavily on mail-in ballots come November, Patrick said to expect delayed results, as many states allow voters to postmark their ballots by Election Day.
There are many challenges to voting by mail, especially for voters with limited English proficiency and voters with disabilities who may be unable to vote using a pen on a paper ballot. It also presents challenges for lower-income or Native American voters who may have fluid or nontraditional addresses.
Still, some election experts have hope that Wyden's bill will gain bipartisan support as a solution to a potentially devastating scenario in which November's election is interrupted by social distancing and quarantines, said Alexandra Chandler, a policy advocate at the nonprofit Protect Democracy. It would ensure, she said, that all eligible voters can have equal access to vote in November.
"I am not yet so cynical and hardened to believe that there is not a potential opportunity here to do this," Chandler said. "This would really make the election so much safer and protect vulnerable people."
Those vulnerable people, she said, include not only voters, but also poll workers. Nationally, nearly two-thirds of poll workers are 61 and older, according the 2018 U.S. Election Assistance Commission survey. Older people are more likely to die from COVID-19.
Many poll workers in Florida and Illinois backed out before Tuesday's primary.
Chandler recognizes the complexity of this issue and said her organization and other election experts would be available to work out technical issues.
This is a crucial time for states that have primaries now to test ways of expanding voting access during times of emergencies, said Dale Ho, director of the ACLU's Voting Rights Project. The worst time for them to try new methods, he said, would be in November, especially in a presidential election.
"We have to use every opportunity now over the next three months to figure out what we can do to address the traditional in-person voting model," he said. "You don't want to figure this out on the fly in November."
Amber McReynolds, CEO of the National Vote at Home Institute and Coalition, a nonprofit that advocates for vote-by-mail election systems, said the system mitigates risks in the election process, while also dealing with a potential shortage of poll workers.
"It's better for voters," said McReynolds, who was the director of elections in Denver when it implemented a vote-by-mail system. "This is a solution to enfranchise people who would otherwise be disenfranchised by a public health disaster."
Whether states can realistically switch to an entirely vote-by-mail system is hard to say, said Dan Wallach, a professor of computer science at Rice University who studies voting systems.
Wyden's bill is just one step in trying to reshape elections in time for November. States also would need to rethink the entire architecture of the voting systems, from equipment to training in both small and large counties.
"It would be a heavy lift," Wallach said. "[Wyden's bill] is absolutely helpful, and I'm thrilled he's doing it. But there's a whole world of difference between planning and executing this."
Some state election officials are skeptical their states, let alone every state, could transition to an entirely vote-by-mail system.
Rhode Island Secretary of State Nellie Gorbea, a Democrat, said that while Wyden's bill would not have a major impact on states like hers that offer mail-in ballots and that she welcomes the conversation, she does foresee many of her colleagues in other states having a problem with the federal authority.
"The Constitution says that states run elections," she said, "and you're changing things in state law."
Matt Dietrich, public information officer for the Illinois State Board of Elections, said he doesn't think Congress can force states to transition to that kind of system by November. He believes in vote-by-mail systems, he said, but right now the priority is ensuring the state is more prepared for the general election.
"If it's like this in November, we're going to have to have a contingency plan that involves more than us asking local election officials to be in touch with their health departments," Dietrich said. "That's not going to be enough."
After Illinois' primary, Dietrich hopes to work with the state's legislature and political parties to eventually move to an all vote-by-mail system. In the meantime, he wants to establish a database that would automatically mail ballots to voters who requested them in previous elections, while also exploring the governor's emergency powers when it comes to elections.
Several states have significant emergency powers related to elections, though the details vary.
Six states can delay elections because of an emergency, while many more can relocate polling places. Officials in Ohio and in some Arizona and Illinois counties ordered polling places moved from retirement homes to other locations.
In Cook County, Illinois, which encompasses Chicago, officials moved more than 100 polling locations, Dietrich said. The state went to court this week to successfully mail ballots to affected nursing homes. Prairie State election officials notified voters this week that their polling places changed.
In other states, including Pennsylvania, lawmakers are now introducing legislation to move to a vote-by-mail system. Meanwhile, Massachusetts Secretary of State William Galvin, a Democrat, is seeking emergency election powers to respond to the coronavirus, including to postpone the election or move polling places.
Many more voters have asked for mail-in ballots, Dietrich said. At this time in 2016, Illinois sent out 152,000 requested absentee ballots. This year, the state sent out 240,000. Similarly, other states reported higher numbers of voters who chose to vote absentee.
The U.S. Centers of Disease Control and Prevention, in a recent advisory, recommends poll workers routinely clean and disinfect surfaces and voting equipment, provide hand sanitizer and thoroughly clean bathrooms. Officials also encourage voters and poll workers to stay home if they are sick.
In Central Illinois, Tazewell County Clerk John Ackerman said he's doing all those things to run a successful election.
"We encouraged everyone who had concerns to have their voices heard without hesitation," he said. "We don't want people staying home and not voting."