Stateline
Trucks vs. Bridges: Dangerous and Costly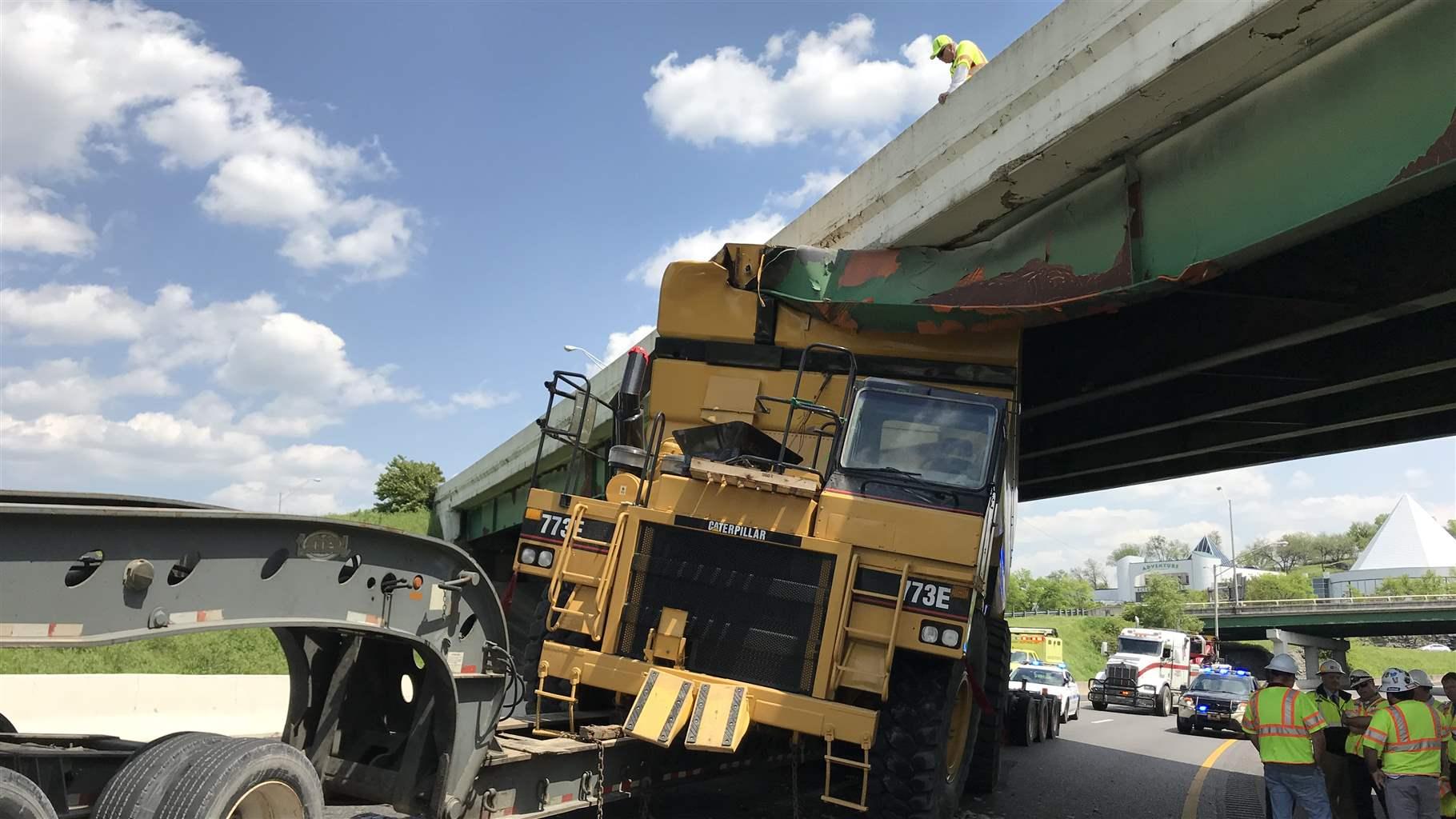 The Caterpillar tanker truck weighed 70,000 pounds, and when it struck an overpass above Interstate 65 in downtown Nashville in April 2018, it twisted one of the steel support beams as if it were a pipe cleaner.
The driver of the tractor-trailer that was hauling the tanker had ventured more than a hundred miles from his approved route through Arkansas and west Tennessee. Nobody was hurt, but the driver's mistake snarled rush-hour traffic and forced workers to labor for more than 16 hours to remove the damaged beam and extricate the truck. Repairs cost nearly $1 million.
"I've never seen damage that bad in 30 years," said Ted Kniazewycz, director of the Tennessee Department of Transportation's structures division.
So-called bridge strikes occur all over the country when trucks or their loads are too tall to pass under highway bridges and overpasses. They damage valuable infrastructure, create epic traffic jams and can be hazardous for other drivers who may be pelted with fallen debris or forced to swerve into another car.
"Bridge strikes are potentially catastrophic," said Darrin Roth, a vice president at the American Trucking Associations, a trade group. "There have been bridges that have been brought down or severely damaged to the point they have to be replaced."
To prevent them, more states and cities are using infrared sensors and lasers that detect tall vehicles and warn drivers to turn around or take another route.
In Texas, which had about a hundred reported bridge strikes last year, transportation officials have installed 20 such over-height warning systems that use LED beams and flashing lights.
In Virginia, the transportation department also uses electronic detection systems and warning signs to alert drivers of oversized vehicles and direct them to the nearest exit or pull-off area.
And in New York, Democratic Gov. Andrew Cuomo put $25 million into this year's budget to pay for enhanced technology to help curb bridge strikes.
Parkway Problems
New York state has some big bridge-strike worries because of its dozens of parkways with low clearance designed for cars and built in the 1930s and '40s. Trucks generally are 13 or 13½ feet tall, and modern-day bridges typically are 15 to 18 feet high, according to the trucking association's Roth.
New York's parkways prohibit trucks, buses and other tall vehicles, but that doesn't mean drivers always follow the rules.
Since 2015, the state has had nearly 1,100 bridge strikes, many of them on parkways, according to the state Department of Transportation. In the past several years, transportation officials have installed detection and warning systems.
In August, the agency completed a $1.8 million bridge-strike prevention project on a Westchester County parkway outside of New York City, where between 2008 and 2018 one bridge was hit 130 times.
The agency set up detectors at locations where trucks improperly get onto the parkway and installed cameras that alert police and the state traffic management center.
The state's over-height detection systems have reduced the number of bridge strikes, said Todd Westhuis, the agency's chief of staff, who called it "technology that works."
Bridge strikes can be deadly.
In 2010, a double-decker bus slammed into a railroad bridge on a New York parkway, killing four passengers.
In 2015, a man was killed and three people were injured after a tractor-trailer with an oversized load struck a bridge under construction in Texas, causing concrete beams to fall onto the vehicles below.
And in August, a truck in Ohio hauling a huge dust collector used for farming hit an overpass, dislodging the equipment onto the road, which killed a driver who crashed into it.
From 2014 to 2018, 13 people died in crashes in which a large truck has struck a bridge overpass, according to the National Highway Traffic Safety Administration.
Bridge strikes also can be costly. In Texas, the average annual price tag for repairs from bridge strikes over the past three years has been about $6.7 million, said transportation department spokesman Adam Hammons.
In Virginia, bridge strikes have cost about $4 million since January 2018, according to Lindsay LeGrand, a Virginia Department of Transportation spokeswoman.
And Tennessee's Kniazewycz said it can cost from $500,000 to more than $1 million to repair a bridge after a serious strike.
While states typically try to get reimbursed for repairs by at-fault parties and their insurance companies, they aren't always made whole. They also absorb the cost of repairs when they can't find a culprit.
Navigation Systems
Not every state tracks bridge strikes. But an informal survey by an American Association of State Highway and Transportation Officials working group found at least 3,000 of them nationwide from 2008 to 2018.
"Bridge strikes have emerged as a big problem throughout the country," said Dave Huft, who co-chairs the working group and is the South Dakota Department of Transportation's research program manager.
Huft said the working group did the survey to gather evidence of the significance of the problem, draw policymakers' attention and help state prevention efforts.
The Federal Motor Carrier Safety Administration, which regulates the trucking and bus industry, doesn't keep data on bridge strikes, but views them as a "serious safety hazard."
GPS is partly to blame, the agency says. Some truckers and bus drivers use off-the-shelf navigation devices or apps meant for passenger cars that typically don't show low bridge overpasses and may take them down roads they're not supposed to be on.
"That's a big reason you have these bridge strikes," Roth said, "in addition to drivers not planning their routes carefully enough."
Safety officials recommend that truck and bus drivers use navigation tools designed for them, plug in relevant information about their vehicle, such as weight and size, and update their GPS maps.
Sometimes, truckers who cause bridge strikes are hauling an oversized load or equipment that wasn't secured properly and shifted on the road.
In Kearney, Missouri, for example, a truck carrying a large, empty tank struck an Interstate 35 overpass during morning rush hour in September. The tank fell onto the road, shutting down state Highway 92 during the morning commute.
In other cases, trucks strike bridges with hydraulic lifts or booms that are left upright.
That's what happened in St. Petersburg, Florida, in September, when a dumpster truck's hydraulic arm smashed into an Interstate 175 overpass, damaging two concrete beams and scattering chunks of concrete on the roadway. State officials had to close the road for two weeks for repairs.
And sometimes, truck drivers are distracted or aren't paying attention to height limit warning signs, whether they're the old-fashioned kind or the high-tech ones.
In Spokane, Washington, a semi-truck hit a railroad bridge so hard two months ago that it moved the tracks, according to Marlene Feist, a spokeswoman for the city. Feist said the crash, one of 100 reported collisions with bridges in the past decade, occurred even though the city had installed a detection device.
"If the drivers aren't paying attention," she said, "we can end up with these situations anyway."