Stateline
Privatizing State Parks Can Save Them — or Wreck Them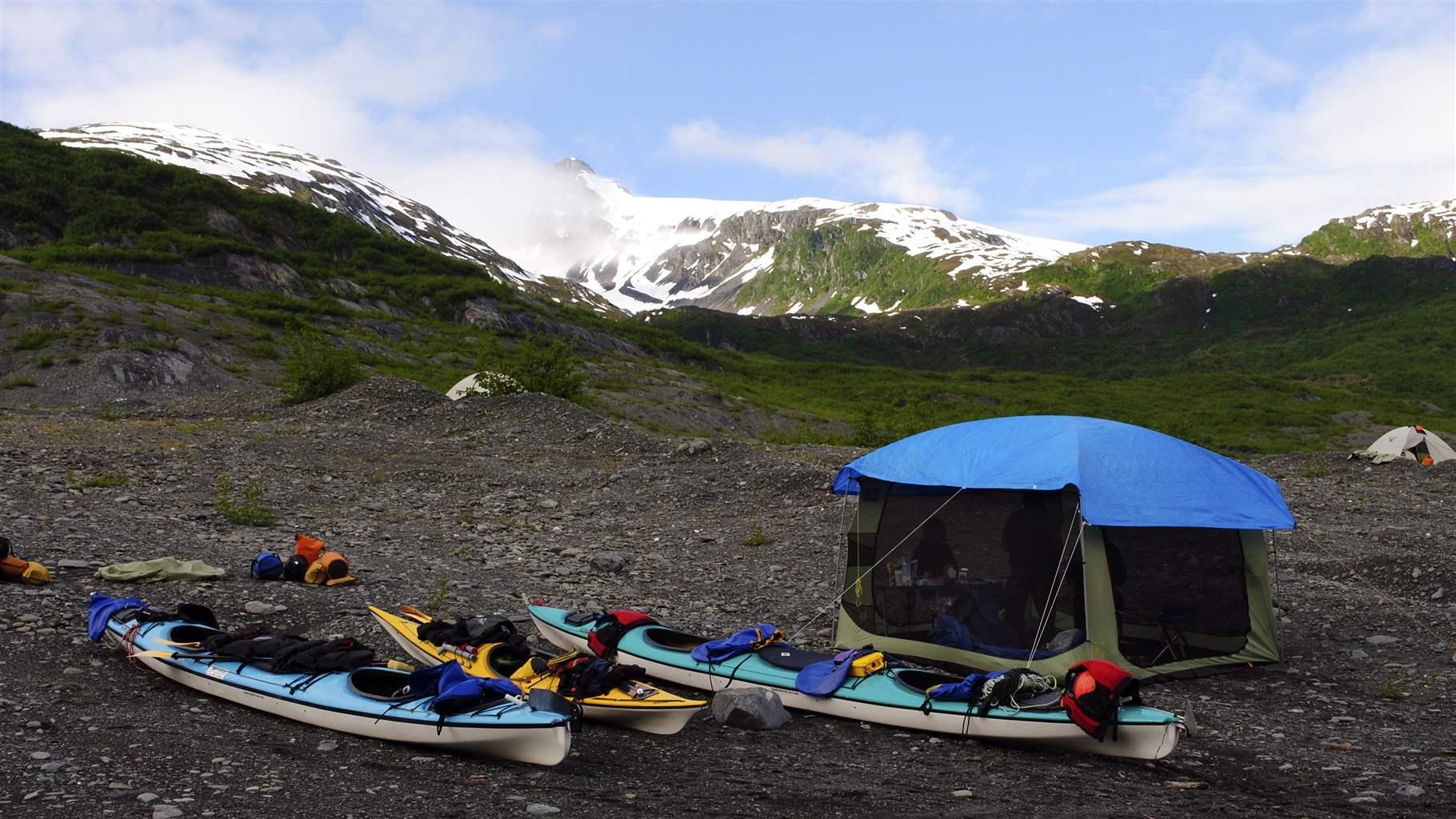 When Alabama closed Roland Cooper State Park in 2015 because of budget cuts, entrepreneur Warren Meyer saw an opportunity. Meyer runs Recreation Resource Management, a concession company that maintains campgrounds, builds cabins and provides amenities at state parks and U.S. Forest Service sites around the country.
The Alabama Department of Conservation and Natural Resources awarded the company, known as RRM, a contract to run the park on the agency's behalf. The campgrounds, cabins and bathrooms reopened in 2016 for the anglers, campers and birders who visit the 236-acre park along the Alabama River.
"We were able to reopen the park within a year after it closed, and RRM has been running it ever since and doing a fantastic job," said Rob Grant, assistant director of Alabama's State Parks Division. "It's a net profit for us, and we were losing money there before."
Meyer advocates for increased privatization on state and federal land. He said Roland Cooper shows how concessionaires are bolstering governments' efforts to keep public lands thriving.
"We're being asked to come in and provide the capital to refurbish the campgrounds or provide amenities that governments can't really appropriate," he said. "We like the parks; we're not trying to turn them into McDonald's or used car lots. It's easy to get these win-wins."
But the role of private companies on public lands has come under increased scrutiny after a panel appointed by the Trump administration recommended last month privatizing national park campgrounds and opening them to WiFi, food trucks and Amazon deliveries. Critics note that many of the panelists tapped by the White House were leaders of concession companies.
While the national plan is hotly debated, state park systems across the country already vary widely when it comes to privatization. Some states use private companies to clean bathrooms, sell souvenirs and rent kayaks. Others allow contractors to run campgrounds or parks. And a few states have solicited large developments in their parks or sold public land to private companies.
Sometimes, that hasn't worked out so well.
Oklahoma sold much of the popular Lake Texoma State Park in 2008 to a developer that was planning a lakeside resort. The state pocketed $15 million and shed responsibilities for the park's expensive maintenance backlog. The park's cabins and hotel were torn down to make way for the new development.
Four years after the sale, in 2012, a news report from NPR's StateImpact Oklahoma partnership called the site a "ghost town." Not much has changed today, said Merle Steele, who served as president of the Friends of the Lake Texoma Association, an activist group that opposed the sale.
"They convinced the public that they were going to do great things, wonderful things," Steele said. "As soon as the paperwork was done, everything was shut down, the hotel was torn down and that was it. The community lost the last tourist attraction in Marshall County. They made promise after promise after promise, until they got what they wanted. Then they let it go back to brush."
Sources: National Association of State Park Directors, Ballotpedia, U.S. Census Bureau
Copyright © 1996-2022 The Pew Charitable Trusts. All rights reserved.
The Conundrum
There's no one-size-fits-all model. Some states have vast wilderness parks, while others have more urban and historic sites. Many rely primarily on user fees, while others depend on money from state legislatures.
Each state has different budgets, responsibilities and types of parks — and different roles for privatization to play.
State parks have a difficult task. Last year, they saw more than 800 million visitors, according to the National Association of State Park Directors — far more than the over 300 million who ventured to national parks.
And while much has been made of the $12 billion maintenance backlog facing the National Park Service, the American Society of Civil Engineers estimated the figure at more than $95 billion for state parks. And states are giving less and less money to state parks.
But while states are spread thin, many advocates for public lands say states should always be wary when partnering with for-profit companies.
"There's something uncomfortable in relying on profit-motivated enterprises to prop up public amenities," said Steven Kirschner, who has written about concessionaires running Forest Service campgrounds.
Kirschner, an enforcement officer at the Colorado Oil and Gas Conservation Commission, found that more than half of the national forest camping sites were managed by concessionaires.
Some of them charged fees the Forest Service couldn't; others did not honor agency passes.
"We don't have legislatures willing to commit the resources necessary to maintain a robust public lands system, so we are necessarily turning to private enterprise," Kirschner said. "But viewing public goods through a profit-and-loss lens is a fundamentally incorrect way to look at it. They were never set aside to generate revenue."
Representatives for Aramark and Delaware North, large concession companies that operate in national and state parks and participated in the Trump administration's panel, did not respond to requests for comment.
Concessionaires and some park officials argue that along with running places that park systems can't afford to maintain, companies can provide new amenities.
Mixed Reactions
In 2012, California leased four state parks to concessionaires, which state officials say saved the parks from the budget chopping block. Jared Zucker, the concessions program manager for California State Parks, said the arrangement has been a success, and that the state retains robust oversight.
"It was really a mechanism that we saw to keep those parks open," he said. "It's not like we just hand them the keys and turn a blind eye to their operations. The operations have basically continued under the concessionaire as they would have under [agency] management."
California, he said, runs the largest concessions program in the country outside of the National Park Service, with more than 200 contracts in its 280 parks — most of them for services outside of core functions, like retail and rentals.
Of the $120 million to $140 million in revenue concessionaires bring in each year, about $20 million returns to California.
The leases were not met with much vocal opposition, perhaps because they were reached at a time when the agency was proposing to close 70 state parks amid budget concerns. The parks stayed open, thanks to donors and an audit that found money that had been unaccounted for.
However, at least one former employee has come forward to say that a concessionaire's recycling program at Limekiln State Park was just throwing everything in the dumpster.
Tennessee faced a different reaction. When then-Gov. Bill Haslam, a Republican, proposed in 2015 to outsource hospitality services at Fall Creek Falls State Park, he was met with fierce local opposition.
"We're stewards of the real assets of the people of Tennessee," said Republican state Sen. Janice Bowling, who fought the efforts to privatize the park in her district. "Those are not our properties to sell. … If we divest ourselves of the real assets in order to save money, then we have totally missed the point of who we are."
Bowling also worried that a private company might turn the park into a resort for the wealthy.
"The state park should not have that impersonal profiteering kind of feeling," she said. "If we make it overly expensive for the working families to enjoy it, we're neglecting one of the primary purposes of state parks."
Ultimately, after much outcry raised by Bowling and others, the state received no bidders from the private sector.
Jeff Tittel, director of the New Jersey chapter of the Sierra Club, said his group has fought "proposal after proposal" to develop parts of Liberty State Park, a waterfront park along New York Harbor that offers access to Ellis Island.
"Everything from a waterpark to a luxury golf course to a millionaire marina to a giant cricket stadium to a hotel to shopping," he said. "It's been one battle after another."
Public backlash, he said, has put a stop to most of the proposals. He blamed the state for failing to adequately support its parks, then claiming it needs developer money just to pay for overdue maintenance. New Jersey's Division of Parks & Forestry did not respond to a request for comment.
"We're not against having appropriate and compatible concessions in parks," he said, "as long as there's public access and they're not overpriced."
Many of the Liberty State Park proposals were put forward during the administration of Republican Gov. Chris Christie, who focused on privatizing many government services.
Last month, a New Jersey Senate committee unanimously advanced the Liberty State Park Protection Act, which would allow only "small-scale commercial activities" at the park and prevent any development on a natural area within the park.
Finding a Balance
In some cases, cities and counties have taken over; in others, nonprofits have led the way. When Alaska was on the verge of closing three state parks near the Valdez Bay in 2015, supporters formed a nonprofit, the Valdez Adventure Alliance, which took over operation of the park from the state.
Lanette Oliver, the group's executive director, said the arrangement works for the state because the alliance was willing to take over unprofitable sites in a package with money-makers, something commercial enterprises might have refused to do. The nonprofit has kept fees consistent with the agency's other parks, and pending some grants, is close to breaking even.
"For most for-profits, the bottom line is the dollar," Oliver said. "For a nonprofit, we have to figure in our mission."
Some states take a more middle-of-the-road approach when incorporating private companies. Michigan's Department of Natural Resources partners with concessionaires to sell food and souvenirs at state parks, as well as to run programs such as canoe rentals. But Michigan, which has not had to close any of its state parks, retains control of its campgrounds and other essentials.
"We want to create a park atmosphere and not one of over-commercializing," said Ron Olson, who oversees Michigan's state parks. "In our systems, we have things that people enjoy that aren't directly related to a revenue stream. … Our places that do very well, we could raise the fees and do market-based pricing, but it would price most of the public out of the market."
Olson said the state has learned from previous missteps, such as turning over a downhill ski area to a contractor, which was "not a very good operation." The state now partners with a local community college that has a ski management program, which Olson said has worked out for both the agency and the school.
Don Philpott, director of the nonprofit Florida State Parks Foundation, noted an increase in the amount of land and the number of visitors to state parks over the past 20 years, while the number of Florida Park Service staff has declined. The agency, he added, has "massive controls" in place to ensure that concessionaires fit the mission of the parks.
"If we can get those concessionaires to come in and do the menial tasks, that's to be applauded, because a ranger doesn't want to spend his time cleaning a bathroom," he said. "They have skills that can be better used elsewhere."
Even many staunch anti-privatization advocates admit that some services — like cleaning bathrooms or running lodges, restaurants and gift shops — might be a good fit for private sector partners if it saves state agencies money. But they warn of a slippery slope.
"When a company comes and says, 'I can just take it over for you and take this off your budget item list,' it sounds appealing," said Jayson O'Neill, deputy director at Western Values Project, a public lands organization based in Montana. "In the long run, what does that mean? Are we going to restrict access? Are we going to do demand-based pricing? Does that lead us down the road that we essentially cede this public asset?"
Kitty Benzar, the co-founder of the Western Slope No-Fee Coalition, a Colorado-based group that advocates for free access to public lands, argues that some parks should remain free of camp stores and WiFi.
She also noted that concessionaires often use infrastructure, such as lodges, gift shops and marinas, that were built by parks agencies and maintained with taxpayer dollars.
"Mom and dad are going to give me a stand and a pitcher and some lemonade, some ice and some cups," she said, "and I'm going to keep all the money."
But Meyer, the concessionaire, noted that the infrastructure argument goes both ways. In some cases, states have required companies that want to set up shop in a park to build or restore cabins and visitor centers or install new electric and sewer infrastructure — all still public.
Private companies, he said, can work in healthy partnership with states if agencies retain robust control of what happens in their parks.
"Almost every failure of public-private partnerships has been when the government, through cronyism or incompetence, delegates that top functionality," he said, "and allows private industry to control the character and use of the land."