Stateline
Where the Work-for-Welfare Movement is Heading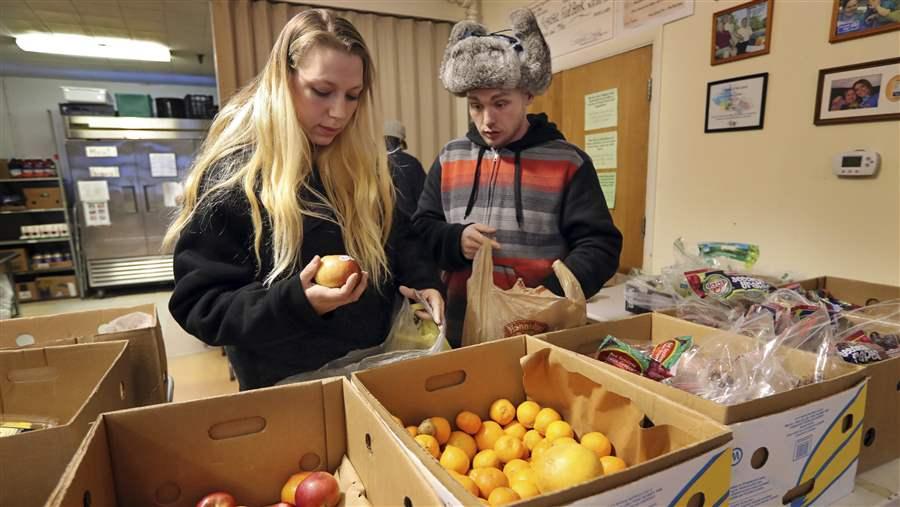 Sunny Larson, left, and Zak McCutcheon gather provisions at a food bank in Maine. Some state lawmakers are proposing new work requirements for people receiving food stamps.
Robert F. Bukaty, The Associated Press
Editor's Note: An earlier version of this story contained an error in the "Work Status" graphic. It was updated on 1/26/2018 to correct the percentage in the category of "not working for other reason." We regret the error.
This is Part Four of the State of the States 2018 series.
As President Donald Trump and Republican leaders in Congress set out to impose tougher restrictions on welfare, their conservative allies across the country are trying to help them accomplish their mission, state by state.
Republican governors and state legislators are moving ahead with proposals that would make it harder for people to get and keep welfare benefits and restrict what benefits they get. Measures already have been floated in about a dozen states, and, policy analysts say, what happens in states in the coming year will serve as an indicator of what's to come nationally.
Some state lawmakers are proposing new work requirements for people receiving food stamps under the Supplemental Nutrition Assistance Program, known as SNAP, and for people receiving government-subsidized health insurance under Medicaid. Others want welfare recipients to pass drug tests. Many are looking to crack down on fraud by requiring recipients to prove their eligibility more frequently and with better documentation. Efforts to ban the purchase of junk food and soda with food stamps are also ongoing.
In Wisconsin, Republican Gov. Scott Walker last week called a special session for lawmakers to consider a package of draft legislation that would impose more restrictions on food stamps and Medicaid. His proposal and many others are driven by the philosophy that government benefits should only be temporary, and that people should earn the benefits if they can.
"Governor Walker has long believed that welfare should be more like a trampoline and not a hammock," said Amy Hasenberg, Walker's press secretary, in a statement to Stateline.
But Democratic leaders and welfare advocates say the restrictions Walker and others are pushing would strip people of the support that is allowing them to scrape by, and drive them deeper into poverty.
"These programs work," said David Lee, executive director of Feeding Wisconsin, a statewide network of food banks. "They help people get the nutrition and health care they need in order to live, and work, and support their families. And that's what we need to focus on."
The movement to restrict welfare programs is being driven by conversations at the federal level. But Elaine Waxman, a senior fellow at the Urban Institute, a left-leaning think tank in Washington, D.C., said much of the change in the coming year will occur as states experiment with new ways to deliver their programs.
What happens in states, she said, "may be a bellwether for things to come down the road nationally."
Source: U.S. Centers for Medicare and Medicaid Services, U.S. Department of Agriculture
Copyright © 1996-2023 The Pew Charitable Trusts. All rights reserved.
Working for Assistance
Republican governors say they are invigorated by the Trump administration's recent promises to give states more control over how they run programs, including welfare.
The federal government sets rules for administering both food stamps and Medicaid, and many states for years have sought permission to impose greater restrictions on eligibility, such as work requirements and drug testing.
The administration this month signaled it will follow through on its promise, when for the first time it approved a request from a state — Kentucky — to require able-bodied, working-age Medicaid recipients to work, go to school, get job training or volunteer in order to receive benefits.
Ten other states have submitted similar requests, and at least another — Ohio — is in the planning stages. Now that the administration has granted one of the requests, policy analysts and welfare advocates say many more states are soon to follow.
"It will soon become the standard and the norm in the United States of America. And America will be better for it," said Republican Gov. Matt Bevin at a news conference this month to announce that Kentucky's request had been approved.
People already have to meet work requirements in order to receive housing assistance and cash assistance through the federal Temporary Assistance for Needy Families program. And in the past five years, most states have reinstated work requirements for able-bodied adults without children receiving food stamps. The new proposals would require some Medicaid recipients to meet work requirements for the first time, and would expand the requirements for food stamp recipients.
The goal is to "get the idle population back into the labor force," to overcome the workforce shortages that exist in many states, said Jason Turner, executive director of the Secretaries' Innovation Group, a coalition of about 20 human service and workforce secretaries from states with Republican governors.
Creating standard rules across welfare programs, such as work requirements, sets expectations for recipients, Turner said. The group has proposed requiring able-bodied, working-age adults without children to meet work requirements for food stamps immediately, instead of after the three-month buffer period now permitted under federal law.
The group also supports implementing certain work requirements for some parents, which more states are considering.
Maine adopted a new rule this past summer that requires parents who receive food stamps to register with a state service that can help them find a job. And Wisconsin is testing a program next year that would require parents in some regions to meet certain work requirements. Walker has proposed making those requirements permanent and statewide.
Walker also is proposing to increase the food stamp work requirement from 20 hours a week to 30.
The idea of stricter work requirements has long been pushed by the Foundation for Government Accountability, a conservative nonprofit advocacy group based in Florida with staff in 14 states. Its advocacy work, policy analysts say, is driving many of the proposals for welfare restrictions in state legislatures.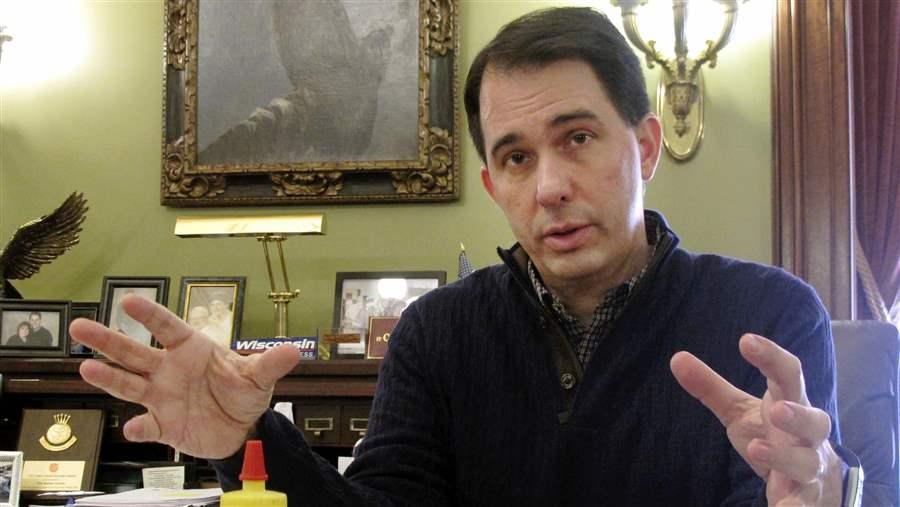 Wisconsin Republican Gov. Scott Walker this month called for greater restrictions on Medicaid and food stamps. Wisconsin is among the dozen or so states that have floated measures that would make it harder for people to get and keep welfare benefits.
Scott Bauer, The Associated Press
Do Work Requirements Work?
Jon Ingram, the organization's vice president of research, said he expects more states to impose Medicaid work requirements this year.
The ability to impose the work requirements may prompt leaders in conservative states to revive plans to expand Medicaid for the poor. State lawmakers in Kansas and Utah told The Associated Press, for example, that Trump's shift gives their states more flexibility. "I have a lot of confidence that they [the Trump administration] will be willing to work with us and approve this," said Utah state Rep. Robert Spendlove, a Republican pushing for a partial expansion in his state.
In Kentucky, Bevin said the new Medicaid program, which offers workforce training and job search help, will empower recipients to change their lives.
Kentuckians want "an opportunity not to be put into a dead-end entitlement trap but rather to be given a path forward and upward so they can do for themselves," Bevin said.
The Kentucky program, and the work requirements proposed in other states, wouldn't apply to most people on Medicaid. Nearly two-thirds of the 68.2 million people on Medicaid would not be subject to the new rules because they are children, elderly or disabled.
The remaining third — about 24.6 million — are working-age adults without disabilities. But the work requirements also wouldn't apply to many of them, who already work or don't work for reasons that would make them exempt from the new rules — such as being caregivers or attending school, according to a Kaiser Family Foundation analysis of data from the U.S. Census Bureau's Current Population Survey.
If the goal is to help people get jobs, policy analysts from left-leaning organizations say, work requirements won't help. Instead, it will cause them to lose their health insurance, sending them into a downward spiral, said Judith Solomon, vice president for health policy at the Center on Budget and Policy Priorities.
"They won't get the blood pressure medication, they won't get their diabetes supplies," she said, "and then they get sicker, and it's worse."
Having subsidized health insurance actually decreases the risk of job loss, according to a recent study by researchers from multiple universities.
In another study, which examined work requirements under the Temporary Assistance for Needy Families program, the Center on Budget and Policy Priorities found that requiring recipients to work did not significantly reduce the share of families living in poverty in most cases. And, the study found, recipients facing work requirements were likelier to live in deep poverty than above the poverty line.
While many state officials want fewer people to need Medicaid, the challenge is ensuring that the changes really help people get back to work, said Matt Salo, executive director of the National Association of Medicaid Directors.
"Are you cutting off your nose and saying, 'Hey, my face weighs less. That's a good thing,' " Salo said. "Or are you saying, 'Hey, we are building a culture of volunteering, of working, and leading people to springboard out of poverty and into a situation where they can get health coverage elsewhere.' "
Salo expects legal challenges to the work requirements, and while more states may submit waiver requests, many may wait to see how those cases play out.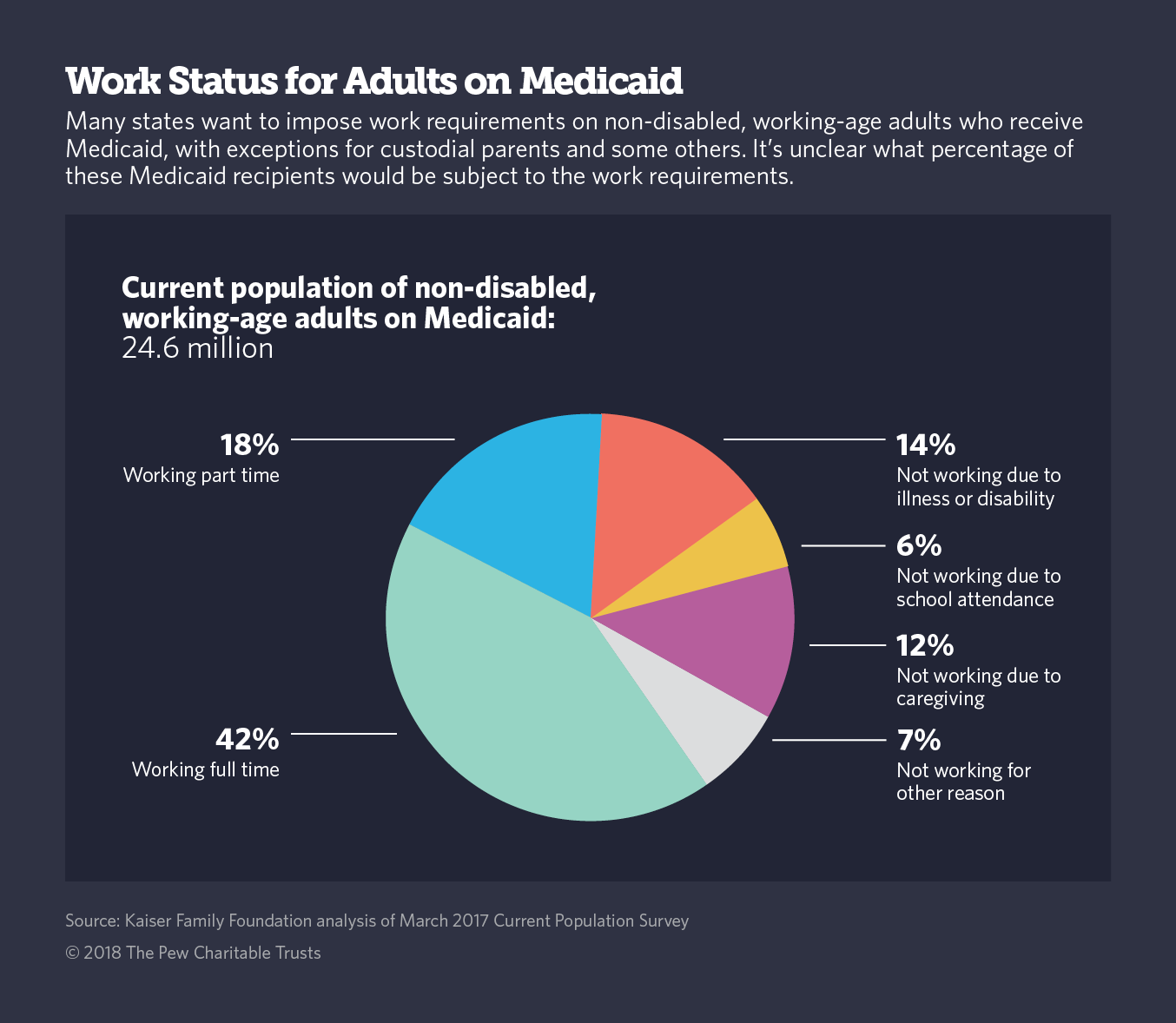 Passing Drug Tests
Along with work requirements, more states may look to require welfare recipients to pass drug tests. Historically, states have had permission to impose the requirement on people receiving cash assistance under the Temporary Assistance for Needy Families program. At least 15 states drug test for that program, according to the National Conference of State Legislatures.
But in March 2017, Trump signed legislation that allows states to require drug testing for residents to receive unemployment compensation. And some states want to test applicants or recipients of other forms of assistance.
Proposals this year in Illinois, South Carolina and Wisconsin would require some or all food stamp recipients to pass drug tests.
In South Carolina, state Rep. Mike Burns, a Republican who is sponsoring the measure, said spending public dollars on people who may be on drugs is bad policy that rewards bad behavior. "I'm not dishing out the folks in South Carolina's money when in essence you aren't rehabbing and treating the illness, you are just perpetuating it," he said.
Many welfare advocates say drug testing won't pay off. A report last year from ThinkProgress, a progressive journalism project of the Center for American Progress, found that the 15 states that test TANF applicants or recipients spent $1.3 million for drug testing. Out of 250,000 applicants and recipients, 2,826 were drug tested, and 369 of them tested positive.
Other proposals would restrict welfare benefits further.
Lawmakers in some states are continuing to propose bans on buying junk food with food stamps. But this is something that would require federal permission, and these requests have been denied in recent years. While some policy analysts thought the Trump administration might approve the requests, Maine's was denied last week.
Other efforts focus on preventing fraud. The Foundation for Government Accountability continues to push for legislation that, in part, would allow states to hire contractors to check eligibility more frequently and using more sources. Bills already have been introduced this year in Alabama, Indiana, Michigan and West Virginia.