Stateline
Los Angeles County Board OKs $355M Spending Plan for the Homeless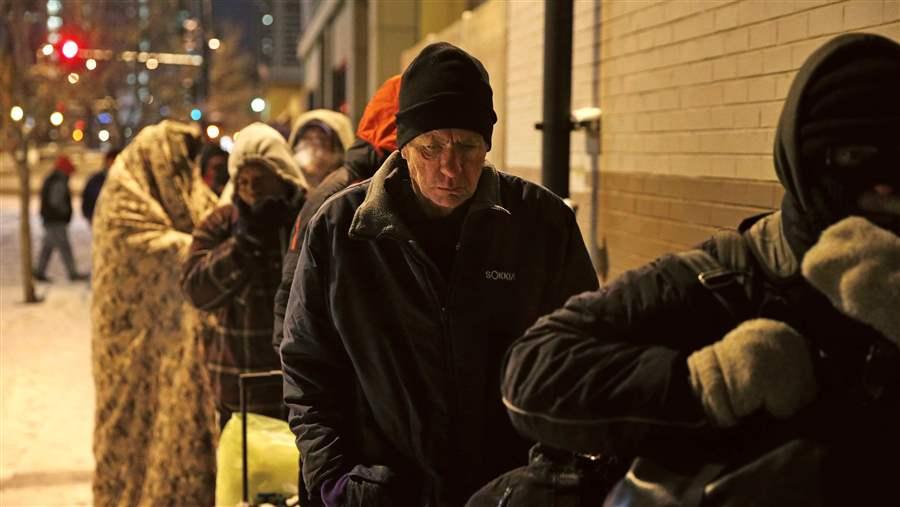 Homeless men wait for the opening of the St. Francis Center's day shelter in downtown Denver. This year, the city started a "social impact bond" program to provide permanent housing and supportive services to at least 250 chronically homeless people. Similar programs have been launched recently in California, Massachusetts and Ohio.
© The Associated Press
The Los Angeles County Board of Supervisors approved a spending plan this week designed to help the homeless in the county, the Los Angeles Times reports.
The plan is funded with proceeds from a special sales tax and is projected to generate $355 million annually for 10 years. Most of the money will be spent on rental subsidies, supportive services for those placed in permanent housing, outreach, and bolstering the shelter system.
Increasingly, states and localities have begun experimenting with creative ways to fight homelessness. Some states and municipalities are providing the homeless with ID cards, which are often needed to qualify for housing, medical care and opening a bank account.
Several states are exploring using a pay-for-success model, where outside investors rather than taxpayers provide working capital to nonprofit service providers trying to tackle homelessness. The idea is to invest money and energy in programs that work — and to hold service providers accountable for meeting specific, measurable goals.