Stateline
Arizona Governor Declares Opioid Crisis a Public Health Emergency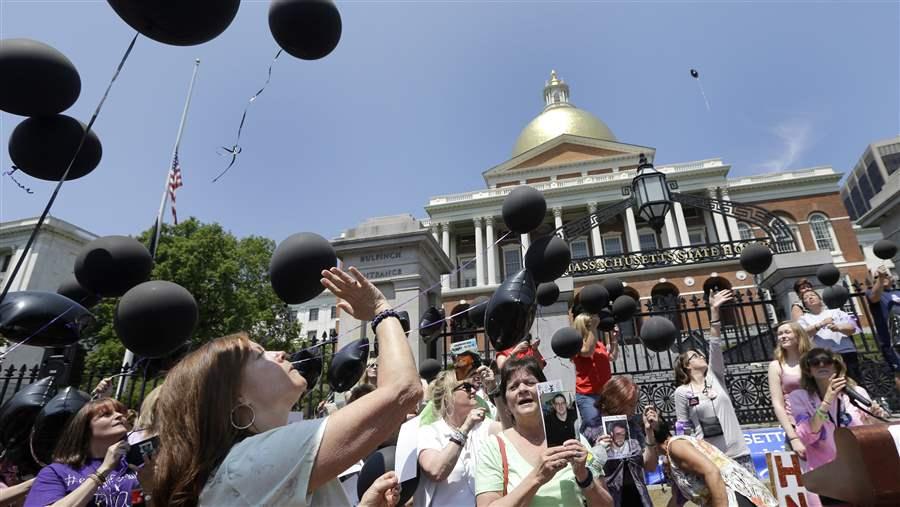 At a rally in Boston, a woman releases a black balloon in remembrance of her son, who died of a drug overdose. Governors nationwide are under pressure to combat a worsening opioid epidemic.
© The Associated Press
Arizona Gov. Doug Ducey has declared the opioid epidemic a public health emergency, an effort to stem the state's spiraling death toll from overdoses of prescription painkillers and heroin. The Republican governor's declaration follows similar announcements in at least five other states: Alaska, Florida, Maryland, Massachusetts and Virginia.
Coming on the heels of a state health department report showing that an average of more than two Arizonans died every day last year from opioid overdoses — a 74 percent increase since 2012 — the declaration allows Ducey to require hospitals, doctors and other health care providers to more frequently update state officials on overdose deaths and hospital admissions.
Under the declaration, the state also will expand distribution of the overdose-reversal drug naloxone to law enforcement statewide, targeting communities with recent clusters of overdose deaths.
The declaration allows the department to draw down a $500,000 public-health emergency fund to pay for training and supplies needed to sharpen the state's overdose rescue efforts, as well as increase availability of treatment.
As in other states, Arizona lawmakers already have enacted a variety of measures to combat the opioid crisis, including restrictions on opioid painkiller prescribing, increased surveillance of opioid prescriptions, and expanded access to addiction treatment.