Stateline
Changes to Visa Program Put Foreign-Born Doctors in Limbo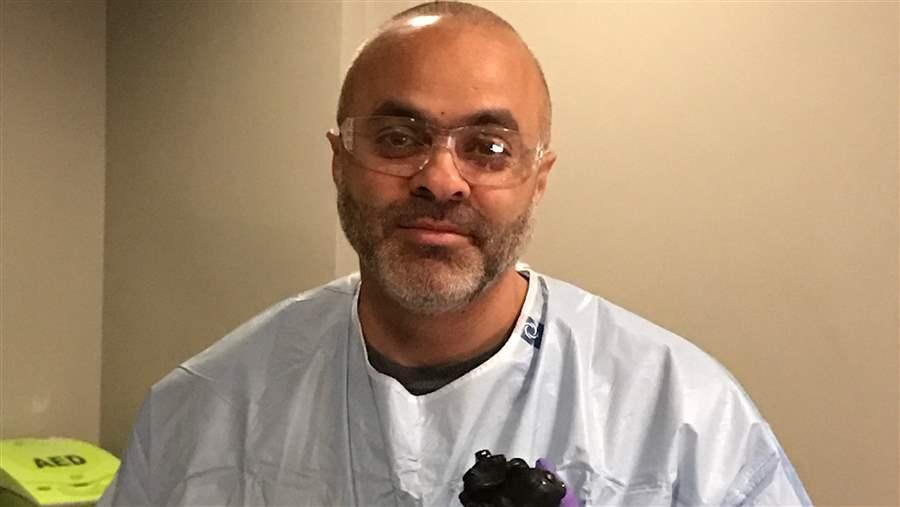 Dr. Fadel Nammour obtained an H-1B visa in 2002, enabling him to move to Fargo, North Dakota, where he operates a gastroenterology practice. President Donald Trump has ordered a review of the H-1B program and suspended expedited processing of applications, which could hamper the recruitment of doctors to medically underserved areas.
© Courtesy of the Dakota Gastroenterology Clinic
Just a few months ago, the future appeared promising and certain for Dr. Sunil Sreekumar Nair. A citizen of the United Kingdom, he was completing his residency in internal medicine at a Brooklyn hospital, and he had accepted a job in a hospital near Fort Smith, Arkansas, a rural area with a severe shortage of doctors.
Then the Trump administration announced that it was suspending the 15-day expedited process to obtain an H-1B visa that allows U.S. employers to temporarily employ foreign-born workers in specialty fields such as medicine and information technology. Now Nair may not receive his new visa for at least eight months, long after he is supposed to show up for his new job in Arkansas.
The Arkansas hospital has offered to keep the job open for him, but Nair isn't even sure he'll be able to stay in the country after his original visa expires with the end of his medical residency next month.
"To say I am frustrated would be an extreme understatement," Nair said last week.
In addition to suspending the expedited application process, President Donald Trump in April ordered a review of the entire H-1B program.
For parts of the country that have difficulty attracting American-born doctors, the uncertainty swirling around the H-1B program is already creating problems, with doctors tied up in legal uncertainty rather than treating patients.
"For us, this has been a very positive program that has brought health care to areas of Wisconsin that would otherwise go without," said Lisa Boero, legal counsel for the immigration program at the Marshfield Clinic Health System, which operates more than 50 clinics through largely rural central and northern Wisconsin, areas with a shortage of doctors.
Hospitals in distressed urban neighborhoods also rely on foreign-born medical school graduates to fill medical residencies that might otherwise go vacant.
"Who else is going to do the work if we lost them?" asked Conrad Fischer, the medical residency program director at Brookdale University Hospital and Medical Center in Brooklyn, New York, where Nair is chief medical resident. "We would have to close down."
This year, for the first time in five years, the number of applicants for H-1B visas dipped below 200,000. However, immigration experts say it's too soon to attribute that drop to Trump's policies or anti-immigrant and refugee rhetoric in the U.S.
Quarter of Doctors Foreign-Born
The American Medical Association says there are about 230,000 foreign-born doctors treating patients in the U.S., or about a quarter of the physician workforce. America is going to need those foreign-born doctors because the country is projected to face a shortage of as many as 94,700 physicians by 2025.
According to an April study in the Journal of the American Medical Association, federal officials granted permission for nearly 10,500 physician jobs to be filled by foreign-born doctors with H-1B visas in 2016. (Because of limitations in federal data, the study counted the number of approved jobs rather than the number of physicians with H-1B status. An employer has to first win approval to hire a foreigner and then the foreigner has to apply for the visa.)
According to the JAMA article, the state of New York had the highest number of H-1B physician slots approved in 2016, with 1,467. If those slots were all filled by H-1B visa holders, they would represent about 2.5 percent of the total number of doctors doing clinical work in the state.
In North Dakota, the approved H-1B slots represent a greater percentage of the total number, nearly 4.7 percent. "They are vitally important to our state," said Courtney Koebele, executive director of the North Dakota Medical Association.
The current vice president of the association is a former H-1B visa holder himself. Born in Lebanon, Dr. Fadel Nammour completed a medical residency in gastroenterology at Cooper University Hospital in Camden, New Jersey, under a short-term visa called a J-1. Under that visa, he was supposed to return home after his studies. But he wanted to stay.
In 2002, Nammour was offered a job with a health plan in Fargo and received an H-1B visa, which cleared him to stay in the U.S. for up to six years. In Fargo, he married a local woman, had three children, obtained a green card, bought a home, became a naturalized U.S. citizen in 2010, and opened his own practice in 2013.
If the H-1B program ever launched an advertising campaign, Nammour could easily be its face.
"We aren't taking jobs from Americans," Nammour said. "We are filling jobs that Americans weren't taking and providing a service that North Dakota needs."
Dr. Pope Moseley, the dean of the University of Arkansas for Medical Science College of Medicine, said that the university, which had 86 slots for H-1B visa holders in 2016, used the visa program to recruit pioneering researchers from around the world.
"Sometimes the people who are driving that pioneering clinical science are people who require the H-1B visa," he said. "We want to get the best people possible who can help us develop new treatments, and this visa program helps us do that.
President's Intentions
Trump has made it clear he wants to restrict immigration, and his administration has promised greater scrutiny of the H-1B program. Immigration advocates worry that Trump's review of the H-1B program might lead to fewer visas, but they also acknowledge that the president has highlighted problems that need fixing.
In 2015, about 113,600 H-1B visas were issued. More than half, 85,000, were chosen by lottery. Medical residents, as well as doctors who work at nonprofit research institutions, universities, and government research facilities, are not subject to the lottery and there is no cap on how many of them can receive visas in a year.
Critics such as Sara McElmurry with the Chicago Council on Global Affairs, a nonpartisan organization that researches public policy issues, complain that the overall H-1B system allocates visas based on chance, rather than on the country's economic needs, lumping IT workers and accountants together without considering the country's economic needs.
That's the same point Trump made in talking about why he ordered the H-1B review.
"Right now, H-1B visas are awarded in a totally random lottery — and that's wrong," he said.
More perplexing to critics on all sides is why the Trump administration in April suspended expedited 15-day "premium processing" for H-1B applicants, the action that has put Nair and others in a state of limbo. (In the past, the expedited service cost applicants an additional $1,225.)
James Volk, a vice president with Sanford Health, which employs about 50 doctors with H-1B visas in clinics across North Dakota, said at least two doctors Sanford has hired are also hung up in the visa process instead of seeing patients.
The suspension not only affects those with job offers but also those hoping to begin medical residencies. Medical students in their last year of medical school learn in March where they have been accepted for their residencies, which generally begin in July. Many of them may find that they have to give up those slots if they don't receive their H-1B visas in time.
According to the Association of American Medical Colleges, there are currently 18,000 foreign-born medical residents training at U.S. hospitals and clinics. Many, but not all, are here under H-1B visas.
The suspension took effect two weeks after it was announced. Bolero of the Marshfield Clinics in Wisconsin said that gave her just enough time to submit expedited applications for all her incoming foreign-born medical residents.
But if expedited processing isn't restored next year, she said the clinics may not be able to offer medical residencies to foreign-born doctors in the next class.
"I am anticipating we will have significant problems next year because the timing just doesn't work for the health care industry."