Stateline
Solitary Confinement on Texas Death Row Inhumane: Report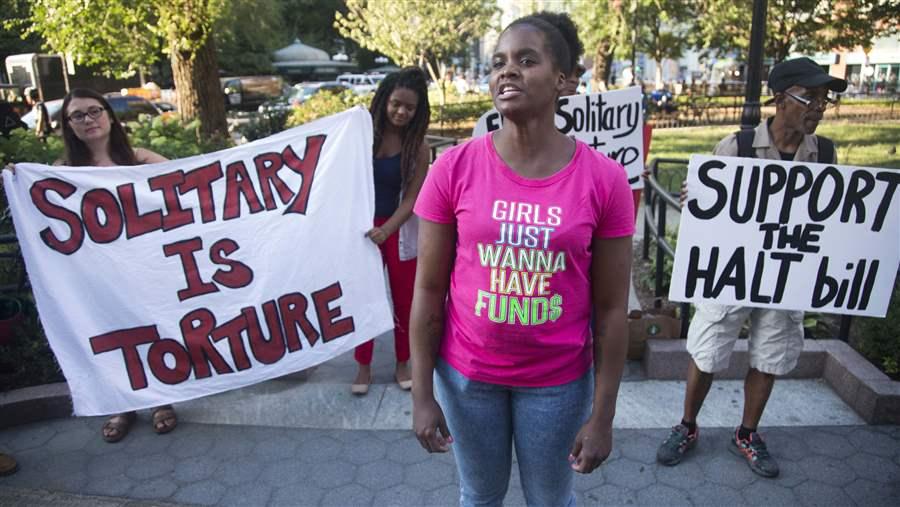 Candie Hailey at a rally calling for the end of solitary confinement in New York. Hailey spent more than three years in jail, much of it in solitary confinement, before being acquitted. States increasingly are questioning the use of solitary in prisons and jails.
© The Associated Press
Conditions for death row inmates in Texas are inhumane and violate international human rights norms, according to a new report from the Human Rights Clinic at the University of Texas School of Law.
In recent years, states have moved to limit the use of solitary confinement as legislatures continue to overhaul their criminal justice systems. At least a dozen states have placed restrictions on the use of solitary confinement — a tool used by wardens for decades to discipline prisoners, safeguard high-risk prisoners and safely contain those prison officials deem "the worst of the worst."
At the Polunsky Unit, Texas' death row inmates spend 23 hours a day in total isolation, face a complete ban on contact visits with family or attorneys, and have little to no access to health care, the report found.
"Offenders on death row are individuals who have been convicted of heinous crimes and given the harshest sentence possible under the law," Jason Clark, the public information director for the state's Department of Criminal Justice, told The New York Times. Clark said the department would "continue to ensure it fulfills its mission of public safety and house death row offenders appropriately."