Stateline
States Impose Wildly Different Policies in Releasing Police Videos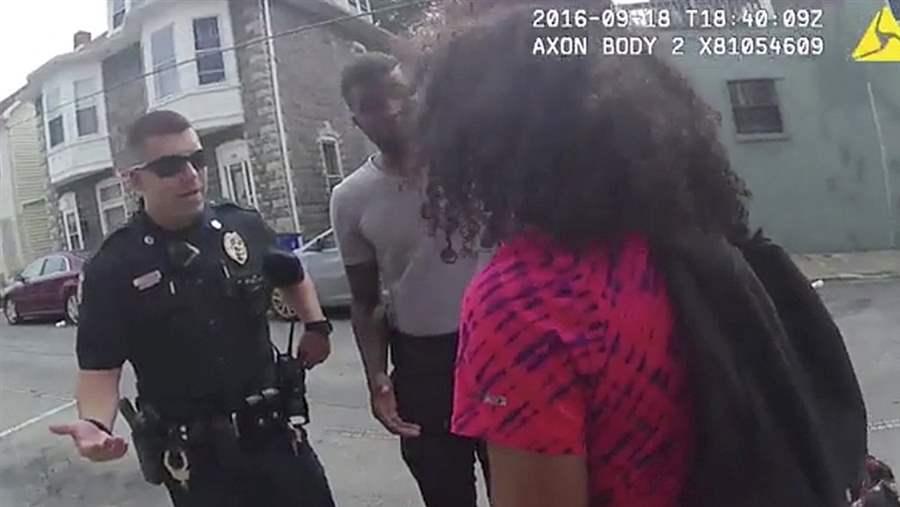 A Hagerstown, Maryland, police officer speaks with a 15-year-old girl in a video frame taken by a police body camera. States and municipalities are imposing wildly disparate policies for when and how footage should be released.
© The Associated Press
Last month police in Charlotte, North Carolina, shot an African-American man and then sat on the footage from their body and dashboard cameras, refusing to release it until protesters' demands that the footage be shared turned violent.
Had the shooting occurred 11 days later, recordings of it would not have been considered public record under a new North Carolina law, making it harder to force police to share the footage.
The law, which went into effect Oct. 1, requires media outlets and others who want to see body camera footage get a court order to do so. It is among several new policies across the country that restrict access to body camera footage, as cities and states grapple with storing hours of footage and competing demands on how accessible it should be.
Over the last two years, and without much regulation, police departments have hurried to strap body cameras to their officers, both to address demands for transparency and to protect police from accusations of wrongdoing.
But once the cameras started rolling, many departments were left not knowing when or how they could show the footage to the public, prompting policymakers to act. At least 21 states and dozens of municipalities have instituted policies that range from treating body camera footage like other public records to imposing outright bans on releasing footage. And more could be on the way to locking down body camera footage.
Figuring out how to share what the cameras capture is a difficult balance, said Dave McClure, a researcher at the Urban Institute, a Washington, D.C., think tank focused economic and social policy research.
"You want to be transparent with the footage, and let the public see it because they need to know what police officers are doing," McClure said. "But it also contains information that is very sensitive and private."
Many of the nation's 12,000 police departments use body cameras, though some have already abandoned the devices because they say storing the footage is expensive and laws requiring departments to retain the footage for long periods are cost prohibitive.
Missouri this year passed a law that makes footage public unless it's taken in a private place or shows victims. Georgia did that last year.
But Steve Zansberg, a Colorado-based First Amendment attorney who has represented media companies, calls for greater openness and transparency. He said all recordings made in public spaces should be presumptively open because they document the conduct of public servants.
"The idea of 'take our word for it' just doesn't work," said Zansberg, adding that laws like North Carolina's feed a culture of secrecy among law enforcement.
Most states choose to enact more restrictive laws, Zansberg said, but he points to Oklahoma as a state with a more open policy. That law, enacted last year, generally allows for the disclosure of body camera footage, save for recordings that include nudity, children, criminal informants, victims of sex crimes or domestic violence and the personal information of innocent people.
Footage that shows assault victims, undercover police officers or criminal informants should probably be kept from the public, Zansberg said. But he says requiring a court order, as North Carolina now does, is an "inhibiting step" for ordinary citizens who want to review police recordings.
But supporters of the North Carolina law say having an impartial judge decide whether footage can be viewed means police can't hide information.
John Faircloth, the Republican North Carolina state representative who sponsored the new law, said it is not meant to hold up requests for video but is intended to protect the privacy of innocent people captured on the cameras. Typical body camera recordings contain footage of day-to-day police work and will rarely be controversial, he said, meaning most requests can be dealt with quickly because there will be little reason to not disclose them.
"We think people have spoken out against it because they don't understand how simple and easily it can work," Faircloth said.
Source: Reporters Committee for Freedom of the Press
Copyright © 1996-2023 The Pew Charitable Trusts. All rights reserved.
Privacy and Technology
When writing body camera access laws, states have been walking a line between providing access and protecting private information and the privacy of crime victims. And in the last two years states have taken vastly different views of what that means.
Under Texas' new law enacted last year, footage is only considered public if it will "further a law enforcement purpose," while in Maryland footage is available under the state's existing public information law.
The technology behind body cameras has outpaced the public policy governing how they're used, said Jay McDonald, vice president for the national Fraternal Order of Police.
Body cameras don't tell the whole story of an interaction with police, he said, and can embarrass victims or hurt the reputations of people who were caught on camera, but committed no crime.
"We know that it's a piece of the puzzle, but it's not the only piece," McDonald said. "Often that [footage] could be released and unfairly taint the public perception of what happened."
In Oregon, footage can be released only if it is considered to be in the public interest, but faces must be obscured. And in Las Vegas, footage can be viewed at the police department, but copies are not immediately given out.
McClure of the Urban Institute points to the Las Vegas policy as an example of how police departments can provide access to footage while avoiding the potential widespread release of private information.
The American Civil Liberties Union (ACLU) has drafted model body camera legislation that the civil liberties organization says strikes a balance between access and privacy. The suggested ACLU policy, which is closely mirrored by a 2016 New Hampshire law, would only require police to keep and release recordings that show a use of force, result in a felony-level arrest or complaint, or have been requested by a law enforcement officer or subject of a video.
But although proponents of greater access to body camera footage like Zansberg agree that children and crime victims deserve shelter from public disclosure, they argue that video shot in public places should be made public because recording what people do there is legal.
"It doesn't change [when] that recording is made by a law enforcement agent," Zansberg said.
A Real Solution?
Redacted footage is seen as a middle ground between totally withholding that footage and making everything available. But the modified recordings can eliminate information that is critical to understanding what really happened in a high-profile incident.
Even footage that isn't edited can be misleading because a single body camera cannot capture every angle of interaction with police and critical details can be missing if an officer fails to turn the camera on.
"All you can see is the officer wrestling someone on the ground … and it looks very suggestive of something, especially when there's no context around it," McClure said.
Despite those constraints, body cameras appear to have a positive impact on police-community relationships, said Melissa Morabito, a criminal justice professor at the University of Massachusetts at Lowell.
In jurisdictions where police wear body cameras, there are fewer complaints about officers and police are less likely to use force. A recent Pew Research Center Study found, however, that perceptions of police performance and views on fatal encounters with police vary significantly between whites and blacks. (Pew also funds Stateline.)
Police officers have been forced to quickly adopt body cameras and their training doesn't adequately convey how the cameras can be used to establish trust with the communities officers patrol, Morabito said. She said police may be more welcoming of body cameras and sharing footage if there was more emphasis on how the devices can be used to prove they are doing their jobs responsibly.
"Having the body cameras actually helps police more than it hurts them," she said.