Stateline
Despite Governors' Protests, Syrian Refugees Settle Across the U.S.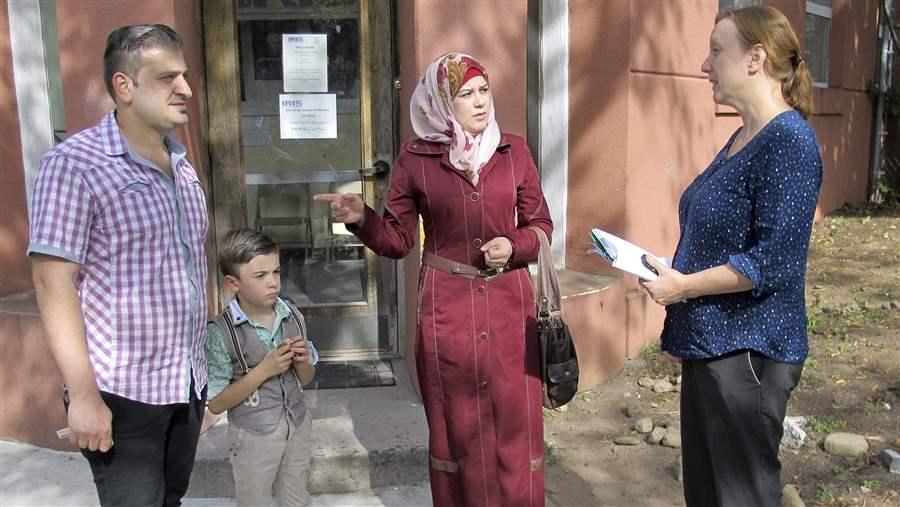 © The Associated Press
Syrian refugees Abdullah, left, Fatema, second from right, and their son Ayham were diverted from Indiana to Connecticut last year when Indiana Gov. Mike Pence temporarily suspended Syrian refugee resettlement. Governors opposed to Syrian resettlement have not been able to stop the flow of refugees.
PASSAIC, N.J. — As he sat in a food pantry here, a 32-year-old Syrian refugee's eyes widened when he heard that Republican Gov. Chris Christie had declared last year that he didn't want any people fleeing the war-torn country to come to New Jersey.
"Does he want to send me back?" said the man, a married father of four who didn't give his name because he doesn't want his family in Syria to worry about him.
The man and his family fled to a refugee camp in Jordan after their home in Syria was leveled by a missile strike. About a month ago, they were placed in nearby Paterson, some of the more than 10,000 Syrian refugees who have been settled in the United States this year.
The resettlement plan, announced a year ago, drew angry protests from Christie and 29 other governors. But there is little the governors have been able to do to stop the flow — and only a few states are still trying.
Indiana and Texas are appealing federal judicial rulings in an effort to block refugees from their states until they have been screened to ensure they don't have ties to terrorist groups. Alabama Gov. Robert Bentley, a Republican, is appealing a federal court's recent dismissal of a suit he brought charging that the federal government hasn't consulted with states before placing refugees, as required by the federal Refugee Act of 1980. And Tennessee lawmakers are planning to sue the federal government, seeking more information about what the state will have to pay for refugees' education and health care.
But so far, courts have rejected the states' legal arguments. And governors have not threatened to remove refugees who are already on the ground in their states.
"Refugees are legal residents of the United States as soon as they land here," said Lavinia Limon, president of the U.S. Committee for Refugees and Immigrants, a national nonprofit that handles resettlement. "Nobody can tell them where they can or can't live."
The most recent count shows that 11,491 Syrian refugees have arrived in the U.S. since October, the start of the federal fiscal year, and many have gone to states that protested, like Texas and Arizona, which have received about 825 refugees each. (The State Department's Refugee Processing Center, working with several nonprofits, decides where to place refugees.)
The Obama administration is still deciding how many Syrian refugees the U.S. will accept in the coming fiscal year, but the number is expected to increase.
Like Christie, Republican Gov. Sam Brownback of Kansas opposed Syrian resettlement in his state. To express their displeasure, New Jersey and Kansas closed their state refugee resettlement offices, which help distribute federal funds and coordinate the nonprofits who work with the new arrivals. But the International Rescue Committee has stepped in to play that role in both states, and people who work with refugees say they haven't been affected by the decision.
In Texas, Republican Gov. Greg Abbott ordered the Health and Human Services Commission to suspend any work with federal officials on resettling refugees, but the flow of refugees to Texas never paused. In June, a federal district court dismissed a lawsuit brought by the state that charged that resettlement agencies had failed to adequately consult the state before placing refugees.
Republican Gov. Mike Pence of Indiana, the Republican nominee for vice president, blocked Syrian refugees from his state and threatened to withhold resettlement funding, before a court order forced him to back down in February. At least one family was diverted from Indiana before the order took effect. In court papers, the state said it only wanted to stop paying refugee service agencies for "social services" such as citizenship preparation and job certification, but would not withhold the federal assistance refugees receive, such as cash grants and help with education and medical services.
In its upcoming lawsuit, Tennessee will argue that it will have to pay as much as $100 million a year on refugees from Syria and elsewhere because the state is required to provide them with health care and language help in schools. Republican Gov. Bill Haslam and the state attorney general don't support the move, but allowed the suit to proceed.
An Awkward Position
In several states, nonprofits that work with refugees say they have had tough interactions with state agencies.
Aaron Rippenkroeger, CEO of the nonprofit Refugee Services of Texas, which has helped place 141 Syrians in Austin, said he got letters from the state Health and Human Services Commission asking for a temporary halt on Syrian refugees, demanding details about refugees, and implying that the agency's state contracts could be in jeopardy. A court order dismissing the Texas lawsuit cited a similar letter to another resettlement group.
"It put us all in a very awkward position. We work very closely with the state of Texas and see them as very close partners," said Rippenkroeger. "We were caught in the middle."
But the organization hasn't seen recent signs of hostility toward Syrian refugees from ordinary Texans, he said. One Methodist minister who greeted a Syrian family at a Dallas airport was buckling a child into a car seat when a fiery speech against Syrian refugees came on the radio.
"He felt like he had to stop what he was doing and run around to the driver's seat to turn off the radio," Rippenkroeger said. "I only hope that's the worst thing that happens to that family, that they have to listen to that on the radio."
Since the refugees began arriving, he said his group's volunteer rolls have swelled from 100 to 1,000 in the Austin area, with similar increases in Dallas and Houston.
In the Dallas area, new refugee families get a volunteer sponsor from the city's Syrian community, said Hala Halabi, who immigrated from Syria 16 years ago and works with the new arrivals through the Islamic Circle of North America. The group helps them find housing near other new Syrian refugees so they can lend each other a hand and share information.
Local nonprofits receive $1,975 per refugee from the State Department to help them settle, with the money used to provide furnished housing, help buying food and clothing, and a case manager to guide refugees through their first days in the country. The U.S. Department of Health and Human Services also spent more than $1.5 billion last year on employment, health and other social services for refugees and protected groups, like victims of human trafficking.
Many of those arriving in Texas are from rural Syria, have little education and need a lot of help with English, Halabi said. Some are finding jobs, such as stocking store shelves overnight, which require little English.
Withholding Services
In Kansas, which has received 33 refugees, Brownback issued an executive order in January barring the use of state resources for refugees "that present a safety and security risk."
The National Immigration Law Center is suing Kansas for documents related to the order, to determine whether any refugees or agencies have been harmed by it, said Melissa Keaney, a staff attorney for the center. Keaney said she believes services have been withheld from at least some refugees, but declined to give details.
A Tennessee law approved in 2011, before the Syrian refugee crisis, allows cities to request a moratorium on refugees if jobs and housing are not available, though the state can only forward the request to the federal government.
In the coming year, more states are expected to approve such "absorptive capacity" laws, which allow cities to protest without actually interfering in the resettlement process, said Domenic Powell, a policy strategist for the American Civil Liberties Union.
"They can't stop people from moving to town but what they can do is send an unwelcoming signal to the federal government. They can voice protest," Powell said.
'Where Else Can I Go?'
Christie's administration announced in April that New Jersey would close its state refugee resettlement program.
But while states like New Jersey and Kansas can wash their hands of the process, they can't make a difference in the funds refugees get or the places they settle, Limon said. New Jersey has received 275 Syrian refugees this year.
The Syrian man in the Passaic food pantry, who stitched athletic shoes for a living in Syria and hopes to find the same kind of work here, now lives in a three-story house with two other Syrian families in Paterson. The city has an established Arabic-speaking community, much of it Palestinian, but many earlier arrivals from Syria were placed miles away in Jersey City or Elizabeth.
Many Syrian refugees have found their way to Smile for Charity, a Passaic nonprofit that has Arabic-speaking Palestinian volunteers to help them, said Meher Mohsin, the group's director of development.
The group is working with resettlement agencies and other nonprofits to help refugees with big expenses like furniture and cars so families can use their limited federal funds for the area's high rent.
"I am very grateful to be here in the United States," the man said. "Where else can I go? There's nowhere else for me."
His neighbors have been friendly since he arrived last month, he said. But he has complaints: rats in the house gnaw on the cabinets and eat the family's food, and the sound of them has scared his children into sleeping in one bed.
But he's found support at Smile for Charity, where he also volunteers several hours a week handing out food at the pantry while he's awaiting a job.
"They choose to come here because we're Muslim and people can speak Arabic," Mohsin said. "There's that cultural comfort level. They can come and feel at home."