Stateline
Are 'Instant Runoffs' a Better Way to Vote?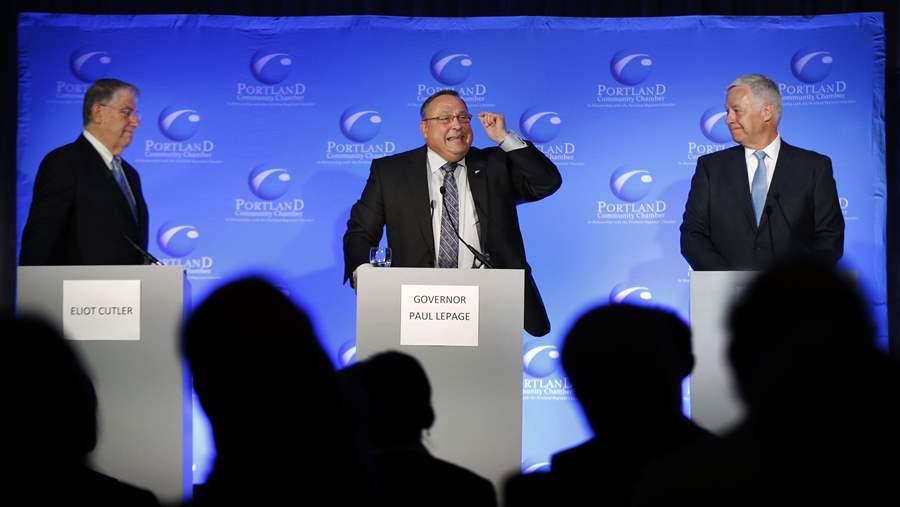 © The Associated Press
Republican Maine Gov. Paul LePage, center, debates other gubernatorial candidates, independent Eliot Cutler, left, and Democrat Mike Michaud, in 2014. In four of Maine's last nine gubernatorial elections, the winner received less than 40 percent of the vote, fueling a drive for "instant runoff" voting.
Maine's gubernatorial races often feature more than two candidates, and for 50 years, none of them has won a first term with majority support.
Fed up with unpopular chief executives who lack mandates for their proposals, voters will decide in November whether to adopt an instant runoff, or ranked-choice voting, system whenever there are more than two candidates.
Here's how an instant runoff works: Instead of selecting a single candidate, each voter ranks all the candidates in order of preference.
If no candidate is the top choice of the majority of voters, the candidate with the fewest first-place votes is scratched from every ballot, and there is a second count.
This time, on every ballot where the last-place candidate was ranked first, the second-ranked candidate is counted as the voter's top choice. The counts continue until one candidate is the top remaining choice of a majority of voters.
"This could be transformative in our state and, hopefully, around the country," said former independent state Sen. Sen. Dick Woodbury, a leading proponent of the referendum.
If voters approve the measure, Maine would become the first state to use instant runoffs in primary and general elections for U.S. senators and representatives, governor, and state senators and representatives, starting in 2018.
"When you explain it to people, they like the idea," said Jill Ward, president of the League of Women Voters of Maine, which spearheaded the referendum. Under the current system, "people assume somebody who wins gets the majority of votes, but they don't."
In four of Maine's last nine gubernatorial elections, the winner received less than 40 percent of the vote. A 2011 League of Women Voters study of alternative voting systems found that ranked-choice voting was "the best way to ensure a majority vote in competitive, single-seat, multi-candidate elections."
Eight states hold primary runoffs — a second primary vote when no candidate wins a majority — in state legislative races: Alabama, Arkansas, Georgia, Louisiana, Mississippi, Oklahoma, South Carolina and Texas.
North Carolina holds a runoff if no candidate in a state race wins at least 40 percent of the vote. South Dakota has a runoff only for governor and federal officials. Vermont holds a runoff only in case of a tie and only in local elections.
But traditional runoffs are costly to local governments and often draw a sparse turnout.
Interest among state legislators in instant runoffs appears to be growing, said Wendy Underhill, program director for elections and redistricting at the National Conference of State Legislatures. Although, she added, "It's hard to pass a bill changing the electoral system."
State legislators in Maine first introduced ranked-choice voting legislation in 2001, when the governor was an independent. They did again when the governor was a Democrat, and once more during the term of current Republican Gov. Paul LePage.
When the bills went nowhere, the Committee for Ranked Choice Voting-Maine collected 73,000 signatures for the citizen ballot initiative.
Nationwide, governors are increasingly elected without a majority. Ten governors were elected without a majority in 2014. In this decade, the rate of governors winning without a majority is higher than any decade in the last 100 years.
Dissatisfaction with the Democratic and Republican parties has led to rising support for third parties.
The Libertarian Party has been recognized — enabling its candidates to get on ballots — in 33 states, the Green Party in 21 states, and the Constitution Party in 15 states.
Fourteen states considered 27 bills related to instant runoffs during the 2016 legislative session, but none became law, according to NCSL.
In California, a measure authorizing local governments to use ranked-choice voting under certain circumstances passed in August with bipartisan support and was sent to the governor for his signature.
In addition to Maine, instant runoff bills were introduced in Arizona, Hawaii, Indiana, Maryland and the District of Columbia.
Rhode Island considered a constitutional amendment for instant runoffs.
Bills giving some or all localities the option of instant runoffs were also considered in Maryland, Minnesota, New Jersey and New York.
Georgia and Vermont weighed using instant runoffs for military and overseas voters.
Four state legislatures — Arkansas, Alabama, Louisiana and South Carolina — already have approved instant runoffs for military and overseas voters, who send in their instant runoff ballot with their primary ballot.
Mississippi's Board of Elections, under pressure from the U.S. Justice Department, approved instant runoffs for military and overseas voters in 2014.
The number of bills involving instant runoffs in state legislatures has been on the rise: from 17 bills in 2012, to 20 bills in 2014, to this year's 27.
Think of an instant runoff like ordering at Dairy Queen, said Charles Bullock, professor of government at the University of Georgia and a fan of instant runoffs.
"When you go to Dairy Queen, you look at the Blizzard of the Month and you want the Heath Bar. But they tell you they're out of the Heath Bar, so you fall back and say, `I'll take the M & M,' " Bullock said.
Broader Appeal?
Proponents of instant runoffs say that when candidates have to run to be some voters' second or third choice, they become more civil and broaden their positions. And the voting system can affect voters' behavior, too.
In plurality elections, in which the candidate with the most votes wins, third-party and independent candidates are often discouraged from running as spoilers, and voters are often reluctant to "waste" their votes by picking a candidate who's unlikely to win, Bullock said.
An instant runoff allows voters to cast a first vote as a sincere vote as opposed to a strategic vote.
But Bullock said: "Anyone who has been successful under the existing rules thinks they're pretty good."
Critics, including Maine's LePage, who was elected twice with less than 50 percent of the vote, contend the ballot initiative is politically motivated. LePage, who is giving "very serious thought" to running for the U.S. Senate in 2018, has urged citizens to "just say no" to the ranked-choice referendum.
"This is just another way for sore losers to try and overturn election results they don't like," LePage said in a radio address in May. Besides, Maine's Constitution requires plurality elections. "It's that simple," he said.
Maine Attorney General Janet Mills said in an opinion in March, "It may not be possible to implement ranked-choice voting as envisioned … without amending the Maine Constitution." Other attorneys and law professors in the state disagree.
Bringing ranked-choice voting to Maine would cost about $550,000 for software upgrades with the secretary of state's office, ballot printing and public safety, said Kyle Bailey, campaign manager of the Committee for Ranked Choice Voting-Maine.
Technology Troubles
Twenty years ago, if you were interested in instant runoffs, you had to look outside the United States. Instant runoffs are used to elect the Australian House of Representatives, the president of Ireland and party leaders in the United Kingdom and Canada.
Then San Francisco adopted instant runoffs in 2002 for local elections. Nine other cities have followed, including Portland, Maine.
Today, ranked-choice voting has growing bipartisan support in the U.S. Among those who've endorsed it: President Barack Obama, who as an Illinois state senator introduced an instant runoff bill for statewide and congressional primaries in 2002, and U.S. Sen. John McCain of Arizona, the Republican presidential nominee in 2008.
The Academy of Motion Picture Arts and Sciences uses ranked-choice voting to choose Oscar winners, as do many student governments.
Legislators in states with traditional runoffs are more likely to consider instant runoffs. In Georgia, where primary runoff turnout has been as low as 12 percent of eligible voters, Republican state Rep. Buzz Brockway proposed a commission to study ranked-choice voting — and hit a wall.
"What in the world are you doing?" His colleagues said. "I think we ought to at least sit down and talk about it," he said.
Even if states were ready to switch to instant runoffs, though, they face a practical obstacle in technology.
"Policymakers often think it's the right way to go but then bump into reality," said Rob Richie, executive director of FairVote, a nonpartisan election reform group that advocates for ranked-choice voting.
"Their current voting equipment can't do it." Vendors are waiting for more localities to adopt instant runoffs, and localities are waiting for vendors, he said.
When North Carolina tried ranked-choice voting for a judicial election in 2010, state elections officials had to sort ballots manually for the second and third rounds, said Gary Bartlett, who was director of the North Carolina Board of Elections for 20 years.
"You can't push one button and have everything work. What we had in North Carolina was a workaround, but it worked," he said. The Republican-controlled Legislature repealed instant runoffs in 2013 as part of a package of election laws.
What It Delivers
There's also a question about whether ranked-choice voting delivers a majority winner.
"The notion that it guarantees a true majority winner is a lie," declared Maine state Rep. Heather Sirocki, a Republican.
FairVote seems to acknowledge the limits of the system on its website: "When used as an 'instant runoff' to elect a single candidate like a mayor or a governor, [ranked-choice voting] helps elect a candidate that better reflects the support of a majority of voters."
A 2014 academic study concluded that an instant runoff "does not ensure that the winning candidate will have received a majority of all votes cast, only a majority of all valid votes in the final round of tallying."
This is because ballots become "exhausted" and are discarded along the way — when the voter marked only one or two candidates or marked the same candidate twice or candidates were eliminated before the final round.
The finding "raises serious concerns about [instant runoffs] and challenges a key argument made by the system's proponents," wrote the study's co-authors, Craig Burnett of the University of North Carolina-Wilmington and Vladimir Kogan of Ohio State.
One of the four local elections Burnett and Kogan studied was that of Tony Santos, mayor of San Leandro, in the Bay Area of California, who blames his re-election defeat on a 2010 instant runoff that went six rounds.
Santos had won in a regular runoff four years earlier but had spent $35,000 of his own money, and the runoff cost the city $200,000, he said.
"So I came out in support of instant runoff voting. It sounded like a good deal, and you avoid the cost of a runoff," he said. He had four competitors and turnout was low.
When the votes were first counted, Santos was 74 votes ahead but had only 36 percent of the vote. By the sixth and final round, the winner beat Santos by about 200 votes and had 51 percent to Santos' 49 percent of the remaining vote. The winner held a majority over Santos but his share of the total votes cast was 46 percent, not a majority.
"If we'd stayed with the plurality, I would have won," Santos said.