Stateline
Millennials: Living on the Edge of the Big City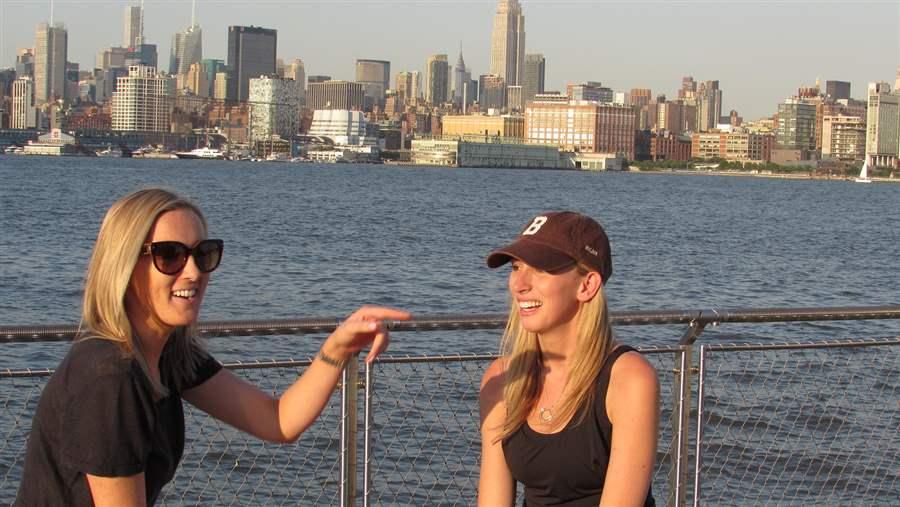 The Pew Charitable Trusts
Cory Piirto, left, plans to move to Hoboken, New Jersey, where her friend Julie Horowitz already lives. Many millennials like Piirto and Horowitz view close-in suburbs as a vibrant, affordable alternative to living in the big city.
HOBOKEN, New Jersey — Cory Piirto is a newlywed living in New York City, but the prospect of starting a family is prompting her to plan a move across the Hudson River to Hoboken.
"Everything's just easier here," said Piirto, 27, as she lounged on the Hoboken waterfront, where Manhattan skyscrapers form a vivid backdrop. "It's easier to live, easier to afford a two-bedroom. You can have a car and take [your children] places."
Millennials like Piirto, the generation born after 1980 and the first to come of age in the new millennium, still love urban areas but are finding they want more space, affordability, cars and the parking spaces for them as they gain more wealth and get ready to settle down and have children.
Many millennials see close-in suburbs like Hoboken, with its youthful vibe and picture-window views of Manhattan's skyline, as a likely compromise. The average rent for a two-bedroom apartment in Hoboken is $2,900 compared with $5,000 for nondoorman buildings in Chelsea, a neighborhood in Manhattan.
As the leading edge of the generation reaches its child-rearing age, choosing where to live is increasingly urgent. And it's one many local governments are responding to in a desire to attract or retain the economic activity and tax dollars created by what's now the largest generation in the U.S. workforce.
Communities are making way for more dense and affordable development, with retail stores within walking distance and public transportation, for an age group that has shunned cars out of economic necessity or preference. It's happening in the Virginia commuter suburbs west of Washington, D.C., for example. And Hunterdon County, New Jersey, an hour's drive from Hoboken, has devised a strategy to remake itself and stem its millennial exodus.
The payoff is great if communities can attract or retain millennials, as they tend to be highly educated and to bring about greater economic productivity, according to research published last year by the Stanford Institute for Economic Policy Research.
"Policies that attract college graduates to live in a city have large spillovers on improving the local productivity of firms in the city and creating desirable amenities, which will further attract additional college graduates," the report said, suggesting tax incentives for hiring high-skill workers and spending toward amenities valued by college graduates, such as low crime and good schools.
What Attracts Millennials?
Among the nation's counties with a high proportion of working-age millennials — ages 25 to 34 — are Hudson County, where Hoboken is located, and Arlington County, Virginia, across the Potomac River from Washington, according to a Stateline analysis of 2014 Census estimates.
One in five residents in those counties — and in millennial magnets Boston, Denver, Manhattan, San Francisco and Washington — belong to the 25- to 34-year-old age group. Not far behind are growing favorites such as Austin, St. Louis, Nashville, Tennessee, and Portland, Oregon.
That a close-in suburb like Hoboken can be attractive to a large number of millennials does not come as a surprise to Neil Howe, the economist and demographer who coined the term millennial.
"We have always believed that millennials are not going to stay in these core urban areas when they get married and have kids. They won't want to bring their kids up there," said Howe, co-author of Millennials Rising: The Next Great Generation. "But they want to be close. They want to be where the action is and they want to be with each other."
And that can offer hope to flagging suburbs close to urban centers, Howe said. "I think you're going to find that a big new area is going to be inner suburbs."
According to a Rutgers University report released last year, Hoboken had a declining population for 60 years before its youthful boom started in 2000. The suburb has grown exponentially since then — partly because, as Howe said, millennials want to be with each other.
Piirto said her friend Julie Horowitz, whom she met in college in Colorado, introduced her to Hoboken and convinced her to make the move from Manhattan.
"I'm from North Jersey," said Horowitz, a medical sales representative. "The way it worked out, all my friends went to college and came back and moved to Hoboken. So I have my whole crew here."
Aaron Kloke, a city planner who wrote about the sometimes conflicting priorities of millennials in Omaha for the University of Nebraska, has come to the same conclusion as Howe: Close-in suburbs can be the beneficiaries of millennials' tastes when it comes to their choosing where they wish to live.
In his research, Kloke showed photos of neighborhoods to millennials and asked their impressions. The ones they liked most were urban and described as "dense," "close-knit," "lively" and "vibrant." The least appealing were suburbs they called "uniform," "faceless" and "cookie-cutter."
Yet many still saw the appeal of single-family homes and abundant parking, leading Kloke to determine that some outlying city neighborhoods and close-in suburbs could be the wave of the future — places like the historic Benson area in north Omaha, the Hyde Park district in inner Austin, Texas, or the Mississippi Avenue district in north Portland.
"These areas are dense enough that [millennials] have the ability to walk to or have quick access to the great amenities like restaurants, entertainment and parks that attracted them in the first place," Kloke said.
Winners and Losers
Some exurbs — suburbs that are further from the city and mostly affluent — have seen double-digit losses in their 25- to 34-year-old populations. These exurbs are now the parts of the country with the fewest millennials — less than 10 percent of their populace is working-age millennials.
Marin County, California, north of San Francisco, lost 26 percent of its 25- to 34-year-olds since 2000. Sussex County, in northern New Jersey, lost 19 percent.
Hunterdon County, 60 miles west of Hoboken on the Pennsylvania border, suffered one of the greatest losses in that cohort: 24 percent of its working-age millennials have left since 2000, leaving a population with 8 percent from that cohort.
About half of the county's young people would like to stay there, Hunterdon County said in a report last year. But they lack smaller, more affordable homes and often despair of finding jobs that could support the high cost of living there. Corporate campuses have emptied as companies follow millennials to more urban areas.
"Millennials resist working in isolated office-park campuses," the report concluded, suggesting repurposing such parks as multifamily housing where millennials could return from college or city living to raise families or where empty-nesters could move to when they downsize.
One hope for repopulating the outer suburbs with millennials may be found in the growing popularity of the inner burbs, as millennials confront rising housing costs. As more in the age group seek to move in and their wealth increases along with their age, so do their desires for single-family homes and good schools for their children.
Consider, for example, Arlington County, Virginia. The suburb of Washington had the highest median rent of any county in the country at $1,820, according to Census estimates for 2013, the latest available.
Some close-in suburbs like Arlington are "a victim of their own success" because prices for single-family homes have skyrocketed beyond the means of the typical millennial, said Lisa Sturtevant, who wrote a 2013 study of demographic changes in the Washington area.
"A single family house in Arlington is a million dollars, and they're not building any more," said Sturtevant. Census estimates from 2013 show Arlington County with the highest median home value in the Washington area, nearly $600,000.
The exurbs are responding. Some exurbs of Washington in the Virginia counties of Fairfax and Loudon are building more urban-looking, youth-oriented housing and retail developments with walking and public transportation in mind, she said.