Stateline
Many States Look to Raise Minimum Wage
California's recent decision to raise its minimum wage to $10 an hour by 2016—a higher minimum rate than any other state has now—may add momentum to the drive for higher hourly rates in at least eight other states in 2014.
New Jersey could become the fifth state this year to increase its state minimum wage if voters approve a measure on Nov. 5 that would boost the hourly rate by $1, to $8.25.
In states as varied as Alaska, Idaho, Massachusetts and South Dakota, advocates are pushing to put minimum wage hikes on state ballots in 2014. Meanwhile, elected officials are leading the charge in Hawaii, Illinois, Maryland, Minnesota, and the District of Columbia.
The action at the state level comes as organized labor and liberal groups have backed a wave of strikes by fast-food workers in cities across the country to put a spotlight on hourly wages. Advocates are pressing for a national $15 hourly wage, more than twice the $7.25 federal minimum wage.
States cannot set a minimum wage that is lower than the federal standard, but they are free to establish a higher one. Washington state currently has the highest state minimum wage at $9.19; followed by Oregon ($8.95) and Vermont ($8.60). Connecticut, the District of Columbia and Illinois all have a state minimum of $8.25. In addition, some 120 cities have enacted "living wages" that set a minimum standard for businesses that receive city contracts. City minimums range from $9 to $16 an hour.
Under California's plan, the state minimum wage would rise from $8 an hour to $9 an hour on July 1, 2014, and then jump again to $10 an hour on Jan. 1, 2016. Less than 2 percent of California workers who receive an hourly wage make the federal minimum of $7.25 or less (some seasonal employees and other workers are can be paid less than the minimum wage). The state with the highest proportion of minimum wage workers is Idaho, with nearly 8 percent, according to the U.S. Bureau
of Labor Statistics (see list).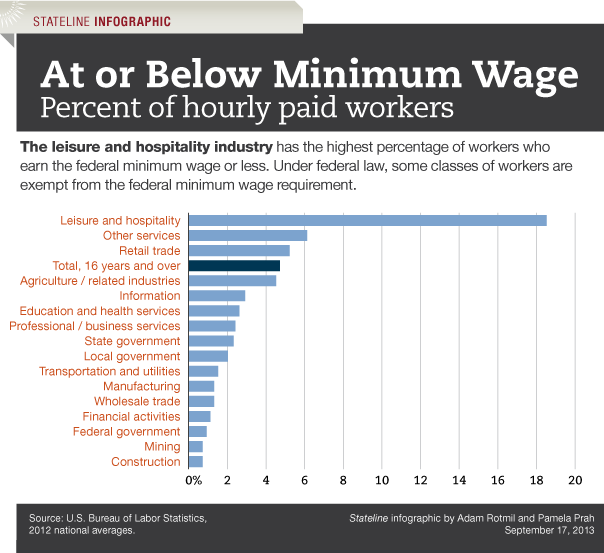 Will $10 Be Model for Other States?
California's passage of a $10 minimum wage "will set the bar for what other states will aim for," said Paul Sonn, legal co-director of the National Employment Law Project (NELP), an organization that spearheads a Raise the Minimum Wage campaign.
Momentum at the state level is increasing as efforts to increase the federal hourly wage have gone nowhere. Congress last raised the minimum wage in 2007. Democrats in Congress have called for raising the federal minimum wage to $10.10 per hour by 2015, higher than President Barack Obama's call for a $9 hourly wage, but it's unlikely the GOP-controlled House will approve it.
"Once again, California is leading the effort to rebuild our middle class," California Assemblyman Luis Alejo, a Democrat, said after the Assembly approved his bill to increase the minimum wage.
Raising the minimum wage is a politically polarizing issue. President Obama and other proponents of a higher federal minimum wage say that while companies are making record profits, the lowest-paid workers have seen their purchasing power plummet because the federal wage floor hasn't kept pace with inflation. If it had, the hourly rate would be $10.74. They say raising the minimum wage will give the economy a boost by putting more money into the pockets of people who are likely to spend it.
But opponents, including Republican House Speaker John Boehner and many business groups, argue that employers won't be able to afford the higher hourly wage and will have to lay off workers. Most businesses that hire minimum wage workers are not big corporations, they say, but rather independently-owned franchises and small businesses that operate on narrow profit margins.
"Many entrepreneurs in our state are just now starting to see signs of recovery by hiring and expanding their businesses, and this bill will cause many to halt those plans immediately," said John Kabateck, executive director of the National Federation of Independent Business/California. The group estimated that raising the state minimum wage to $9.25 would lead to the loss of 68,000 California jobs over a 10-year period.
Popular At Ballot Box
Minimum wage hikes have been popular with voters: Since 1998, proposed increases have been on statewide ballots 10 times in nine states, and all of them were successful. That's one of the reasons Democrats are expected to keep the issue alive for the 2014 midterm elections, when 36 governorships and legislative seats in 46 statehouses will be contested along with U.S. congressional races.
"From an electoral perspective, Democrats want the minimum wage to hang around for a while," said Mike Saltsman, a research director at the Employment Policies Institute, a conservative nonprofit think tank. Saltsman has written op-eds to dispute what his group calls myths about the minimum wage, including that higher wages will reduce poverty and stimulate the economy.
The group also recently ran full-page newspapers ads during the fast food strike, warning that higher wages could prompt more automation. "Why Robots Could Soon Replace Fast Food Workers Demanding a Higher Minimum Wage," the headline in an ad in the Wall Street Journal said. The full-page ad in USA Today showed a touch-screen device replacing a worker.
Saltsman said that protestors' call for a $15 hourly rate is "a bargaining tactic" so that a $10 hourly rate will seem reasonable to voters and policymakers. But increasing the rate from $7.25 to $10 is still a 40 percent bump, he said.
While the institute and national employer groups, like the National Restaurant Association, have been outspoken opponents of a minimum wage hike, some businesses, large and small, have come out in support of higher hourly rates, arguing if workers earn more, they can spend more, namely on their products.
Top officials at Costco and Starbucks both have called for a higher minimum wage. Meanwhile, a poll earlier this spring showed nearly 70 percent of small business owners support raising the minimum wage as a way to help the economy.
Northeast Sees Most 2013 Action
Nearly a dozen states this year considered setting a state minimum wage above the federal rate, but besides California, only three did so:
New York raised its minimum hourly rate to $9 from $7.25. The rate will rise to $8 by the end of 2013, $8.75 by the end of 2014, and $9 by the end of 2015.
Connecticut's minimum wage will go to $9 an hour from $8.25, starting with a bump to $8.70 Jan. 1, followed by a second increase on Jan. 1, 2015.
Rhode Island increased its minimum hourly rate to $8 per hour, from $7.75, beginning Jan. 1.
When these laws take effect, 20 states and the District of Columbia will have hourly rates that are higher than the federal minimum.
State lawmakers in New Jersey approved raising the minimum wage to $8.50, but the increase was vetoed by Republican Gov. Chris Christie and then put on this November's ballot for voters to consider. Christie said he supported a higher wage, but opposed including automatic annual adjustments for inflation, known as "indexing."
Ten other states already use indexing: Arizona, Colorado, Florida, Missouri, Montana, Nevada, Ohio, Oregon, Vermont and Washington. In all of them except Vermont, voters approved the measure with the automatic hike.
Christie's Democratic challenger Barbara Buono has criticized him for vetoing the minimum wage increase. "For a working parent making $7.25 an hour, life isn't about living. It's about surviving," Buono, a state senator from Middlesex County, said as part of her economic plan.
New Jersey is one of two states this November that will elect a governor and state lawmakers (Virginia is the other) and the only one with a statewide minimum wage question.