Stateline
Kansas Has Biggest Jump in Casino Tax Revenue, New Jersey Has Largest Drop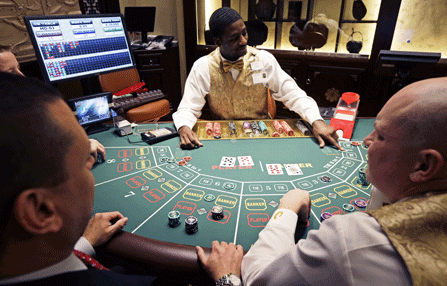 Pennsylvania last year raked in more tax revenue from casinos than any other state, collecting nearly $1.5 billion. But Kansas had the largest year-to-year bump, with a six-fold increase in gambling tax revenue between 2011 and 2012, new data show.
Nationwide, states and localities collected $8.6 billion in direct casino taxes in 2012, an 8.5 percent increase from the year before, according to an annual report by the American Gaming Association. The AGA, a trade group that represents the commercial casino industry, surveyed the 23 states where commercial casinos operated last year.
In 2012, revenues for the commercial gaming industry reached their highest levels since before the recession began in 2008, and were the second-highest ever.
As Stateline recently reported, gambling of all kinds is a major source of revenue for many states. Wyoming recently became the 44th state to start a lottery, while Nevada announced last week that it had granted permission to a Las Vegas firm to offer online poker, the next frontier in gambling. Nevada collected the second-highest amount of tax revenue from casinos in 2012, nearly $869 million.
States with the Highest Casino Tax Revenues in 2012
Pennsylvania $1.5 billion
Nevada $869 million
New York $823 million
Indiana $807 million
Louisiana $579 million
Illinois $574 million
Missouri $471 million
West Virginia $403 million
Iowa $335 million
Rhode Island $329 million
Pennsylvania raised the most revenue from its casinos in large part because it taxes them at a rate of 55 percent, compared to Nevada's maximum rate of 7.75 percent. This is the fourth year in a row that Pennsylvania has claimed the top spot. Kansas, which opened its first casino in 2009, taxes them at a 27 percent rate.
The whopping 605 percent increase in casino tax revenue in Kansas was due in part to the opening of the Hollywood Casino at the Kansas Speedway, and because last year was the first full year of operations for the Kansas Star Casino in Mulvane. The state collected $92 million last year, up from $13 million in 2011, AGA reported.
Maryland, Maine and New York also benefited from the opening of new casinos in 2012. All of those states experienced double-digit increases in casino tax revenue between 2011 and 2012.
New York ranked third among states in total casino tax revenue with $823 million, a nearly 40 percent increase from 2011. The Resorts World New York in Queens had its first full year of operations in 2012.
New Jersey collected nearly $255 million in casino tax receipts in 2012, but that was down by more than 8 percent from the year before, the largest decrease of any state. A major new casino, the Revel Atlantic City, opened last April, but Hurricane Sandy pummeled the state. The Garden State ranked 13th in revenue last year, according to AGA.
Ohio's casino tax receipts are expected to increase markedly this year. The state opened its first casinos in Cleveland, Columbus and Toledo in 2012, generating $138 million in tax revenue. Another casino opened in Cincinnati last month, and more race track casinos are slated to begin operations by 2014.
Nevada has the most casino jobs of any other state, with more than 170,000, AGA said. New Jersey, which has the second-highest number of casino jobs, has nearly 35,000 workers.