Stateline
Registry Finds More Exonerations in 2012
Since 1989, at least 1,089 people convicted of crimes have been officially cleared based on new evidence of their innocence, according to the National Registry of Exonerations annual report released Wednesday (April 3).
That total includes 178 exonerations that researchers at the University of Michigan Law School and Center on Wrongful Convictions at Northwestern University School of Law uncovered in the past year. Sixty-nine of those people were exonerated in 2012, the rest were cleared in earlier years but hadn't been included in the database until now.
The researchers, led by Professor Samuel Gross and veteran journalist Maurice Possley, launched a national registry of exonerations last year. The people included in the report, who come from 45 states and the District of Columbia, were convicted of crimes ranging from murder to tax fraud.
Since 1989, California leads the states with 125 total exonerations, followed by Texas, Illinois and New York. All four states have laws that allow post-conviction evidence testing and encourage police and prosecutors to re-examine cases where a conviction might be in doubt.
Researchers discovered these cases by combing through public records, "scattered in courthouses around the country over three decades," said Gross in a Twitter Q&A session about the findings of the report.
One notable difference between the 69 exonerations in 2012 and those in previous years was the number aided by prosecutors or police. In just over half of the 2012 exonerations, police or prosecutors assisted in confirming that the previously charged offender was wrongfully convicted. Between 1989 and 2011, police and prosecutors assisted in about 30 percent of the exonerations.
Gross and Possley attribute the increase to new state laws which facilitate post-conviction evidence testing and the creation of conviction integrity units in the district attorneys' offices in Dallas, Houston, Manhattan, Brooklyn, San Jose, Calif., Chicago and Lake County, Ill., which specialize in reviewing old cases. It also might reflect a growing understanding of wrongful convictions, their causes and the cost of getting convictions wrong, Gross and Possley said.
"If prosecutors and police are more open clearing the names of innocent people, it sends a positive message," said Gross. "After all, the purpose of law enforcement is to seek truth and pursue justice."
The researchers said their discovery this past year of exonerations that occurred before 2012 supports their suspicion that "the exonerations we now know about are only a fraction of all exonerations that have occurred."
The cause of a wrongful conviction tends to vary by offense type, according to data analysis from the report. In homicide cases, wrongful convictions tend to result from deliberate misidentification, the researchers found. When the charge was sexual assault and robbery, the leading cause of wrongful convictions was mistaken witness identification.
The vehicle for exoneration also varies. While exonerations using DNA analysis grab headlines, they only made up about one third of all exonerations from 1989 to 2012. Most of the defendants in the database were exonerated because of the belated disclosure of perjury or mistaken witness identification, not DNA analysis.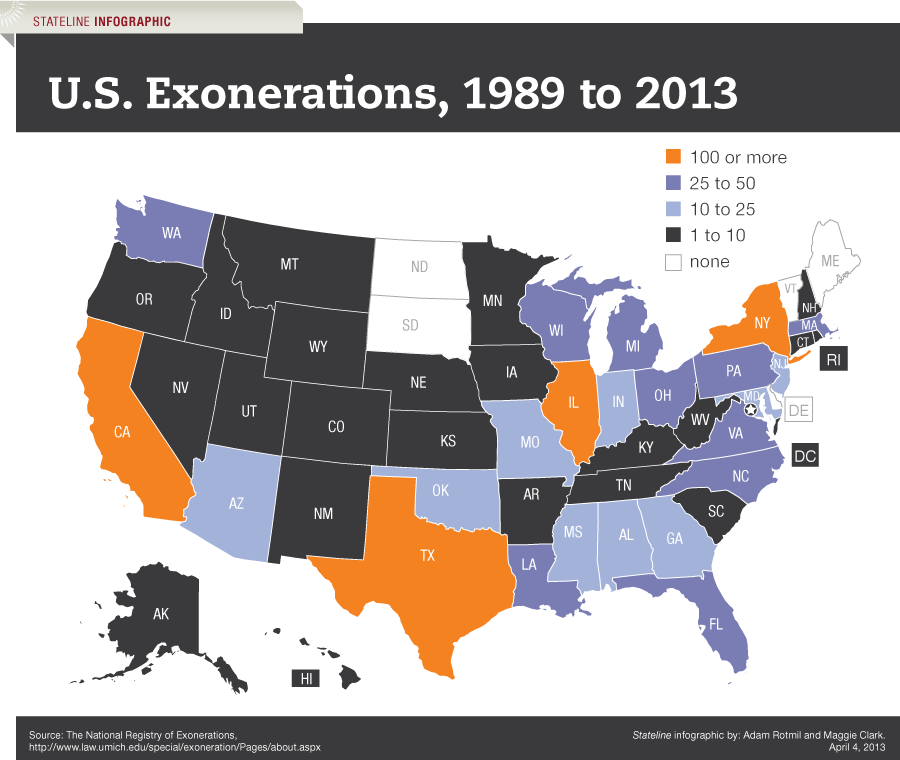 | State | Exonerations | Most common contributing factor |
| --- | --- | --- |
| CA | 125 | Perjury or False Accusation |
| TX | 117 | Mistaken Witness ID |
| IL | 114 | Mistaken Witness ID |
| NY | 107 | Perjury or False Accusation |
| MI | 41 | Perjury or False Accusation |
| FL | 39 | Mistaken Witness ID |
| LA | 39 | Mistaken Witness ID |
| OH | 33 | Mistaken Witness ID |
| PA | 33 | Perjury or False Accusation |
| MA | 32 | Perjury or False Accusation; Official Misconduct |
| VA | 31 | Mistaken Witness ID |
| WI | 27 | Perjury or False Accusation |
| NC | 26 | Perjury or False Accusation |
| WA | 26 | Perjury or False Accusation |
| MO | 23 | Perjury or False Accusation |
| AL | 17 | Mistaken Witness ID |
| GA | 17 | Mistaken Witness ID |
| OK | 16 | False or Misleading Forensic Evidence |
| IN | 14 | Mistaken Witness ID; Official Misconduct |
| MD | 13 | Perjury or False Accusation; Official Misconduct |
| MS | 13 | Perjury or False Accusation |
| AZ | 12 | Perjury or False Accusation |
| NJ | 11 | Perjury or False Accusation |
| DC | 9 | Perjury or False Accusation |
| CT | 9 | Mistaken Witness ID |
| TN | 9 | False or Misleading Forensic Evidence, Perjury or False Accusation |
| KY | 8 | Mistaken Witness ID |
| NE | 7 | False Confession; Perjury or False Accusation |
| OR | 7 | Perjury or False Accusation |
| WV | 7 | False or Misleading Forensic Evidence |
| MN | 6 | Mistaken Witness ID, False or Misleading Forensic Evidence |
| UT | 6 | Mistaken Witness ID; False or Misleading Forensic Evidence |
| IA | 5 | False or Misleading Forensic Evidence |
| NV | 5 | Perjury or False Accusation |
| CO | 3 | Perjury or False Accusation, Mistaken Witness ID |
| KS | 3 | Perjury or False Accusation; Mistaken Witness ID; False Confession |
| MT | 3 | Mistaken Witness ID |
| RI | 3 | Mistaken Witness ID; False or Misleading Forensic Evidence |
| SC | 3 | Mistaken Witness ID |
| AK | 2 | Official Misconduct, Inadequate Legal Defense |
| AR | 2 | Perjury or False Accusation, Mistaken Witness ID |
| ID | 2 | False or Misleading Forensic Evidence |
| NM | 2 | Perjury or Fasle Accusation; Official Misconduct |
| HI | 1 | Mistaken Witness ID |
| NH | 1 | Perjury or False Accusation |
| WY | 1 | Perjury or False Accusation |
| ME | 0 | NA |
| ND | 0 | NA |
| SD | 0 | NA |
| VT | 0 | NA |
| DE | 0 | NA |