Stateline
Census: People with Disabilities More Likely to be Unemployed, Poorly Paid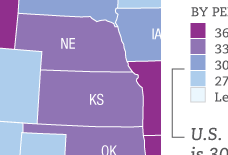 See Stateline Map: Disability Prevalence Among Income-Based Government Assistance Recipients. What share of Americans on income-based government assistance are disabled in each state? The U.S. average is just over 30 percent.
People with disabilities are three times less likely to have a job than people without disabilities, and if they are employed they tend to be paid less, according to a report released by the United States Census Bureau Thursday (March 14).
Disabled people are most likely to work in low-paid roles as service workers and administrative support positions. Janitorial staff, dishwashers and truck drivers are among the most common occupations for workers with disabilities.
The Census Bureau found that disabled workers receive wages equal to about 75 percent of what workers without disabilities earn. More than half of workers with disabilities earned less than $25,000 a year.
The wage gaps persist even when disabled people are compared to people without disabilities in the same jobs, according to the Census Bureau. The National Governors Association is researching ways that states can partner with the private sector to help people with disabilities find employment, as Stateline has reported. Nationally, more than 30 percent of the adult population receiving income-based government assistance through programs, such as Medicaid and Temporary Assistance for Needy Families, has a disability, according to another recent report from the Census Bureau.
Federal and state programs vary in the way they define "disability." For purposes of nondiscrimination laws, such as the Americans with Disabilities Act, a person with a disability is defined, in part, as someone who has a physical or mental impairment that substantially limits one or more "major life activities."