Quick guide
With so many issues and races on the ballot November 6, Stateline has compiled an overview of our reporting on the biggest decisions of the day. The following is a sample of the more than 70 stories Stateline has published on this year's elections.
Republicans go into Tuesday's election with control of 29 governorships, and they hope to extend that advantage. The Republican Governors Association has out fund-raised its Democratic counterpart by a 2-1 margin this election cycle, and 8 of the 11 governorships on the ballot Tuesday are currently held by Democrats. (Democrats Play Defense in Governors' Races)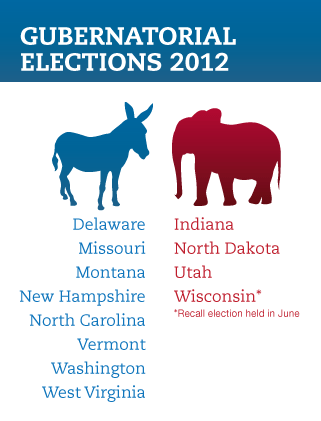 Montana: An oil boom in eastern Montana is reshaping the state's economy and highlighting significant differences between Republican Rick Hill and Democrat Steve Bullock on how to promote and expand the new growth. (Montana's Oil Boom Reshapes Race for Governor)
Washington: Outgoing Governor Chris Gregoire, a Democrat, has criticized the plans of both of her potential successors for complying with a court order to spend more state money on schools. But both Democrat Jay Inslee and Republican Rob McKenna say they can stimulate the economy and cut state spending enough to satisfy the state Supreme Court. (School Ruling Roils Race for Washington Governor)
New Hampshire: The tight race to succeed incumbent Governor John Lynch, a Democrat who is retiring, could come down to a debate on the nuances of tax policy. Both candidates are against instituting a sales or income tax, but each is struggling to gain an advantage on the issue. (Tax Pledge Permeates New Hampshire Politics)
North Carolina: Even though Democrats held their national convention in Charlotte, it looks increasingly likely that they will lose their two-decade hold on the North Carolina governor's office. (North Carolina Democrats Face Uphill Climb in Governor's Race)
Three-quarters of the nation's state legislative seats will be on the ballot Tuesday. As of this June, Republicans outnumbered Democrats in state legislatures 3,975 to 3,391. Democrats have launched an intensive effort to take back some of those seats, but that effort is complicated by the once-a-decade redistricting process, which Republicans in several states used to solidify their gains. And Republicans see pickup opportunities in Arkansas, Maine, Ohio and Washington State. In other states, the key question is whether one party or the other will achieve a two-thirds supermajority. (Democrats Seeking Comeback in State Legislatures and In Legislative Elections, Majorities and Supermajorities at Stake)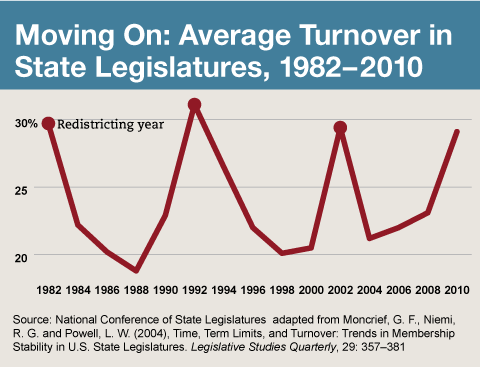 Turnover: Karl Kurtz of the National Conference of State Legislatures says that when the winners of Tuesday's elections are sworn in, it is likely that close to half of state legislators will have two years of tenure or less — the largest change in membership over two election cycles during the past 50 years. (States Brace for Huge Legislative Turnover)
Nevada Senate: One of the chambers in play is the Nevada Senate, currently held by Democrats. Control depends on just a handful of races in the 20-member body. A contest in Reno, for example, has already drawn $1.2 million in contributions to candidates, plus heavy spending by outside groups such as the conservative Americans for Prosperity and the liberal Progressive Kick. (Dollars in the Desert: Nevada State Senate Contest Rakes in Big Money)
Alaska Bipartisanship: An unusual power-sharing arrangement among six Democrats and 10 Republicans in Alaska's 20-seat Senate, which has lasted six years so far, is under attack this fall. Republican Governor Sean Parnell and the Republicans who hold the majority in the Alaska House complain that the Senate's bipartisan majority has obstructed vital legislation. (In Alaska, Bipartisanship on the Ballot)
Arizona Conservatives: The results of three issues before voters could threaten conservatives' control of the Arizona Legislature. The three-pronged attack includes new district maps that could help Democrats pick up seats, a ballot initiative designed to elect more moderates and a separate ballot question to force lawmakers to spend more on schools than they otherwise would. (Arizona Conservatives Face Triple Threat)
Florida: Conservative activists are pushing for the removal of three Florida Supreme Court judges in retention voting Tuesday, taking on what one group described as the "last liberal stronghold" in state government. The activists are still upset with the high court order calling for a statewide recount in the 2000 presidential race, as well as with the court's striking down a ballot measure favored by death penalty supporters and blocking voters from weighing in on President Obama's federal health care overhaul. (Conservative Activists Take Aim at Florida Justices)
Iowa: An Iowa Supreme Court judge faces a tough re-election fight two years after voters ousted three of his colleagues for participating with him in a unanimous decision allowing same-sex marriage.
Michigan: Three of the state Supreme Court's seven seats are on the ballot. That gives Democrats a chance to gain an edge on the court, which currently has a 4-3 Republican majority. Even though the election is officially non-partisan, political parties have spent $10 million on it so far, and one candidate aired an ad that featured a reunited cast from the TV series "West Wing."
Attorneys general: Voters in 10 states will select their state's top legal officer. In Pennsylvania, one of the main questions in the campaign has been how the attorney general's office handled the investigation of Jerry Sandusky, the longtime Penn State football coach who was convicted of child rape and abuse. (Sandusky Case Influences Pennsylvania Contest for Attorney General)
State school superintendents: Some 13 states currently make their top education official subject to a popular vote. And in virtually every one of those states, there are critics who ask why such an office should be so deeply involved in politics. Three incumbents face challenges Tuesday. In Idaho, meanwhile, there is a fierce battle over education changes drawn up by the current state superintendent, Tom Luna. (Should State Education Chiefs Be Elected?)
Ballot Measures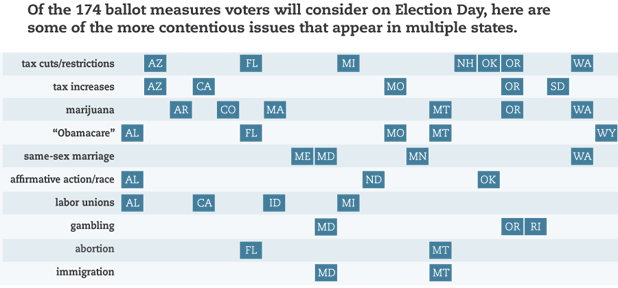 Measures guaranteed to generate widespread attention include those dealing with same-sex marriage, the decriminalization of marijuana, and efforts to raise or lower taxes. (Ballot Measures Give Voters Say on Divisive Issues)
Same-sex marriage: So far, 32 states have outlawed same-sex marriage by popular vote, but none has legalized it that way. The streak could be broken Tuesday, as Maine, Maryland and Washington State voters consider measures to allow same-sex marriage. A campaign in Minnesota has already set the record for the most expensive ballot measure in state history; the question there is whether to include a ban on same-sex marriages in the state's constitution. (Changing Black Attitudes Could Boost Same-Sex Marriage in Maryland)
Marijuana: Voters in Washington, Oregon and Colorado will decide whether they want to legalize and regulate recreational marijuana consumption and production. Seventeen states already allow the use of marijuana for medical purposes, although federal law still prohibits it. (A Marijuana Revolt?)
Taxes: Taxes remain an inevitable topic for ballot measures, and proponents of both tax increases and tax cuts are championing measures this year. California voters face competing proposals to raise taxes for school funding, while Oregon could eliminate inheritance taxes. (School Budgets Are on the Ballot in California)
Labor: Michigan unions, which remain a formidable force in state and local politics, are going on the offensive with a measure that would enshrine collective bargaining rights in the state constitution and invalidate all past and future laws that restrict those rights. (Michigan Unions Seek Constitutional Protection)
Assisted suicide: Massachusetts voters will decide whether to approve the "Death With Dignity Act," a measure that would make Massachusetts just the third state in the country (after Oregon and Washington) to formally approve physician-assisted suicide. (A New Battleground in 'Right to Die' Debate)
Death penalty: California will decide whether to abolish the death penalty and commute the sentences of current death row inmates to life without the possibility of parole. (Cost Concerns Lead California's Death Penalty Repeal Debate)
Three strikes: California could amend its "Three Strikes" law, under which offenders who commit three felonies are automatically sentenced to 25-years-to-life in prison. Critics say the law has swept up many nonviolent offenders along with violent ones. (California Reconsiders "Three Strikes")
Modified food: The question here is whether California should become the first state to require labels for food that contains genetically altered products. It has turned into a multimillion dollar fight pitting the natural foods industry against agribusiness and biotech companies. (A Fight Over Food Labels in California)
Voter ID: Courts have blocked voter identification laws in Pennsylvania, Wisconsin and Texas, heartening critics who feared the laws would turn away legitimate voters in November. But because the judges declined to reject the laws as unconstitutional, voter ID opponents may be winning battles but losing the broader war. (Are Voter ID Opponents Winning the Battle but Losing the War? and Amid Lawsuits and Controversy, States Prepare for Voter ID)
Last-minute complications have plagued state election officials in what has already been a numbingly complex election year for many of them. In some of the most closely watched and intensely fought-over states, recent court rulings and still-lingering litigation have cast even greater doubts on whether voters and administrators are up to the task of handling what will be one of the most scrutinized elections in recent memory. (Voter ID Rulings Vex Administrators Ahead of Election Day)