Stateline
A Few Candidates Buck Conventional Wisdom on Taxes
When it comes to taxes, Lincoln Chafee is, to say the least, an outlier. A Republican turned independent, he launched his campaign for governor of Rhode Island by calling for a tax increase.
In the country's 37 contests for governor, only a handful of gubernatorial candidates are willing to say they will even consider raising taxes to balance the budget, but even fewer serious contenders are, like Chafee, specifically asking to do so.
"To close our deficit, we have to add to our revenue stream," says Chafee, who wants to put a 1 percent sales tax on items that are currently exempt from the state's 7 percent sales tax, including groceries.
The "no new taxes" mantra has been a common one in recent elections, but this year the popular refrain from candidates of both parties is to call for tax cuts. Candidates in California, Florida, Georgia, Maine and Michigan want to eliminate certain business taxes altogether while aspirants in Colorado, Maine and Ohio vow to lower the personal income tax. In Massachusetts and Maryland, a big issue is whether to roll back recent sales tax increases.
Anti-tax advocates argue that families and businesses can ill-afford to pay higher taxes as they struggle to make ends meet. A tax cut, they say, would allow families to buy more and businesses to hire more, spurring economic development. Opponents argue that states have already made deep cuts in programs and that tax reductions would only make the impending $72 billion fiscal gap that states face in 2012 harder to close without affecting education and other crucial services that their state provides. 

As Stateline reported earlier, property taxes and budget reforms also are hot topics on the gubernatorial campaign trail.
Will taxes undo another Chafee?
The tax issue has resonance in Rhode Island where Chafee's father, John, called for the creation of a state income tax in the 1960s and because of it lost the governorship. His opponent at that time, Democrat Frank Licht, ended up introducing the tax even though he promised not to during the campaign.
The tax proposal from Lincoln Chafee 40 years later may not be as divisive as his father's but it triggered one of the first attack ads in the 2010 campaign from Democrat Frank T. Caprio, who along with Republican John Robitaille is vying with Chafee for the governorship . With images of struggling families and workers, Caprio's 30-second ad says,"Chafee's tax plan hits those who least afford it the hardest, squeezing seniors, and the middle class with a new tax on groceries, a tax on clothes for your kids, prescription drugs, even gas at the pump. He may not feel it, but we sure do. Lincoln Chafee just doesn't get it."  
Lisa Pelosi of Johnson & Wales University in Providence says it was unusual that Caprio went with a negative ad before the state's Sept. 14 primary because Caprio didn't even have a challenger in the primary. "Caprio's ad may make a dent in the lead that Chafee appears to have in the polls," says Pelosi.
Tax on wealthy key in Minnesota
Likewise, the campaign for governor in Minnesota is unusual in that a tax increase is a major plank of one gubernatorial candidate's campaign. Democratic nominee Mark Dayton is an heir to the Dayton-Hudson department store fortune. He wants wealthy people like himself (and many less wealthy) to pay more in taxes. His plan would raise income taxes on individuals making $130,000 or more and couples making $150,000 or more, to help plug the nearly $6 billion deficit the state is facing over the next two years.
"Politically, the governor doesn't have the power to singlehandedly enact a tax like Dayton is proposing, and it is questionable whether he would have the votes in the Legislature to do it," says Kate Knutson, political science professor at Gustavus Adolphus College in St. Peter, Minnesota. She says Dayton faces a real challenge in convincing independents and moderate voters "that a tax on the rich is the answer."
BUSINESS TAX CUTS A FAVORITE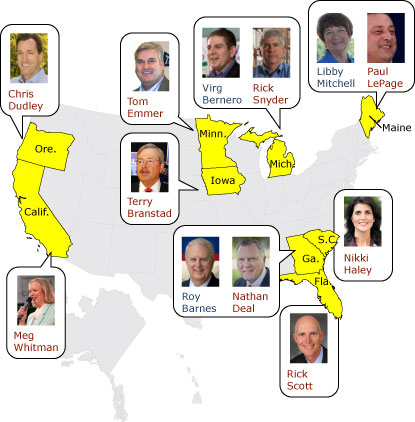 Here's a sampling of some of the business tax cuts gubernatorial candidates are seeking:
California : Republican Meg Whitman wants to eliminate the state capital gains tax.
Florida : Republican Rick Scott wants to phase out Florida's business income tax.
Georgia : Nathan Deal, the Republican, wants to cut corporate income taxes by one-third and abolish the corporate net worth tax. Roy Barnes, the Democrat, wants to eliminate some special-interest sales tax and income tax exemptions.
Iowa : Republican Terry Branstad wants to cut corporate income taxes in half and reduce commercial property taxes to less than the Midwest average.
Maine : Republican Paul LePage wants to eliminate capital gains and phase out personal property tax. The Democrat, Libby Mitchell, wants to reduce income tax rates and capital gains.
Michigan : Both Republican Rick Snyder and Democrat Virg Bernero want to eliminate the Michigan Business Tax.
Minnesota : Republican Tom Emmer wants to cut business taxes by $626 million, including phasing out the corporate franchise tax.
Oregon : Republican Chris Dudley wants to cut the capital gains tax.
South Carolina : Republican Nikki Haley wants to eliminate the corporate income tax.
Dayton's Republican opponent, Tom Emmer, is a Tea Party supporter who promises not to raise taxes and instead touts a bundle of business tax cuts and incentives that he says would provide $626 million in tax relief. "The only correct policy to solve Minnesota's jobs deficit is to provide employers with tax relief so they reinvest in their businesses and hire new workers," says an Emmer budget plan that promises to hold state spending to $33 billion, the amount of revenue expected to come in under current estimates.
Fighting the MBT in Michigan
The idea of cutting business taxes is a familiar theme among Republican gubernatorial candidates around the country. It is especially hot in Michigan, where the controversial "Michigan Business Tax," or MBT, is so complicated that many can't describe it and businesses almost universally hate it.
Michigan, which has the country's second-highest unemployment rate at 13 percent, had hoped to make its state more competitive three years ago when it replaced the old "Single Business Tax" with the MBT, which essentially is a 22 percent surcharge on gross receipts. Business groups claim it costs them 4 percent more to operate in Michigan as a result of the MBT.
Republican gubernatorial nominee Rick Snyder, a venture capitalist, wants to replace the Michigan Business Tax with a flat 6 percent corporate income tax, which he says would reduce the tax burden by $1.5 billion - "$1.5 billion more back in the hands of employers who will be able to invest in Michigan and hire unemployed workers," he says in his plan . Democrat Virg Bernero also wants to eliminate the MBT and establish a new tax structure .
"Tax issues are important," says Douglas B. Roberts, director of the Institute for Public Policy and Social Research at Michigan State. "On the other hand, the state is facing such a large deficit that it's questionable how much you can cut in business taxes and still address the budget problem the state is facing next year," says Roberts, a former Michigan budget director. The state i s currently running on a budget reduced to 1969 levels, in inflation-adjusted terms.
With states facing billions in deficits and federal stimulus dollars drying up, the question remains how - or if -   candidates elected governor can make good on their campaign promises.
Anti-tax advocate Jonathan P. Williams, director of tax and fiscal policy at the American Legislative Exchange Council , says that this year states need to live within their means, just as businesses and families do. "You can have budget shortfalls and still have tax cuts," he says, "as long as you find the savings on the spending side."
Other experts wonder if candidates really understand how big the budget problem will be once they are elected.   "I think that a lot of things talked about during campaigns will be hard to deal with once folks are in office given the tight fiscal situation," says Scott Pattison, executive director of the National Association of State Budget Officers . "A lot of folks will get elected, see the deep details of state finances and go `I didn't realize it was that bad.' "