Stateline
Tracking the Recession: The Predictors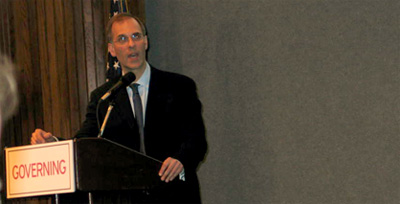 Photo by Stephen C. Fehr, Stateline.org
Mark Zandi, chief economist for Moody's Economy.com, said at a Governing magazine conference in Washington, D.C., Feb. 4 that the economic stimulus package is critical in helping states recover from the recession.
Mark Zandi, David Wyss and Nigel Gault do not have to worry about losing their jobs in this recession.
They are the three economists whom states, Congress, the financial community and journalists turn to most often when they need critical insight and projections about where the economy is heading. Zandi, Wyss and Gault seem to be all over the place, popping up in state capitals, appearing on TV and radio shows and holding court with politicians and executives who want to know what they know.
There's Gault, chief U.S. economist for HIS Global Insight , recently telling a joint budget committee of Indiana lawmakers that the recession will probably last six to 12 months. There's Wyss, chief economist at Standard & Poor's , urging a group of state lawmakers meeting in Atlanta to consider raising taxes to cover budget shortfalls. And there's Zandi, chief economist at Moody's Economy.com , offering his own forecast for recovery   Feb. 4 at Governing magazine's annual outlook conference at the National Press Club in Washington .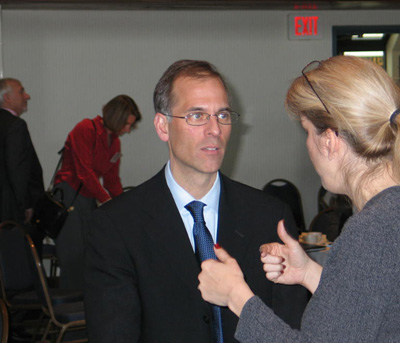 Photo by Stephen C. Fehr, Stateline.org
Chief economist for Moody's Economy.com Mark Zandi predicted the economy would start showing signs of improvement by this summer, with housing prices rising again before the end of next year.
"I've been a professional economist for 25 years, and I've never seen anything like this," Zandi told the audience of government and business leaders as he cycled through a series of gloomy slides showing how the downturn has intensified.
States have their own economists who are experts on income and spending trends within their borders. But especially during a global recession, state officials seek outside counsel from economists like Wyss, Gault and Zandi who look at how states fit into the bigger picture.
Their take on the short- and long-term direction of the economy can be critical in preparing the state budget or deciding whether to borrow money, among other things. For example, Gault's pessimistic predictions about the recession before the Indiana panel contributed to Gov. Mitch Daniels' order the same day to state agencies to cut spending.
Zandi, 49, has emerged in the last year as perhaps the best-known commentator on the national economy, praised by people of all stripes. U.S. House Speaker Nancy Pelosi (D), who asked Zandi to evaluate the House stimulus plan, gave him a fawning endorsement when she said the analysis "by one of the nation's leading economists…clearly demonstrates the need" for the plan.
When Zandi's book, Financial Shock , came out last year, conservative economist Larry Kudlow said "no one is better qualified to provide this insight and advice" about the subprime mortgage crisis. Liberal Massachusetts congressman Barney Frank (D) praised Zandi for "providing a comprehensive and comprehensible explanation of the issues that is accessible to the general public."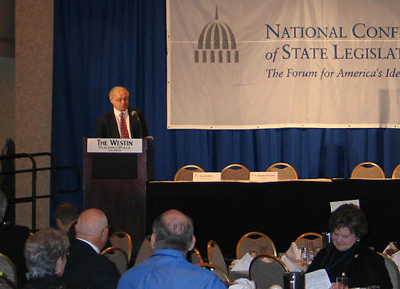 Photo by Stephen C. Fehr, Stateline.org
David Wyss, chief economist for Standard & Poor's, said states are going to have to raise taxes as well as cut budgets because of a massive decline in revenues. He spoke to the annual forum of the National Conference of State Legislatures in December.
Republican John McCain hired Zandi to advise him during the Arizona senator's run for the White House last year. Zandi, a registered Democrat, offered economic analysis, not political strategy. McCain did not always listen to his economic advisers; Zandi disagreed that "the fundamentals of the economy are strong" as McCain said after the Wall Street collapse in September. McCain recently told The Washington Post : "I had many advisers."
The son of a University of Pennsylvania engineering professor, Zandi said with characteristic self-deprecation that his rise to national prominence is a case of being in the right place at the right time.
"It's all timing," he said after his appearance at the National Press Club. "I've been saying these things for a long time, but they're just getting more attention now because of the downturn."
Zandi, Wyss and Gault share an ability to deliver pithy answers to complicated questions and to write clear, concise sentences.
"Simply defined, a subprime mortgage is just a loan made to someone with a weak or troubled credit history," Zandi writes in his book. His "When Will it End?" essay on the underpinnings of the financial crisis is regarded by many analysts as one of the best on the subject.
At the National Press Club speech, Zandi stressed the human, emotional side of the recession, which the audience easily related to. He said the stimulus plan has to go beyond numbers if it is to succeed at lifting the nation's spirit.
"The stimulus is about more than dollars and cents," said Zandi, who is married with three children and lives in suburban Philadelphia .   "It's about re-establishing confidence. If people don't believe it will make a difference, it won't."
Without the plan, he said, the country would plunge into a depression, with unemployment over 10 percent. As it is now, consumers aren't spending, banks aren't lending, layoffs are spreading, exports are declining and 42 states are in recession.
"Here's where my Democratic leanings come in," Zandi said. "I believe government can do good in times of crisis."
Increased government spending will significantly boost the economy, Zandi said. Federal aid to states will finance existing payrolls and programs, and the states will quickly pass money on to workers, vendors and program beneficiaries, he said.
He supports a stimulus package larger than $900 billion (McCain, for one, says it's too big), and says Congress should have included additional tax cuts such as expanding tax credits for homebuyers. The Senate approved a tax credit pushed by Republicans of up to $15,000 for anyone who buys a house this year.
As Democrats have exploited Zandi's connection to the McCain campaign, some Republicans who oppose the stimulus plan have complained that the Democrats are trying to make it appear as though Zandi is a Republican who backs the plan. Critics say Zandi is overexposed and that people are relying on his opinions too much.
What Zandi's audiences really want to know when they hear him speak is the answer to the question he poses himself: When will the recession end? Many groups pay for his answer, as Zandi is part of a national speaker's agency. Business executives in San Francisco and Los Angeles have been asked to shell out $695 for four hours of Zandi at briefings scheduled Feb. 10 and 11.
Here, for free, is his answer: Zandi said the recession - two or more consecutive quarters of a decline in the gross domestic product- would end in September, although it won't feel like the end because the economy will still be in distress.
This time next year, Zandi said, "We'll be feeling better." By then, he predicted, housing prices and housing starts will have bottomed out, foreclosures will have peaked, major financial failures will abate and the jobless rate will almost reach its peak. Housing prices should start going up again late next year.
Of course, Zandi joked, "it's all subject to revision."
See Related Stories:

Conflicting budget estimates abound

Tracking the recession: A pier to nowhere (1/31/2009)

Tracking the recession: Gloom in Alaska (1/25/2009)

Tracking the recession: Gambling revisited(1/17/2009)

House stimulus plan wins state praise (1/16/2009)

Stimulus could hurt transportation bill (1/14/2009)

Budget gap could widen to $200 billion (12/15/2008)

Slumping economy hits prosperous states (12/11/2008)

State budget gaps balloon to $97 billion (12/5/2008)

Shifting economy keeps states guessing (12/4/2008)

Governors hopeful after Obama meeting (12/3/2008)

Sanford fights bailout for states (12/1/2008)

States ask feds for health care help (11/26/2008)

States eye their share of federal bailout (11/25/2008)

Tough economy hammers schools, colleges (11/17/2008)

States craft plans to stimulate economy (11/14/2008)

Depressed economy wallops states (10/24/2008)

State jobless funds are running dry (10/3/2008)

State workers face bleak budget picture (10/3/2008)

States act to cushion Wall Street meltdown (9/30/2008)