Stateline
Delegates Speak: Arizona on the Economy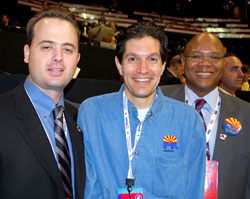 Photo by Daniel C. Vock, Stateline.org
Arizona state Rep. Kirk Adams (left) shares a moment at the Republican convention with fellow Arizona delegates state senate candidate Daniel Veres (center) and Augustus Shaw.
Sept. 2, 2008, 4:45 p.m. EDT
Q. What serious issue in your state would you like the next president to address?
Arizona has been hit hard by the economic downturn. The senator's policies on economic growth are vitally important, not only for the rest of the country, but for Arizona as well.
- Arizona delegate state Rep. Kirk Adams of Mesa, interviewed by Daniel C. Vock, Stateline.org