Stateline
States Get Help Expanding Telemedicine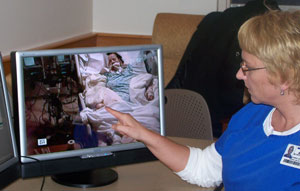 Photo courtesy of Eastern Maine Healthcare Systems
A nurse at Eastern Maine Medical Center in Bangor, Maine remotely monitors a patient in an intensive care unit while reviewing her medical records.
Modern technology allows specialists at major medical centers to diagnose and monitor faraway patients by remotely reviewing their records, analyzing medical images and consulting with them and their local physicians using high-tech video teleconferencing. In the future, doctors even expect to perform long-distance surgery using robotics.

There's one big problem: Transmitting that kind of data requires sophisticated broadband services, and most rural areas have little to no access to high-speed networks.

Last month, the Federal Communications Commission gave 42 states $471 million to jump-start construction of new medical networks that experts say will go a long way to close the gap in health care between rural and urban residents.
The first-of-a-kind grants were awarded to states with a demonstrated need for telemedicine, and where health-care facilities agreed to train personnel and provide a 15-percent matching investment over a three-year period.
"The great thing about the FCC's new grant program is that it will help put in place the health information highway so providers can electronically transfer the specialist to the patient instead of physically sending the patient to the specialist," Jay Sanders, a Johns Hopkins University professor and telemedicine expert, said.
Maine, with hundreds of small towns and few major roads, won the biggest grant of any state - $24.7 million. According to FCC officials, Maine's grantee, the New England Telehealth Consortium, justified the grant by signing on 448 medical facilities throughout Maine, 97 in New Hampshire and 10 in Vermont to electronically deliver medical care to many of New England's smallest communities.
Gov. John Baldacci (D), hailing the grant as a boon for "the patient whether that patient is in Bangor, Rockport, Lubec or Millinocket," said the next step is to link the state's health information networks to world-class medical facilities in Massachusetts, Connecticut and Rhode Island.
Why is Maine in the vanguard?
"(Health-care) providers have rallied around telemedicine and are eager to adopt it," Peter Kraut, a health policy analyst in Baldacci's office, said. "In other states, there might not be the same kind of excitement."

According to Kraut, the state's groundbreaking health program - Dirigo Health - raised awareness of telemedicine as a means to reduce costs and improve medical service.

Under the 2003 health reform law, all providers in the state were challenged to find new ways to deliver the cheapest and best service available. The legislature appointed a group of experts to analyze the health care industry's progress every two years.

Telemedicine can do more than help patients. It can be instrumental in preserving rural economies, Johns Hopkins' Sanders said. In many cases, rural hospitals and clinics are the largest employer in a small community. If the hospital goes under, the community can collapse, he said.

"Instead of losing patients to larger medical facilities, telemedicine allows rural hospitals to keep their patients by delivering the same kind of expertise and technology offered in major urban centers," Sanders said.

He also noted that telemedicine can dramatically cut the cost of providing health care to prisoners. "Rather than transporting a prisoner to a physician, which requires at least two accompanying correctional officers, states can use telemedicine to deliver services directly to the prisoner," he said.
Reed Franklin, policy director at the
American Telemedicine Association
, said the biggest growth potential in telemedicine is home diagnosis and monitoring of chronic diseases.

"We already know there will not be enough nursing home beds for aging baby boomers. We're going to have to find a good way to let seniors age in place," he said.

Besides a shortage of infrastructure, Franklin said the biggest barriers to telemedicine are state medical licensing laws and inconsistent Medicaid and private insurance reimbursement policies.
Currently, doctors who want to practice medicine in more than one state must apply for a separate medical license in each state. But a model state law drafted by the Federation of State Medical Boards creates reciprocal agreements among states, allowing doctors with a license in any participating state to practice in all other participating states.
So far, only 10 states - Alabama, California, Minnesota, Montana, Nevada, New Mexico, Ohio, Oregon, Tennessee and Texas - have enacted the model statute, according to the
Center for Telehealth and E-Health Law
.
Because Maine, New Hampshire and Vermont do not have reciprocal licensing laws, physicians in the New England Telehealth Consortium who plan to practice medicine across state lines will have to apply for a medical license in each state, said Ken Topel, director of the
Northeast Telehealth Resource Center
, a federally funded agency that supports telemedicine.
In 1992, Georgia became the first state to recognize the cost-savings and other benefits of telemedicine, enacting a law requiring Medicaid to cover fees for the high-tech services. Since then, some 26 other states have acted to permit Medicaid coverage of certain telemedicine services, according to the
U.S. Department of Health and Human Services
.

Five states - Louisiana, California, Oklahoma, Texas and Kentucky - require private insurance companies to cover telemedicine costs, and Minnesota last year became the first to require health-care facilities to electronically share information. By 2009, all Minnesota health-care providers will have to share reimbursement information, and by 2015, they must share patient information.

"States are poised to take a leadership role in removing barriers to the widespread adoption of HIT," said Vermont Gov. Jim Douglas (R), who co-chairs the group with Tennessee Gov. Phil Bredesen (D).