Case Study: Agriculture Development Plan, Hawaii County, HI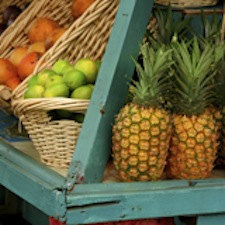 Opportunity
Hawai'i County was working on a new agricultural plan. Its purpose was to revitalize agriculture as a basis for economic development through serving as a guide for county government, local advocacy groups, and local businesses. The Kohala Center received a grant from the Health Impact Project to conduct an HIA to inform the plan.
Situation
Hawai'i Island is the largest of the Hawaiian Islands. Despite abundant fertile lands and a 12-month growing season, the island imports about 85 percent of its food.
There were several existing conditions that could be affected by the agricultural plan:
Availability of healthy foods: Nearly one-quarter of Hawai'i Island residents and an even larger percentage of its children don't have access to adequate amounts of healthy foods.
Obesity rates: While Hawai'i as a whole has one of the nation's lowest rates of obesity, the incidence of obesity falls disproportionately on native Hawaiian, rural, and lower-income people.
Unemployment: The statewide unemployment rate was dropping after the recent recession, but the unemployment rate for Hawai'i County remained much higher than the rest of the state.
The HIA
The HIA found several potential health benefits of the agricultural plan, and included recommendations to maximize health benefits in implementing the policies and reaching the goals articulated in the Hawai'i County Agriculture Development Plan, including ways to make it easier for schools to buy more local produce, tactics to increase the amount of food grown for the local market, and suggestions to increase home, school, and community gardening.
Outcome
Kohala Center staff members had an opportunity to meet with County of Hawai'i Planning Department staff members during the strategy development period and made additional specific suggestions during the draft review period. All of the key issues and most of the HIA recommendations were included in the final state strategy documents, with dollar figures attached to some of the recommended initiatives. Also, the statewide Hawai'i School Food Authority's school food services director at the Department of Education has added staff members to assist in developing ways to more successfully source local food.