Bill to Protect Grand Canyon Area From Mining and Other Threats Gains Support
Senate should pass measure to keep uranium out of drinking water—and the Colorado River
Bill to Protect Grand Canyon Area From Mining and Other Threats Gains Support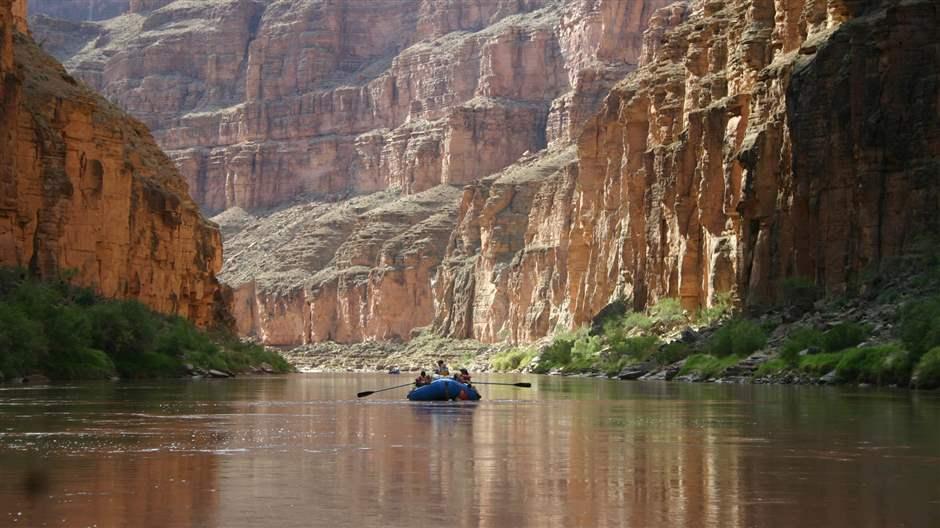 The Grand Canyon, cut by the Colorado River over millions of years, is one of the most iconic and beloved natural features in the United States, at once awe-inspiring, inviting, and daunting. This landscape in northern Arizona has sustained Indigenous communities for thousands of years and continues to hold spiritual and cultural importance to tribes in the region, including the Havasupai, Hopi, Hualapai, Colorado River Indian, Pueblo of Zuni, and Navajo Nation. The region also provides clean drinking water to millions of people living downstream, supports agricultural operations, sustains the local tourism economy through abundant options for outdoor recreation, and provides habitat for endangered species such as the California condor and humpback chub.
Efforts to protect the canyon and its watershed through administrative and legislative means have spanned more than 100 years—and not all have succeeded. Although the geographic wonder has received incremental protections over time, including multiple national monument designations and the establishment and expansion of Grand Canyon National Park, the region is threatened by potential uranium mining, other extractive development, and the effects of climate change. For years, uranium mining has contaminated land and water in the Grand Canyon region, affecting public health, particularly in tribal communities. In 2005, the Navajo Nation banned uranium mining and processing on its land, citing its "painful and deadly legacy," and other area tribes have since enacted bans. But uranium mining is still permitted on federally managed lands in the area, threatening critical land and water resources—including sacred sites and the sole water source for the Havasupai.
Because of these continued threats, the Obama administration in 2012 issued a 20-year moratorium on new mining claims on approximately 1 million acres of federally managed land surrounding the national park. Although that temporary ban is slated to hold until 2032, it could be overturned at any time through a public process initiated by a presidential administration.
Recently, momentum has been building to protect these critical lands and waters from future mining. Arizona Senators Kyrsten Sinema and Mark Kelly and Representative Raúl Grijalva, all Democrats, have introduced the Grand Canyon Protection Act (S.387/ H.R.1052), supported by other members of the Arizona delegation. The U.S. House passed this bill twice in 2021 as part of larger legislative packages.
Statutory protection of the Grand Canyon region from uranium mining and other harmful extractive development enjoys broad support from tribes, local elected officials, businesses, veterans, faith leaders, sportspeople, outdoor recreation groups, conservationists, and other Arizona residents. In addition to the health and ecosystem benefits of protecting these lands and waters, the legislation would also help safeguard northern Arizona's tourism and outdoor recreation industries that rely on the Grand Canyon. In 2020, even though the national park was closed for numerous weeks due to COVID-19, it still drew nearly 3 million visitors, who spent $433 million in local communities and supported more than 5,700 jobs.
As climate change continues to intensify drought in the West, protecting water resources and natural spaces from other threats—such as uranium contamination—is more important than ever. Enacting the Grand Canyon Protection Act into law would conserve this spectacular region and watershed, honor the requests of tribal nations, support an important economic engine for the local and state communities, and help ensure that this landscape stays grand for future generations.
John Seebach is a senior manager and Jackie Feinberg is a principal associate with The Pew Charitable Trusts' U.S. public lands and rivers conservation project.