Flood Standard, Critical to Public Safety, Is Also a Smart Investment
With infrastructure crumbling, U.S. should retain federal policy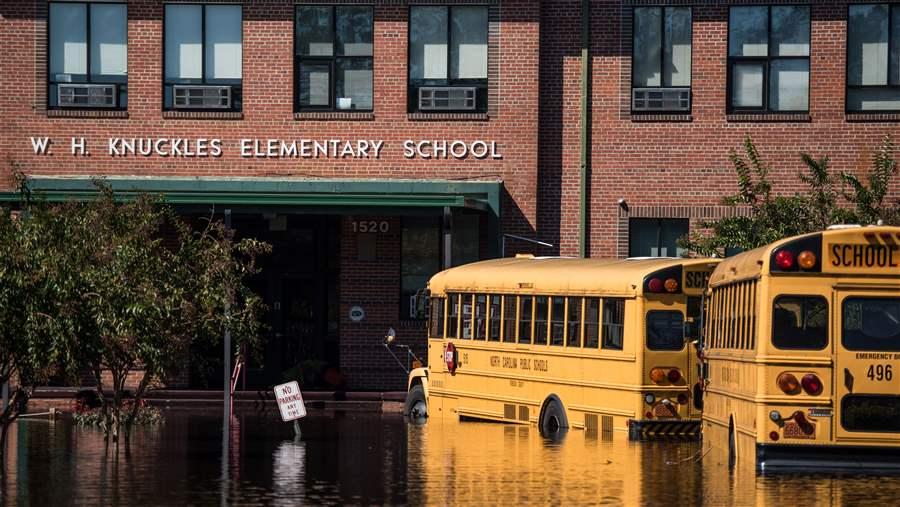 Heavy rain from Hurricane Matthew inundated an elementary school in Lumberton, North Carolina, in October. Federal policy should require that state and local governments consider flood risk when building or rebuilding public infrastructure.
© Sean Rayford/Getty Images
This post has been updated to reflect an increase in the number of Congresspersons encouraging the Trump administration to revoke an update to the Federal Flood Risk Management Standard. The current number is 42.
With public infrastructure across the U.S. in urgent need of repairs and upgrades, now is not the time to reverse or undermine a commonsense policy designed to reduce the impact of big floods on life, property, and the federal budget.
That's why The Pew Charitable Trusts—along with fiscal conservatives, reinsurers, and civil engineers—supports the Federal Flood Risk Management Standard, which requires federal agencies to take into account current and future flood risks like those associated with severe weather and rising sea levels when taxpayer dollars are used to build or rebuild infrastructure in flood-prone areas.
Unfortunately, 42 members of Congress are encouraging the Trump administration to undermine this sensible policy by revoking action taken in 2015 to update this standard. Additionally, the budget recently proposed by Congress for fiscal year 2018 would eliminate any use of federal funding to implement the update to the standard—essentially rendering it useless. Rescinding or hindering the update limits the ability of federal agencies that fund community infrastructure projects, such as roads and bridges, schools, or public housing, to ensure flood-impact reviews or incorporate prudent margins of safety into the design and construction of new federally funded facilities. Such actions would not only jeopardize public safety and national security, but also fly in the face of analysis by the National Institute of Building Sciences that finds every dollar invested in pre-disaster resilience saves $4 in rebuilding costs in the aftermath of a storm.
A Government Accountability Office report notes that 90 percent of all natural disasters in the United States involve flooding—claiming lives, inflicting financial losses on households and businesses, and straining the resources of government agencies that provide response and relief. From 1980 to 2013, flood-related damage cost American taxpayers more than $260 billion.
Building smart, durable infrastructure is a commonsense and well-supported practice. Many localities and states across the nation already require new community centers, police stations, and even private residences to be built well above the expected height of future floods. Some of those leaders, who have learned hard lessons about the changing nature of flood risk by living through hospital or nursing home evacuations, loss of vital community records, or prolonged school closures, are now well ahead of the federal government in safeguarding their state or municipal investments. Surely it is time for the federal agencies to catch up with the local leaders who know that resilience makes good economic sense.
Smart investments in infrastructure to break the costly cycle of flood loss and repair is a policy goal that enjoys support across regions and the political spectrum. Recent polling found that 82 percent of registered voters support a requirement that all federally funded infrastructure in flood-prone areas be constructed to better withstand the impacts of flooding.
The Federal Flood Risk Management Standard is one of the most important tools the federal government has to reduce Americans' exposure to flood risk. By keeping the updated standard, Congress and the Trump administration will show they can wisely steward taxpayer dollars and ensure the durability of our public investments.
Laura Lightbody leads The Pew Charitable Trusts' flood-prepared communities initiative.