The Way America Treats Oral Health "Takes a Toll" on Us
Author Mary Otto reflects on a decade of reporting on dental care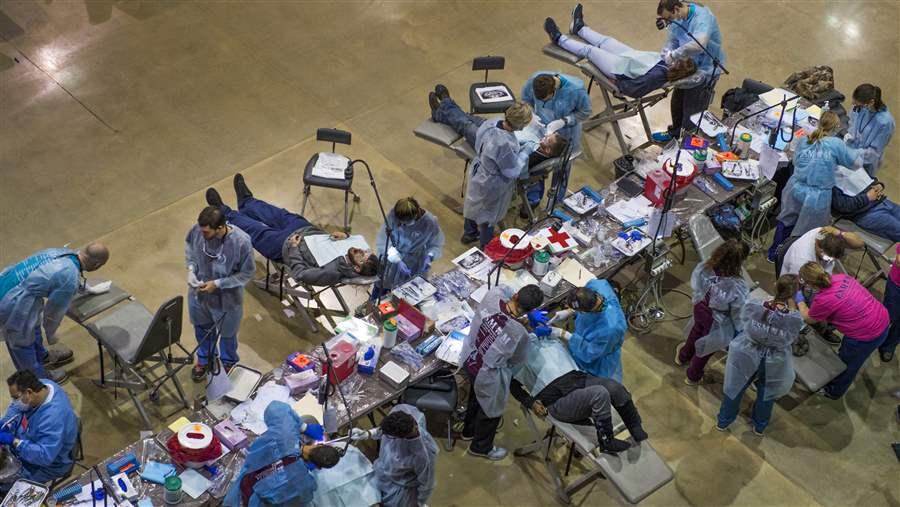 People camped out overnight to receive free dental care during the Eastern Shore Mission of Mercy dental clinic in in Salisbury, MD on March 10, 2017.
© Linda Davidson/The Washington Post/Getty Images
In May, The Pew Charitable Trusts interviewed veteran journalist Mary Otto about what she learned while writing her new book, Teeth: The Story of Beauty, Inequality, and the Struggle for Oral Health in America. Her answers have been edited slightly for clarity and length.
Q. As a journalist, what compelled you to spend more than a year of your life chronicling problems of accessing dental care in this country?
A. It was 2007, when I was at The Washington Post on the metro staff, when I first wrote about Deamonte Driver. [Deamonte, a 12-year-old Maryland boy, died of a brain infection caused by a tooth abscess.] He died while his mother was trying to find a dentist who would treat him. As I worked on the follow-up stories, I learned more about the dental system and how difficult it can be for families who are covered by Medicaid and many other Americans to find a dentist and care. Even today, fewer than half of children who are covered by Medicaid are getting routine care.
That story started me on this reporting journey. I left the Post in 2008, but I kept writing about oral health as a freelancer. I kept thinking about it and exploring the system until it felt like there was a book there.
Q. What makes access to dental care different than access to medical care? Is this a policy problem?
A. In my reporting, I found out that dentistry became a separate profession from medicine not that far [away] from where Deamonte died. It was in Baltimore, Maryland, in 1840 when the first dental college in the world was founded. Two dentists approached the physicians at the medical college and asked if they would consider having a course of dentistry. The school said no, so the two dentists founded the first dental college.
The whole system has grown up around that separation. Dental records are kept separate from medical. Physicians look from the tonsils down. Dentists look at teeth.
It's a policy issue. There's separate insurance for dentists and other medical doctors. And patients have to navigate this difficult field to find care, and it is very hard.
Q. As you know, Pew and other organizations are committed to improving access to care by allowing dentists to hire dental therapists to provide preventive and routine restorative services. Based on your research, what kind of long-term impact do you think dental therapists can have?
A. I learned that since the 1940s, when the Forsyth experiment [in which dental hygienists learned restorative treatment procedures] was going on, a handful of dental hygienists were taught expanded skills like drilling teeth. This really heated up the struggle to find cheaper ways to get routine care to people.
It's a marketplace issue as well, which has put this into a larger framework more recently. For example, it was an interesting development four years ago when the Federal Trade Commission (FTC) supported accrediting for dental therapists nationwide. The FTC said dental therapists are likely to increase the availability of basic dental services, enhance competition, reduce costs, and expand access.
We will have to see as we watch these discussions unfolding in the states. It seems like it's going forward. That will open the door to these midlevel providers.
Q. Your research and book have given you a unique chance to explore the dental care delivery system comprehensively. If you had to pinpoint one thing that is impeding progress, what would it be?
A. The best way I can think of to describe it is the dualistic way we treat oral health—on a personal and societal level. The way we think about it and address it on so many levels takes a toll on us individually and collectively.
I keep coming back to Dr. Satcher's report from 2000 "Oral Health in America," [by David Satcher, the surgeon general]. One of the things he did was call for us to build a system that meets the oral health care needs of all Americans and integrate oral health effectively into overall health.
People still keep going back to that report for understanding and guidance after 17 years. The biological and political understanding of oral health are two forces that are continuing to drive the system to integration.
Q. Since the surgeon general's report, which described a "silent epidemic" of oral disease, advocates have been seeking improvements to the financing and delivery of oral health care to expand access—with limited success. Do you still see a path forward for advocates?
A. I've been watching the advocates at work. They can claim some success in recent years. For instance, states' performances on Medicaid measures have improved.
Now they are worrying that the progress they made is in jeopardy. The oral health benefits of millions of Americans could be threatened by some of the proposals being discussed.
Specifically in the dental area, the dismantling of the Affordable Care Act could remove the pediatric benefits and other essential health care benefits that are now offered on state marketplaces. The block grant option for Medicaid could undermine the entitlement to dental benefits that children have had since the 1960s.
There is a lot of work ahead for advocates.