'Outside-the-Box' Approaches Can Help Combat Antibiotic Resistance
Targeted research models are needed to advance creative ways of fighting a growing threat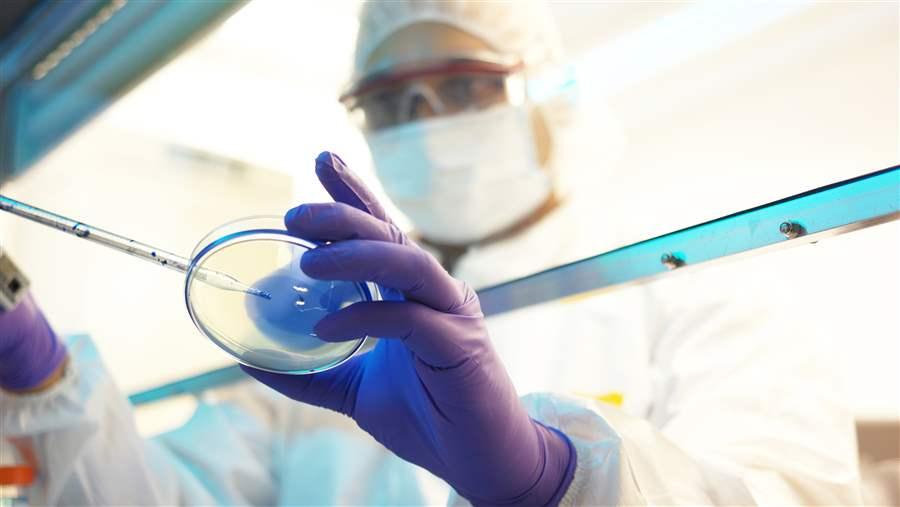 Collaboration between scientists and clinicians, with the goal of making lab research more relevant, will be a key to effectively combating a problem as difficult and multifactorial as antimicrobial resistance.
© iStock
Is it possible to kill bacteria with bacteria?
This is the unorthodox question posed by a team of researchers funded by the Defense Advanced Research Projects Agency (DARPA)—a research and development organization within the U.S. Department of Defense—that is exploring whether an unusual type of bacteria that eats other bacteria could be a new weapon in the fight against drug-resistant infections.
Known as the Pathogen Predator program, the DARPA initiative (led by Dr. Barry Pallotta) is part of a growing effort to seek new and innovative ways to defeat drug-resistant superbugs, which are rapidly evolving to beat even our most powerful antibiotics.
Just as unconventional as this research topic—and even more essential to advancing urgently needed nontraditional therapies—is the interdisciplinary, milestone-based funding approach used to evaluate this potential novel treatment.
In June 2016, The Pew Charitable Trusts, Wellcome, and the American Society for Microbiology brought together a group of leading experts to explore how new research models could help foster outside-the-box ideas, such as the use of predatory pathogens to attack infection-causing bacteria, and propel their clinical development.
As with other novel approaches to fighting superbugs, the concept of enlisting pathogen predators to treat infection may show promise in the laboratory but presents fundamental challenges in clinical settings. To better understand the clinical potential of such innovative approaches, DARPA established a practical framework that drives coordinated and targeted research for evaluating the feasibility and applicability of developing new therapies using pathogen predators. This framework provides scientists with a series of guiding questions that serve to "experimentally nudge" investigations from basic laboratory research toward more clinically relevant studies in animals and immune cell cultures.
Guiding questions:
Are predatory pathogens toxic to the organisms they are meant to treat?
On what types of bacterial infections are predatory pathogens effective?
Can bacteria develop resistance to predatory pathogens over time, as they do with traditional antibiotics?
Importantly, the Pathogen Predator program connects investigators across a diverse range of disciplines—from cellular biologists and mathematical modelers to experts in infectious diseases and immune response—with the goal of fostering new collaborative research opportunities to overcome the superbugs threatening human health.
Although DARPA's interdisciplinary, milestone-based approach is more structured than most funding mechanisms for basic science, collaborators have embraced the program and are already beginning to generate promising data about the effects of predatory bacteria on infections in animal models. These early studies may offer much-needed proof of principle to support later tests in humans. If successful, the Pathogen Predators program will help lay the groundwork for safe and efficacious novel treatments for bacterial diseases.
Collaboration between scientists and clinicians, with the goal of making lab research more relevant, will be a key to effectively combating a problem as difficult and multifactorial as antimicrobial resistance. The DARPA model, and other targeted initiatives that enable scientists to harness the collective power of interdisciplinary thinking, deserves attention from stakeholders such as academic institutions, governments, pharmaceutical companies, and public health organizations in the continued quest to find creative solutions to one of the greatest public health threats of our time.
Liz Sockett is a professor in the School of Life Sciences at the University of Nottingham in the U.K. Carolyn Shore works on The Pew Charitable Trusts' antibiotic resistance project.
The research performed by Dr. Liz Sockett's team under the DARPA Pathogen Predators program is sponsored by the U.S. Army Research Office and the Defense Advanced Research Projects Agency and accomplished under Cooperative Agreement Number W911NF-15-2-0028. The views and conclusions contained in this document are those of the authors and should not be interpreted as representing the official policies, either expressed or implied, of the Army Research Office, DARPA, or the U.S. government.