Pacific Cultural Exchanges Promote Best Practices for Ocean Protection
Island Voices members are leading the way in conserving marine life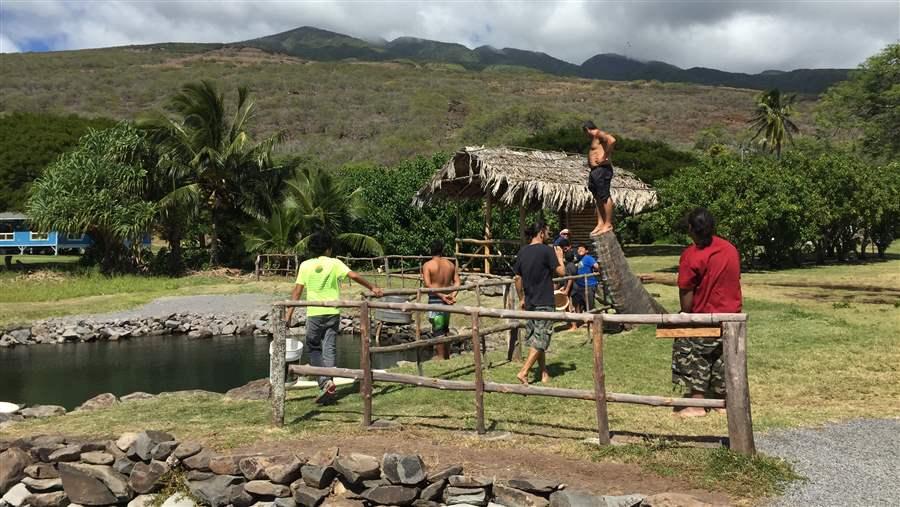 © The Pew Charitable Trusts
Traditional fishing pond on Molokai, Hawaii.
A diverse group of Pacific island community leaders launched the Island Voices last September to share ideas and best practices on their efforts to protect the ocean on which they depend for their livelihoods, sustenance, and traditional ways of life. Group members wanted to continue to collaborate on the shared goal of safeguarding the marine environment while maintaining their cultural heritage.
In recent months, "ambassadors" from the Island Voices have met with community leaders, governments, and other stakeholders in places as far apart as Washington, D.C., and French Polynesia to discuss the importance of conserving large areas of ocean, particularly through fully protected marine reserves.
In February, Ann Singeo of Palau, the group's chairwoman, and William Aila, a member from Hawaii, attended the Human Dimensions Think Tank conference in Honolulu to discuss local communities' important role in creating and managing large-scale marine protected areas. The conference was sponsored in part by The Pew Charitable Trusts.
There, Singeo and Aila participated in discussions with more than 120 government and community leaders from across the Pacific, helping to focus future social science research on how best to safeguard large ocean areas. Those at the conference also decided to form a society of professionals working on these issues, an effort that will enhance long-standing collaborations between Pew's Global Ocean Legacy project and indigenous communities in the Pacific.
While Singeo was in Hawaii, Guy Hanohano Naehu, the newest member of the Island Voices, invited her to learn about the ancient Hawaiian fish ponds on his home island of Molokai. Using this 800-year-old tradition, farmers can harvest 400 pounds of fish per acre of fish pond a year, a practice that connects stewardship of the land and the sea. As one of the custodians of this tradition, Naehu works with local students to pass on traditional knowledge, cultural practices, and values to the next generation of Hawaiians.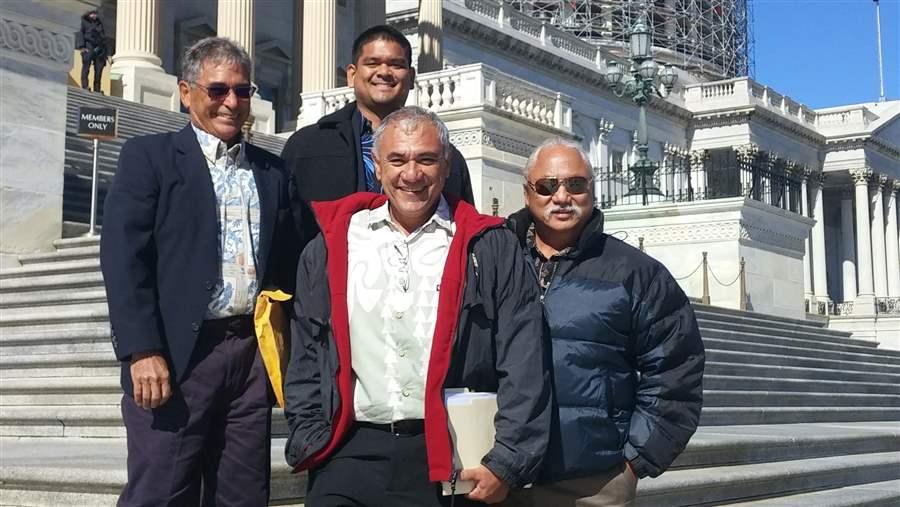 © The Pew Charitable Trusts
William Aila, (center) of the Island Voices, and other Native Hawaiians, visited Washington in February to push for expansion of the Papahānaumokuākea Marine National Monument.
In March, Aila and other community leaders from Hawaii visited Washington to meet with federal agencies and members of Congress to underscore their support for expansion of the Papahānaumokuākea Marine National Monument, which was established in 2006. Native Hawaiians have a deep spiritual connection to this area.
Naehu, who played a role in the 2014 expansion of the Pacific Remote Islands Marine National Monument, recently traveled to French Polynesia to "talk story," or share his experiences in Hawaii, and to support the Austral Islands municipalities in their call for a 1 million-square-kilometer (386,000-square-mile) marine reserve in their waters. The islanders in French Polynesia say the reserve will help maintain the healthy fish stocks needed to feed their families and support local fishermen. At the same time, they say the designation will help maintain Polynesian customs that date back centuries.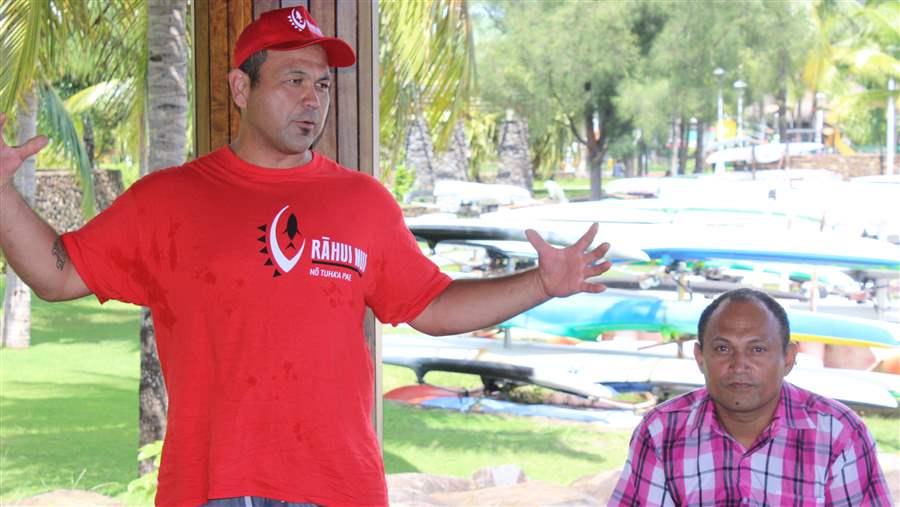 © The Pew Charitable Trusts
Guy HanoHano Naehu, a member of the Island Voices from Hawaii, visited French Polynesia to support Austral Islands' five inhabited islands municipalities in their call for a 1-million-square kilometer marine reserve.
Members of the Island Voices and Pew are also working to train the next generation of environmental leaders. For example, Shelley Campbell, a member from New Zealand who is executive director of the Sir Peter Blake Trust, organized a trip that sent five young leaders from Palau, Northern Mariana Islands, Australia, and New Caledonia to the 13th Sir Peter Blake Youth EnviroLeaders' Forum, April 16-22, in Nelson and the surrounding regions of New Zealand, with funding from Pew and the New Zealand Ministry of Foreign Affairs and Trade. They were the first international participants in the forum.
These young people have led efforts on their islands to build support and raise awareness of the threats facing the ocean and the importance of protecting these areas before it is too late.
Local island communities have advocated to create some of the world's largest highly protected marine reserves. In 2015, more than 2.5 million square kilometers of ocean was set aside for protection around the world. Last March, for example, the British government announced the creation of the Pitcairn Islands Marine Reserve, which had been proposed by the island community in 2013. Last September, New Zealand Prime Minister John Key announced plans to establish the Kermadec Ocean Sanctuary. Advocacy by the indigenous iwi had been central to building support for that designation.
In October, Chilean President Michelle Bachelet announced her commitment to work with the Rapa Nui, the indigenous community of Easter Island, to move forward on their proposal for a marine park. Also in October, the government of Palau, with strong support from the nation's public, designated its national marine sanctuary.
Angelo O'Connor Villagomez is an officer with The Pew Charitable Trusts' Global Ocean Legacy project.