Protections Needed for Spectacular Wilderness in Washington State
Less than an hour east of downtown Seattle lie the beautiful Alpine Lakes Wilderness and the valleys of the Pratt River and the Middle and South forks of the Snoqualmie River. Home to native trout, elk, bear, and other species, Alpine Lakes is the closest mountain valley to the Puget Sound area and is one of the most visited wildernesses in the country.
The nearly 400,000 acres of the Alpine Lakes Wilderness, designated by Congress in 1976, features more than 700 mountain ponds. The rugged peaks and rocky ridges of the Cascade Range tower above the tree-lined valleys.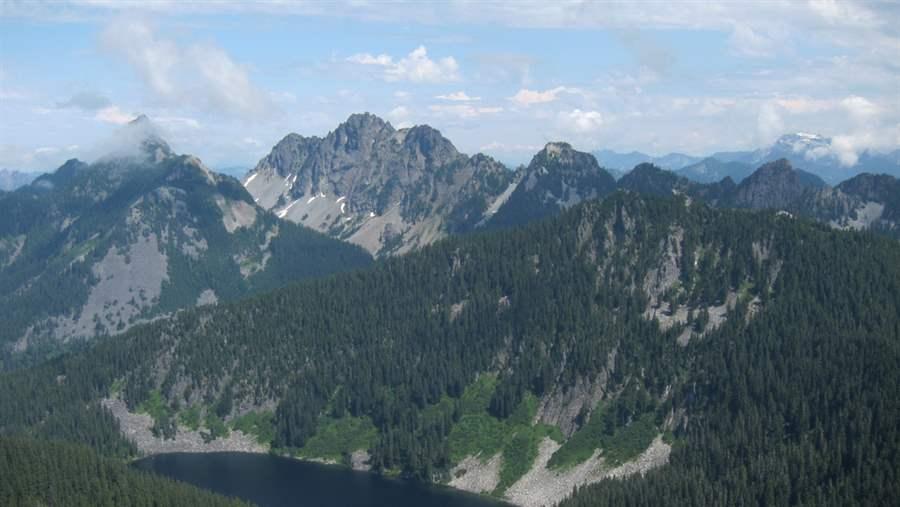 © Sean Munson
A view of Kaleetan, Chair and Bryant Peaks.
The range of elevations produces a diversity of fauna. Lower areas on the western side are lush with Douglas fir, cedar, and western hemlock, with an understory of salal and berries. Whitebark pine, spruce, and larch are found to the east. Each year the crest receives roughly 180 inches of precipitation, mainly snow, while the dry forestland down below gets as little as 10 inches. This place is truly a diverse ecosystem.
The wilderness also includes the Enchantment Lakes area, where some of the highest-rated rock climbing in the western United States can be found. Alpine Lakes, accessible from 47 trailheads, contains 615 miles of trails, including the well-known Pacific Crest National Scenic Trail. The varied landscape is a haven for climbers, hikers, campers, horseback riders, rafters, kayakers, hunters, and fishermen.
Given its natural beauty, proximity to Seattle and other population centers, and outstanding recreational opportunities, roughly 150,000 visitors come to Alpine Lakes Wilderness each year.
In 1990, nearly 15 years after the Alpine Lakes Wilderness was protected, the U.S. Forest Service recommended to Congress that the Middle Fork Snoqualmie and Pratt rivers be designated as wild and scenic, citing their outstanding and regionally important recreation, fisheries, wildlife, geological, and ecological values, as well as the "very high public support" for permanent protection.
The wild and scenic designation would ensure that the Middle Fork Snoqualmie and the Pratt remain wild and free-flowing and that their special values—critical fish and wildlife habitat and recreational uses—are forever protected. Public efforts in support of the Forest Service's recommendation include a locally driven push to protect additions to the wilderness.
The resulting Alpine Lakes Wilderness Additions and Pratt and Middle Fork Snoqualmie Rivers Protection Act (H.R. 361/S. 112) would expand the 394,000-acre Alpine Lakes Wilderness by 22,000 acres and designate parts of the Middle Fork Snoqualmie and Pratt rivers as wild and scenic.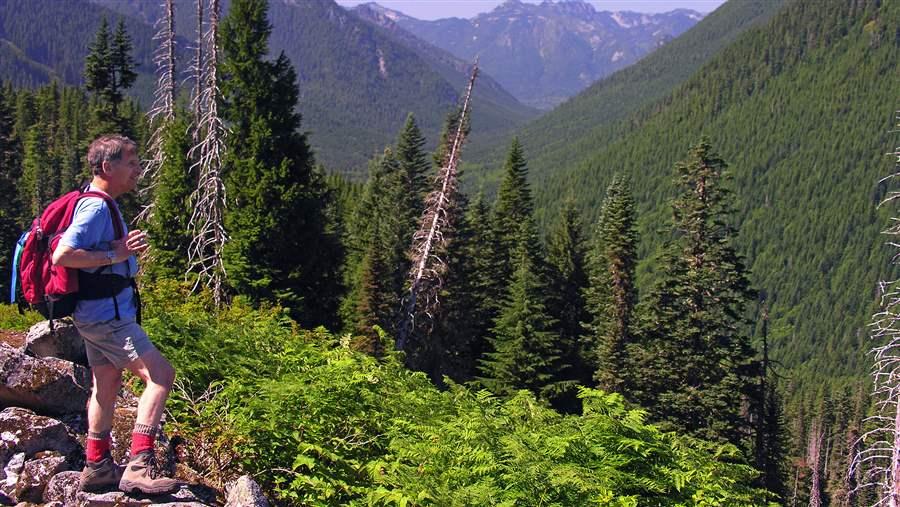 © Harry Romberg
The Alpine Lakes Wilderness is a popular adventure spot for residents of greater Seattle.
The areas that would be safeguarded by this bill lie in the Pratt River Valley and the Middle and South Fork Snoqualmie river valleys, a region that includes glacier-cut, U-shaped valleys, snowcapped peaks, old-growth forests, whitewater rivers, and strong native trout runs. The bipartisan legislation was introduced by Washington Senator Patty Murray (D-WA) and Representative Dave Reichert (R-WA) and is co-sponsored by Senator Maria Cantwell and Representatives Suzan DelBene, Adam Smith, and Jim McDermott, all Washington Democrats.
More than half of the proposed addition includes significant, rare, low-elevation (below 3,000 feet) and old-growth forests that were excluded from the 1976 Alpine Lakes bill. Today, just 6 percent of all national forest wilderness areas in the state are at elevations below 3,000 feet. The designation would make a positive impact on the community by preserving recreational opportunities, boosting the local economy through recreation and tourism dollars, protecting critical fish and wildlife habitat, and ensuring clean water for the area.
Throughout the legislative process, Sen. Murray and Rep. Reichert have reached out to local stakeholders through meetings and public forums to hear their opinions. The result is a broadly backed bill that is supported by more than 300 sportsmen, businesses, local elected officials, tribes, religious leaders, and conservation and recreation groups.
Please contact your congressional representatives today and ask them to pass the Alpine Lakes Wilderness Additions and Pratt and Middle Fork Snoqualmie Rivers Protection Act, and other wilderness bills across the country poised for passage.