Online Voter Registration in 2012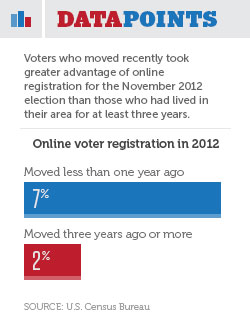 The U.S. Census Bureau recently released its report on the 2012 election, and today's data dispatch is the first of five that will delve into the data and what they say about election administration.
This was the first presidential election for which the bureau asked eligible voters if they registered to vote online. In 2002, Arizona became the first state to roll out online registration, and by 2012, 13 states offered the service. Nationwide almost 3 percent of voters, or an estimated 4.4 million, registered online in 2012, according to the Census data.
Those who recently moved took greater advantage of online options, with nearly 7 percent of voters who lived in their residence less than one year registering online compared with slightly less than 2 percent of those who had lived in their residence for three years or more.