Fewer Minnesota Absentee Ballots Rejected in 2012 Election
Return to Election Data Dispatches.
A recent report from the Office of the Minnesota Secretary of the State found that even though more than twice as many absentee ballots were cast in 2012 than in 2010, fewer were rejected in last November's general election.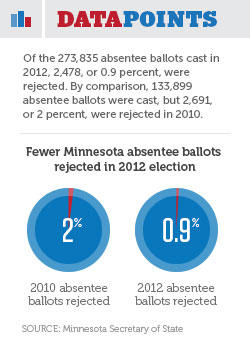 Of the 273,835 absentee ballots cast in 2012, 2,478, or 0.9 percent, were rejected. By comparison, 133,899 absentee ballots were cast, but 2,691, or 2 percent, were rejected in 2010.
The report noted that changes made to Minnesota's absentee-balloting process in 2010 and 2011 may have played a role in this decrease in rejections. Absentee ballot boards were created to review mail-voting envelopes after 2010. Soon after arrival, the envelopes are now checked to see if they meet legal requirements and can be accepted. If an error is found, local election officials must notify voters and send them a replacement ballot.