Election Day Registration in the 2012 General Election
Return to Election Data Dispatches.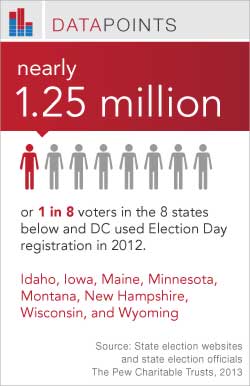 In the eight states — Idaho, Iowa, Maine, Minnesota, Montana, New Hampshire, Wisconsin, and Wyoming — and the District of Columbia that allow Election Day registration, nearly 1.25 million voters registered or updated their information and cast ballots on Election Day last November. Therefore, approximately 1 in 8 ballots cast in these states and the District of Columbia involved Election Day registration.
Idaho and Minnesota saw the highest rates of ballots cast by voters registering on Election Day at nearly 18 percent each, while Montana saw the lowest rate at less than 2 percent.