Symposium Spotlights Ocean Wilderness of the Kermadec Islands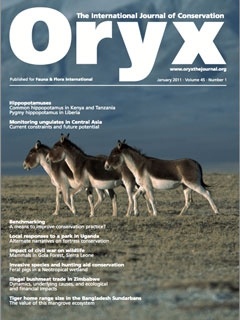 Oryx—The International Journal of Conservation, published quarterly by Cambridge University Press on behalf of Fauna & Flora International reported the Kermadec science symposium in Conservation news.
Read the article below or download a copy of Conservation News here.
Symposium spotlights ocean wilderness of the Kermadec Islands
New Zealand's Kermadec Islands, located between New Zealand's North Island and Tonga, are remote and rarely visited, and uninhabited apart from a government station on Raoul Island. The region is geologically active and has unusual biological features, straddles tropical and temperate latitudes, and supports important populations of whales and dolphins, sea birds, fish and deep-sea marine life.
In August 2010 in Wellington, New Zealand, more than 140 people gathered at an international symposium, DEEP—Talks and Thoughts Celebrating Diversity in New Zealand's Untouched Kermadecs. The symposium brought together representatives from science, government, academia, the M_aori community, industry and conservation to share their knowledge of the geological and biological diversity of the Kermadec region. Hosted by the Pew Environment Group with Te Papa Tongarewa (National Museum of New Zealand), the symposium was held in recognition of the 2010 International Year of Biodiversity.
The geological diversity of the region was highlighted during the 2-day symposium. The Kermadec Islands form the longest underwater volcanic arc, with more than 50 underwater volcanoes extending along the 2,500-km2 collision zone between the Pacific and Australian tectonic plates. Some of these peaks are within 65 m of the sea surface, and the volcanic landforms, hydrothermal vents and geomorphic features are still being explored. The area also includes the 10,000-m deep Kermadec–Tonga Trench.
Presentations also focused on the marine life. Eight species of whale, including blue, fin and sei whales, migrate through these waters. Hawksbill, leatherback and green turtles, all of which are threatened, occur in the region. About 150 fish species are known from the Kermadecs and it is likely that future surveys will reveal new species living in waters deeper than 600 m. Additionally, the Kermadecs are a globally significant sea bird refuge, with up to 6 million sea birds breeding on the islands each year.
Of significance to New Zealand and the world, the Kermadec region provides an important haven for threatened species and an underwater frontier that scientists are only now beginning to explore.