The following measures are needed to address the risks related to increased shipping in the Bering Strait.
Vessel routing
Shipping lanes. Showing ships where it is safe to travel and establishing regular, predictable traffic patterns will help prevent accidents such as collisions and groundings in hazardous or sensitive marine areas.
Areas to be avoided (ATBAs). Some places with marine hazards such as shallow water or strong currents may be designated as ATBAs to restrict certain vessel types. ATBAs can also be set aside for environmental or cultural reasons, such as protecting important hunting grounds, wildlife migration routes, large congregations of marine mammals, and feeding grounds. These areas should be determined in close collaboration with local communities and subsistence hunters.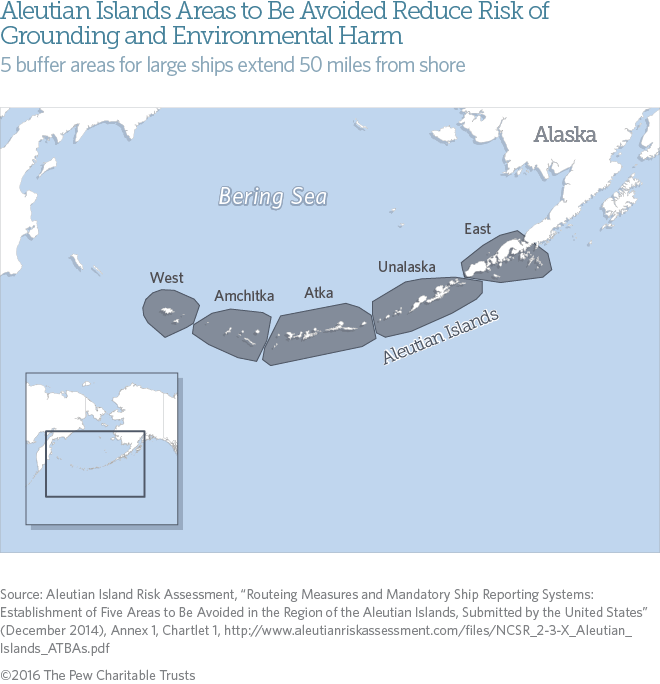 Vessel safety communication system
Many vessels longer than 65 feet, when transiting U.S. waters, must have an automatic tracking system known as an Automatic Identification System (AIS), which reports their position, speed, cargo, destination, and other information. This technology could be the basis for a vessel safety communication system that should consist of:
Real-time tracking of vessels to ensure that they are in compliance with regulations.
Requirements that vessels announce when they enter and leave designated areas, giving communities greater awareness of passing ships.
Provision of important information on weather conditions, such hazards and risks as ice, and the presence of hunters in small boats or large congregations of marine mammals.
Advisories, such as speed reductions, as necessary.
For the system to be effective, local communities would need the technology as well as appropriate training to receive AIS information and communicate effectively with vessels in their areas.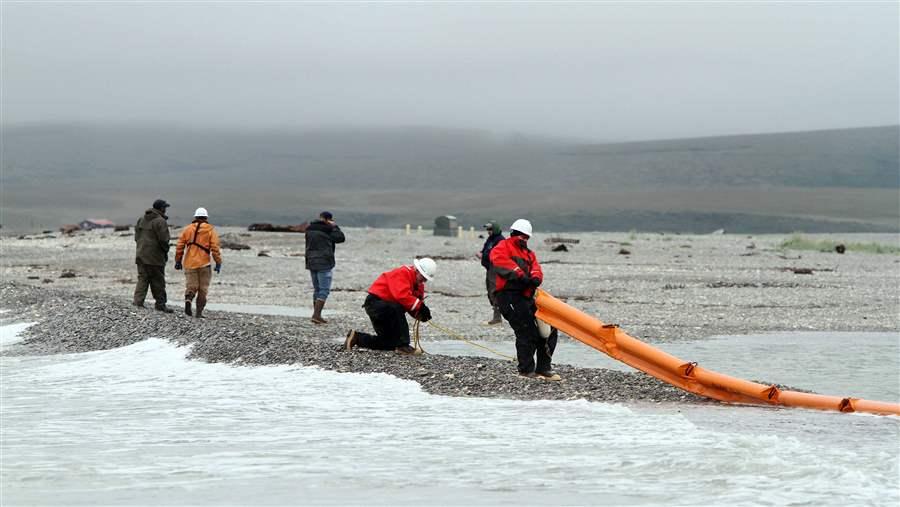 © Diana Haecker
As part of an oil spill response drill, a crew deploys an oil spill boom across a sand spit near the Bering Strait community of Teller, Alaska.
Emergency prevention and preparedness
Even with the best prevention measures in place, accidents happen. Emergency plans, adequate resources, and training are vital to effectively respond in Arctic conditions to a variety of emergencies, including vessel groundings and distress and oil spills. To bolster emergency preparedness in the area, U.S. officials can:
Increase vessel planning, prevention, and response capacity. A year after the Exxon Valdez disaster in Alaska in 1989, Congress passed the Oil Pollution Act. It required vessels to meet certain minimum standards for responding to accidents. In Alaska, because of the remoteness and lack of readily available equipment, vessels under U.S. regulation are allowed to meet Coast Guard-approved alternative planning criteria. These requirements, which are regularly updated, should balance reasonable prevention measures in the near term with the need to acquire, over time, additional response assets to address a lack of spill response equipment, towing vessels, and trained personnel. The Aleutian Islands Risk Assessment's recommended Optimal Response System could benefit vessels traveling through the Bering Strait as well.
Train and equip local first responders. Coastal communities and subsistence hunters have extensive and valuable knowledge of weather and water conditions, sensitive areas, and wildlife—information that is critical for emergency response. Community members will be the first on scene, arriving well before professional oil spill responders or the Coast Guard, and should have access to and be trained to use equipment to protect the coastline or offer assistance to a person in distress.
Update local area emergency response plans. Subarea plans in Alaska should be updated every few years through a meaningful public process and should reflect local knowledge and protection priorities. Plans should be enhanced by industry- and state-funded response equipment and community member training, and should include response tactics proved through field tests and on-water drills.
Community involvement
Local communities should be actively involved in efforts to manage and monitor ship traffic in their waters through the creation or expansion of:
Arctic Waterways Safety Committee. Modeled on the harbor safety committees found at many U.S. ports, this committee is responsible for recommending actions to improve the safety, security, and predictability of the waterway. It is composed of a variety of users, including local marine mammal hunters, a tribal representative, local municipalities, and industry representatives.
Regional citizens' advisory councils. These local-resident groups have proved effective in providing advice to industry on oil spill prevention and response.
Area committees. These advisory groups provide input to subarea planning processes and should be enhanced to ensure full local participation in planning for spills.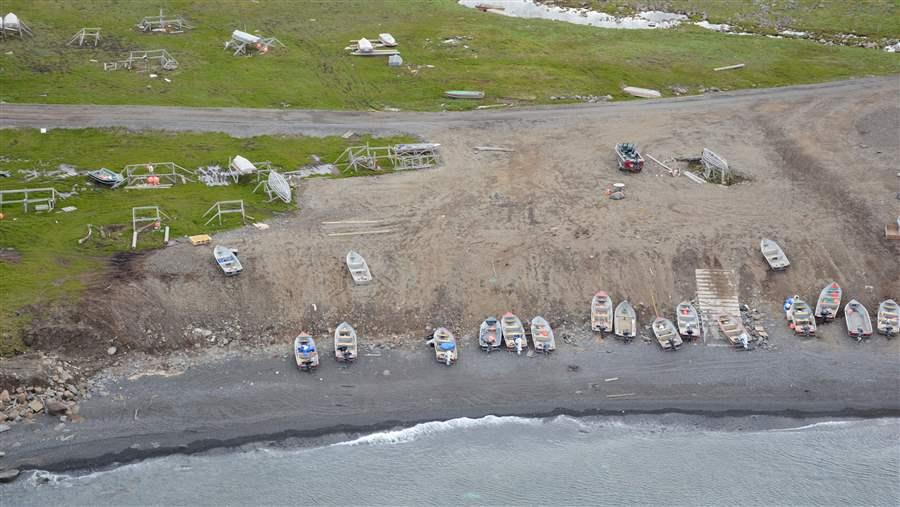 © Alaska ShoreZone
Indigenous hunters travel long distances from shore in small boats, such as these from the village of Savoonga, Alaska. Local residents must be included in management and monitoring of increasing ship traffic in their waters.