QUEENSLAND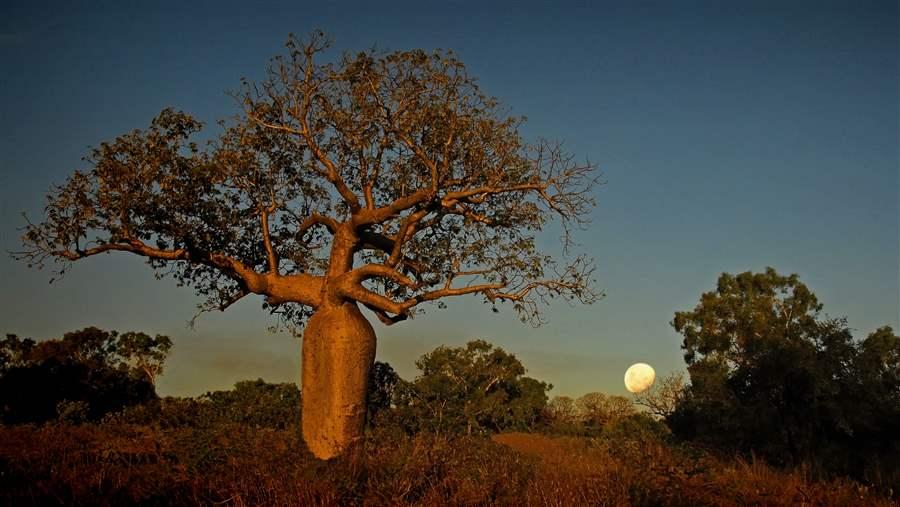 © Getty Images
Find out more about Channel Country and the rivers that flow to Lake Eyre, Cape York's natural wonders, and the Coral Sea.
Channel Country
Covering one-sixth of Australia, the rivers and wetlands of the Lake Eyre Basin act as an enormous internal drainage system for the continent, fed by some of the world's last unregulated river systems. The Cooper Creek, Diamantina River and Georgina River make up what is known as Channel Country, taking water from the tropical north inland into Australia's driest deserts to fill Lake Eyre.
After heavy rainfall, the Channel Country rivers flood across hundreds of kilometres. Long-dry flood plains and river channels burst into life, with a mass of native plant growth. Waterbirds from around Australia flock in to feed and breed. As the waters subside, other birds and animals move in to feast on abundant insects and seeds. Local graziers depend on the flood plains for lush growth on which they can fatten cattle. The extraordinary boom and bust of life along these rivers is one of the great natural phenomena of Australia.
Because the Channel Country rivers are so vital, the Queensland Parliament listed the rivers for protection under the Wild Rivers Act in 2011. The Act came about because a diverse group of affected parties—from graziers and Aboriginal landowners to scientists and environmentalists—joined together to pressure the government to protect the state's healthy river systems. The Wild Rivers Act provided essential protection from large-scale destructive projects such as mining in flood plains and irrigated agriculture.
Etched into the folklore of Australia's Outback, the Lake Eyre Basin is where the famous Australian poet Banjo Paterson wrote in 1889 that Clancy of the Overflow had gone "a-drovin":
And the bush hath friends to meet him, and their kindly voices greet him
In the murmur of the breezes and the river on its bars,
And he sees the vision splendid of the sunlit plains extended,
And at night the wond'rous glory of the everlasting stars.
OUR GOALS
Pew is working to secure long-term protection for the Channel Country's natural river flows, wetlands and flood plains. Through our work with the Western Rivers Alliance—a partnership of graziers, conservation groups and Traditional Owners—we aim to permanently protect the region's major river systems and flood plains: the Cooper Creek, Diamantina River, and Georgina River. In December 2011, the then-Labor state government in Queensland delivered on an election promise to safeguard the vital flooding river systems from destructive mining and other major developments such as large-scale irrigation projects. This high level of protection stretched across 4.5 million hectares (11 million acres) of land and ensured that a further 5 million hectares (12.35 million acres) of wetlands downstream in South Australia were guaranteed inflows of water. The decision also created 10 new Indigenous Ranger conservation jobs, as well as funding programs for the control of weeds and feral animals.
In 2014, however, a new conservative government in Queensland repealed the laws protecting Channel Country rivers, an action that opened the region up to exploitation by heavy industry, including the rapidly expanding business of shale and coal seam gas. Pew, alongside graziers and the region's Traditional Owners, was successful in securing safeguards against destructive developments such as open-cut coal mines and large-scale irrigation projects. However, the Channel Country's rivers and flood plains remain vulnerable to proposals for water-intensive and potentially polluting fracking operations for shale gas.
The election of a Labor state government in 2015 renewed hope among graziers and Traditional Owners that their wishes for permanent protection of the Channel Country's rivers and flood plains would be respected. Labor promised before the state election that it would prohibit exploration for energy resources in ecologically sensitive areas and re-enact legislation to safeguard the state's healthy river systems.
Pew, alongside graziers and Traditional Owners, is concerned that the Queensland Government has recently invited interest from mining companies to exploit shale gas reserves in the Channel Country. The region's clean, green organic beef industry would be placed at risk if large-scale polluting industry were to damage groundwater and river systems.
Fracking for shale gas remains an uncertain technology, and Pew is urging the government to deliver on its promise to protect the Channel Country's extraordinary river systems, which support vibrant communities and sustainable businesses and flow inland to fill Lake Eyre.
Listen to grazier Bob Morrish discuss local concerns about shale gas fracking in the Channel Country.
Cape York—completed 2010
At the north-east tip of Australia, Cape York Peninsula is a tropical wonderland and a region of global significance for conservation. In the centre of the peninsula is Piccaninny Plains, which contains several diverse ecosystems and serves as a vital corridor connecting the peninsula's east and west coasts. Endemic species such as the palm cockatoo, trumpet manucode, yellow-billed kingfisher, magnificent riflebird, spotted cuscus and white-streaked honeyeater are found here.
In 2008, Pew collaborated with the Australian Wildlife Conservancy to purchase Piccaninny Plains in order to establish a large conservation reserve. We also supported a wildlife survey on the adjacent Kaanju Ngaachi Wenlock and Pascoe River Indigenous Protected Areas by expert naturalists and the Chuulangun Rangers. Data from this survey has provided information critical in helping to manage this large, species-rich conservation area.
Coral Sea
The Coral Sea is a vast marine wilderness lying between the World Heritage-listed Great Barrier Reef and the waters off Papua New Guinea, New Caledonia and the Solomon Islands. It is home to an incredible diversity of marine life and is one of the last remaining places on Earth with healthy populations of big fish such as marlin and tuna, rare deep-water sharks and other iconic species such as the dwarf minke whale and the world's largest fish, the majestic whale shark. It is also the site of the only known spawning event for black marlin.
OUR GOALS
In 2012, Australia made history by creating the world's largest network of marine parks and sanctuaries—protecting the unique marine life and coastal lifestyle and giving fish populations across Australia the chance to rebuild and thrive.
The Coral Sea Marine Reserve is the 'jewel in the crown' of this network. Almost half the size of Queensland, the 502,238-square-kilometre (193,915-square-mile) reserve includes a huge sanctuary for marine life and creates what is effectively the largest recreational fishing zone in Australia's history.
In 2014, however, Australia's new Federal government suspended the operation of the Coral Sea sanctuaries and ordered their review. Despite more than a decade of science research and overwhelming community endorsement, the Coral Sea Reserve and its sanctuaries for unique marine life are now at risk of being removed.
We are working alongside dive tourism operators, fishers, families, businesses and communities across Australia to safeguard one of the planet's last great marine wonderlands in world-class marine sanctuaries.