RESEARCH TEAM

Kristin Westdal is a biologist specializing in Arctic marine mammals who joined the Oceans North Canada staff in 2010. She has worked extensively in Canada's eastern Arctic with Fisheries and Oceans Canada and the Qikiqtani Inuit Association researching narwhal, beluga and killer whales. She also ran a kayaking operation in Hudson Bay from 2001 to 2005 that offered close encounters with beluga whales. Kristin has a master's degree in environmental science from the University of Manitoba where her thesis examined movement and diving of narwhal in northern Hudson Bay. Last year she was the research expedition leader on Oceans North Canada's Lancaster Sound Arctic Whale Survey. She lives in Winnipeg.

Christopher Debicki is expedition leader and Nunavut projects director for Oceans North Canada. He is working on the creation of a national marine conservation area in Lancaster Sound. Last year, he was the expedition leader for Oceans North Canada's Lancaster Sound Arctic Whale Survey. Before joining Oceans North Canada in 2009, he spent five years as executive director of Maliiganik Tukisiiniakvik, a Nunavut legal aid clinic. In 2007, he collaborated with the Nansen Institute in Norway to do oceanographic research in Greenland and sailed through the Northwest Passage as part of a campaign to raise awareness about the impact of climate change on Inuit communities. He received his law degree from McGill University and also studied at the University of Manitoba, the University of Cape Town and Jagiellonian University in Poland.

Jeremy Davies is a marine spatial analyst and cartographer with Oceans North. Prior to joining the team in 2011, he worked for the National Oceanic and Atmospheric Administration (NOAA). His work has focused on studying species-habitat relationships and applying geospatial analyses to marine and coastal science for the last two decades. His past research projects have included mapping changes in Arctic ice extent and volume, and modeling the distribution of bowhead and beluga whales in the Beaufort Sea. He has a master's degree in biology from Western Washington University and lives in Bellingham, WA.

Jack Orr is the team leader and a senior mammal research technician with the federal Department of Fisheries and Oceans who has worked in the Arctic for more than 30 years. He has 25 years of field experience with belugas and narwhal, including the capture/handling of more than 300 animals. He has established research partnerships with scientists from Russia, the U.S., Denmark and Europe.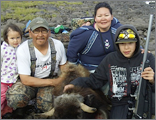 Johnny Mamgark grew up in an outpost camp on the Hudson Bay where his father taught him to hunt by his 11th year. He moved to the community of Arviat in 1979. Johnny has worked on a number of wildlife related projects, including beluga studies with Fisheries and Oceans Canada in the 1980s. He has hunted and traveled in the Seal River Estuary both in summer and winter. Johnny still resides in Arviat, Nunavut, where he teaches his own children to hunt. He currently works at the elementary school as a guidance counselor.

Jason Hamilton is a marine mammal biologist with the Department of Fisheries and Oceans Canada, recently specializing in walrus and whales in Arctic waters. Jason previously studied animal health in polar and grizzly bears relating to changing habitats. Jason studied at University of Waterloo, and now lives in Winnipeg. He is a fishing guide in his spare time.
Sandie Black is a wildlife veterinarian who is Head of Veterinary Services for the Calgary Zoo. She is also an adjunct professor of Zoo and Wildlife Medicine at the University of Calgary 's Faculty of Veterinary Medicine. For the past 8 years she has served each summer as field veterinarian for the Canadian Department of Fisheries and Oceans narwhal research camps. Sandie's interests are in ensuring animal welfare, assessing capture stress and investigating novel ways of determining levels of long term stress in arctic marine mammals as a tool to assess impacts of global climate change on arctic ecosystems. Sandie lives in Calgary with her two teenagers and a motley assortment of pets including a husky and husky cross who love to pull a home made sled.

Chris Enright is a veterinarian specializing in the health and welfare of exotic animals. He holds a Doctor of Veterinary Medicine from the University of Guelph and is currently the Head of Veterinary Services at the Assiniboine Park Zoo in Winnipeg. He currently lives in Winnipeg.