European fisheries in crisis
Europe's fishing grounds were once among the most productive in the world, but since its start in 1983, the European Union's Common Fisheries Policy, or CFP, failed to prevent overfishing. Thirty years of the CFP resulted in serious depletion of fish populations, degradation of ecosystems, and damage to species, habitats, and sites protected by EU environmental legislation. Fishing had become unsustainable, increasingly unprofitable, and reliant on harmful public subsidies. This in turn led to deprivation in coastal communities and an ever-growing reliance on imported fish.
In 2009, according to European Commission figures, about 50 per cent of the assessed stocks in the Atlantic Ocean and nearby seas were overfished, rising to 80 per cent in the Mediterranean Sea, and affecting five out of seven fish stocks in the Baltic Sea. Europe's fishing fleets were far too large and the fishing quotas way too high. Former EU policies primarily benefited more destructive, indiscriminate, and fuel-intensive fishing fleets, at the expense of more environmentally sustainable fishing methods. Over 30 years, short-term economic interest and political expediency had landed European fisheries in deep crisis.
View video on Ending the Blind Spend
The reach of the CFP's failure was global. The EU has enormous influence on international fisheries management and with it considerable responsibility. Its fleet is the third largest and operates in every ocean of the world. It is also the largest importer of fisheries products, importing almost 70 per cent of its fish.
How overfishing impacts EU citizens. The scarcity of once common fish, featured in many popular and seasonal recipes, pushed up prices beyond most consumers' reach. See all our briefings illustrating the impacts of overfishing on people or marine ecosystems caused by the excess removal of millions of tons of marine life every year.
The political opportunity: The CFP reform
Launched in 2009 by the publication of the European Commission's Green Paper: Reform of the Common Fisheries Policy, the CFP reform provided an opportunity to make European fisheries economically, socially, and environmentally sustainable. There was a need to finally end overfishing and destructive fishing practices, delivering fair and equitable use of resources for future generations.
The proposal was to revise the EU's core legislation for fisheries management, including measures on the EU's domestic and external fisheries policy, common market rules, and a new financial instrument.
OCEAN2012 stood for a CFP reform that:
Recovered the well‐being of our seas and dependent fishing communities.
Ended overfishing and made the shift towards environmentally sustainable fishing practices, regardless of whether vessels fish within or outside the EU.
Respected scientific advice and the limits of the ecosystem.
Applied precautionary and ecosystem‐based fisheries management.
Delivered fair and equitable use of marine resources.
Could supply Europe's consumers with a rich variety of locally caught fish now and into the future.
Used public funds as part of the solution and not as a driver of overfishing.
View video on Ending Overfishing
For the first time, the European Parliament had co-decision in fisheries policy. OCEAN2012 looked to Members of the European Parliament and EU fisheries ministers to support a new CFP that would achieve healthy fish stocks above levels capable of producing maximum sustainable yield and contribute to achieving a good environmental status for EU waters under the 2008 Marine Strategy Framework Directive.
View video from WWF, MSY, Get it Right
The journey
After publication of its Green Paper in 2009, the European Commission issued an ambitious proposal in July 2011 to reform the CFP in order to make fishing sustainable—environmentally, economically, and socially. This was followed by almost three years of intense activities by the coalition members.
OCEAN2012 activities in member states raised people's awareness of overfishing and CFP reform and encouraged people to support decision-makers in their difficult work. From 2010 to 2012, many groups and individuals took part in European Fish Week activities, sending a clear message to decision-makers to "end overfishing or fishing will be over."
In addition to member activities, OCEAN2012 supported the CFP process and decision-makers more directly with the preparation of numerous briefings and activities. On 19 October 2011, the Size Matters, Quality Counts Declaration was presented in the European Parliament. This was followed up by several meetings among Members of the Parliament, civil society groups, and representatives of small-scale fishermen.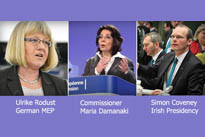 On the legislative side, the European Parliament voted 502-137 in favour of the related report in February 2013, supporting the implementation of sustainable fishing practices. After more than four years of deliberations by and among the European institutions, Simon Coveney, representing EU fisheries ministers, and Ulrike Rodust, responsible for the file at the European Parliament, agreed on 30 May to proceed with a reform that would:
Rebuild fish stocks.
Set a legally binding target to end overfishing.
Reduce by-catch and discarding.
Use transparent access criteria, including social and environmental, when allocating fishing quota.
Through its work, OCEAN2012 also secured a clear link in the CFP to the goals of the Marine Strategy Framework Directive and defeated a proposal for compulsory transferable fishing concession.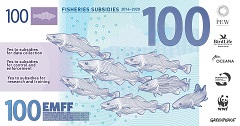 In late October 2013, members of the European Parliament, or MEPs, voted on the future EU fisheries subsidies regime, the European Maritime and Fisheries Fund, which will be used to implement the new CFP for the period 2014-2020. Consistent with the February vote, MEPs supported a significant shift of additional funds into data collection, control, and enforcement, and strengthened provisions to withhold funding in case of noncompliance with the rules of the CFP by member states. However, they also voted in favour of subsidies for engine replacements and other measures known to facilitate overfishing.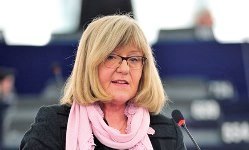 In December 2013, the European Parliament formally gave its final green light for the new CFP. The new regulation has been implemented throughout EU waters and to the EU fleet globally as of 1 January 2014. It includes a commitment to restore fish stocks and to end EU overfishing by 2015 where possible and 2020 by the latest. This decision followed four years of negotiations among the European institutions and concerted campaigning by a diverse group of stakeholders.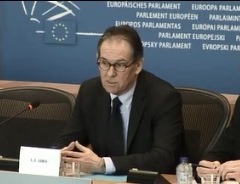 And in January 2014, a political agreement was finally reached between the European Parliament and the Fisheries Council on the future of EU fisheries subsidies, after the negotiations broke down in December. Public aid will help improve data collection, control, and enforcement. It will also strengthen provisions to allow funding to be withheld from individual recipients and member states that fail to comply with the rules of the Common Fisheries Policy.
OCEAN2012, which has been campaigning on these issues for years, congratulates EU fisheries ministers, the European Parliament, and the European Commission for achieving an agreement that finally secures a legally binding target to end EU overfishing. It also thanks the many groups and individuals who worked for such an outcome.
Find out more
Visit our publications archive section for all reports and briefings available in several languages.
What's next?
To find out more about Pew's new campaign on CFP implementation in the waters of north-western Europe, click here.