Live in Denver: Join Colorado Governor John Hickenlooper on Oct. 14 as he kicks off a series of discussions on evidence-based governing, with a special focus on election administration and tax incentives.
States and localities are increasingly using data and evidence to achieve better outcomes for their citizens—and their bottom lines. Join The Pew Charitable Trusts and Atlantic Media's Route Fifty in Denver for a conversation with Governor Hickenlooper and other state officials on how Colorado has successfully developed policies and systems that deliver optimal results.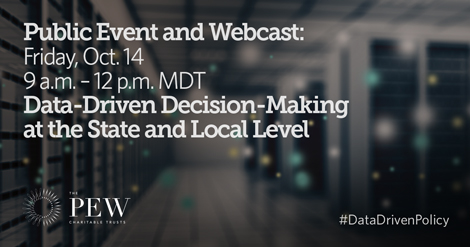 Get expert insights on …
How Colorado policymakers at all levels of government use data to improve decision-making.
How data-driven election administration can ensure accuracy, cost-effectiveness, and security.
Why using evidence and evaluation to inform tax incentive policy helps obtain the best results for states' budgets, businesses, and taxpayers.
This event is open to the public and will also be streamed live.
Agenda
All times in Mountain time
9–9:30 a.m.
Registration and breakfast
9:30–9:35 a.m.
Welcome remarks: Hilery Sirpis, publisher of Route Fifty
Introduction of Gov. Hickenlooper: Tom Conroy, Pew vice president
9:35–10:15 a.m.
Keynote remarks: Governor Hickenlooper
10:15–11 a.m.
Panel 1: Elections—using data to achieve the highest standards of accuracy, cost-effectiveness, convenience, and security in America's system of election administration.
Panelists
Wayne Williams, Colorado secretary of state
Amber McReynolds, director of elections for the city and county of Denver
Samuel Derheimer, manager of Pew election initiatives
Michael Grass, executive editor of Route Fifty (moderator)
11–11:45 a.m.
Panel 2: Tax Incentives—how states use evaluation and evidence to ensure that economic development tax incentives obtain the best results for states' budgets, businesses, and workers.
Panelists
Colorado State Representative KC Becker
Robert Zahradnik, state policy director of Pew's state fiscal health and economic growth project
Scott Greenberger, executive editor of Pew's Stateline (moderator)
11:45 a.m.
Brief concluding comments: Hilery Sirpis