Western States Use Science and Data to Safeguard Migrating Wildlife
New science is helping define better ways to manage big game species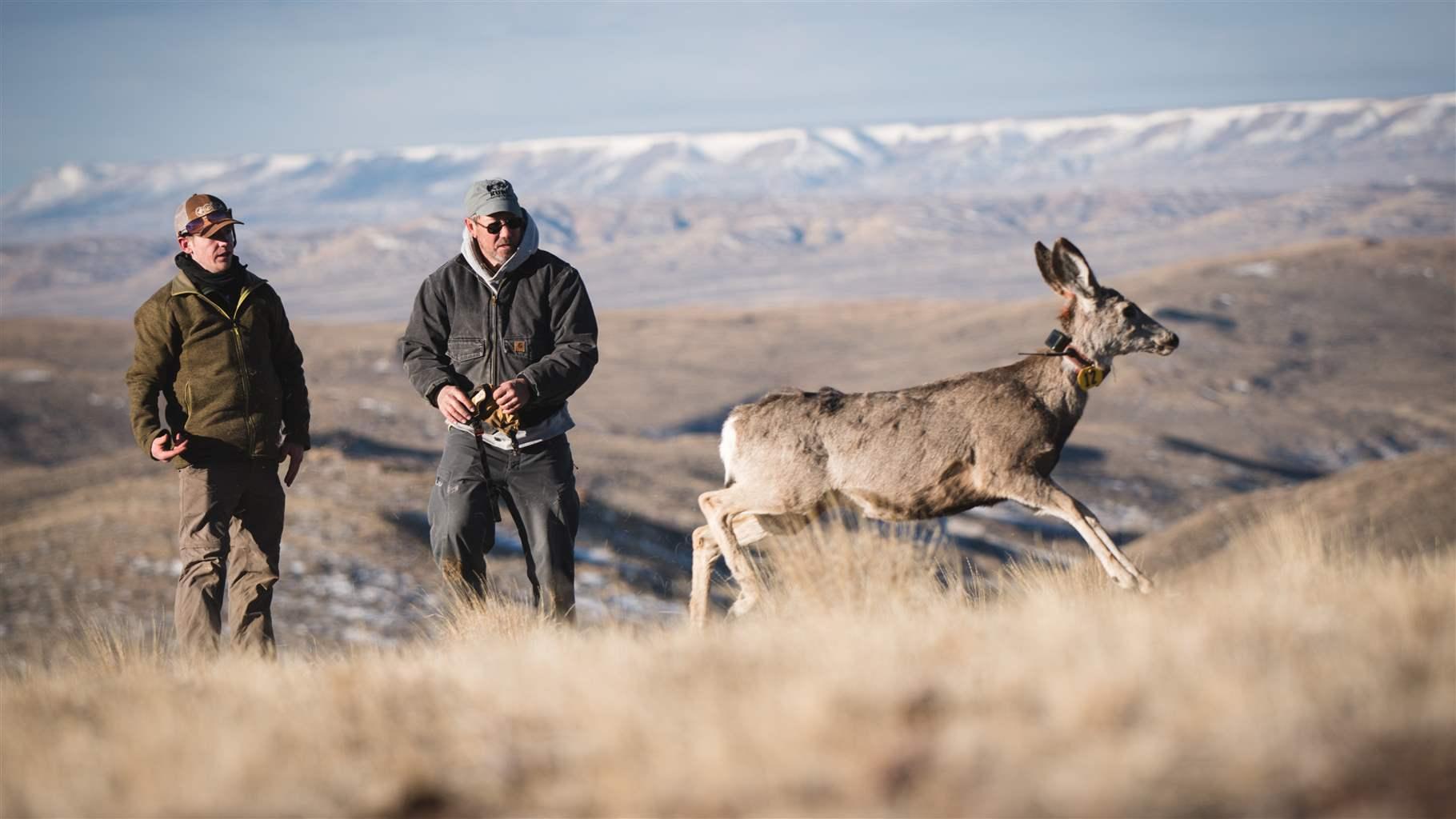 Editor's note: This article was updated on Aug. 7 with more detail on how GPS tracking helps manage wildlife populations.
By the early 20th century across the American West, a host of far-ranging native wildlife had been reduced to a small fraction of their former numbers or geographical extent, with some teetering on the brink of extinction because of overexploitation by early non-Indigenous settlers. In response, concerned conservationists and sportsmen developed the North American Model of Wildlife Conservation, which established that our country's wildlife should be managed in public trust without commercial interest. To this day, the model informs states' policies, with a strong emphasis on use of science to effectively manage wildlife populations for the long term.
Among the primary tools for achieving this goal are state wildlife management plans, which are developed by agency biologists with public input and guide agencies on how to maintain and enhance populations of deer, elk, bighorn sheep, and other game using the best available science. States have primary responsibility for wildlife within their borders, though national public lands—which encompass the majority of wildlife habitat in most Western states—are administered by federal agencies. The state plans, therefore, serve as a guide for federal land management planning.
Many of those plans now contain far better data than they once did, thanks in large part to the proliferation of GPS collars that scientists are attaching to game animals. The tracking helps show how these species migrate and has significant implications for what states generate and advance as management recommendations to federal agencies.
For example, in late 2019, the Utah Department of Natural Resources released its revised Mule Deer Management Plan, which defined new critical habitats for the species, including migration corridors. The plan prioritizes educating municipalities and working with them to make zoning decisions that minimize the loss of crucial habitat and maintain the integrity of migration corridors. Similarly, the Idaho Mule Deer Management Plan, revised in early 2020, contains new language stressing the importance of migratory areas, especially key winter, summer, and migratory habitats on public and private lands. It also guides the state in contributing recommendations to federal land use plans that will improve and preserve mule deer habitat and aid migrations.
Other Western states are poised to revise their ungulate management plans based on a wealth of new data from GPS collar studies. These plans are critical to conserving America's wildlife heritage—which has become more important given disturbing trends in some wildlife populations.
For example, according to the Oregon Department of Fish and Wildlife (ODFW), the state's mule deer populations have fallen significantly below the targets set by the agency, and several of the most prized populations are around only 25% of what biologists recommend. ODFW's mule deer plan was last revised 17 years ago and should be updated to include new science and provide management recommendations to federal land use planners to ensure the long-term sustainability of these ungulate herds.
The North American Model of Wildlife Conservation established science as the proper tool for developing wildlife policy. As new research matures, incorporating this data into state management plans in a timely manner will be crucial. However, leveraging the science to influence and guide federal land planning will be the true test of whether managers can sustain wildlife populations at healthy levels far into the future.
Matt Skroch is a project director and Nic Callero is a principal associate with The Pew Charitable Trusts' U.S. public lands and rivers conservation team.