Joshua W. Shaevitz, Ph.D.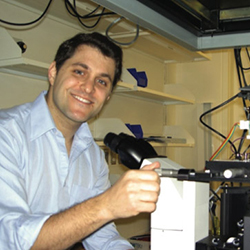 Title

Department

Institution

Address

150 Carl Icahn Laboratory

City, State, ZIP

Phone

(609) 258-8177

Email

Website

http://sites.google.com/site/shaevitzlab/

Research field

Award year
Research
I am interested in the role that mechanical forces plays in biology, particularly how nanometer-sized proteins are used to generate cellular-level forces on the micron-scale. Lately, I have been studying how cytoskeletal filaments are used to define intracellular organization, cell shape, mechanics and motility in bacteria. It was recently discovered that bacteria use homologs of the eukaryotic proteins actin and tubulin to guide a number of cellular processes, however physical details of these processes have been lacking due to the minuscule size of most bacterial cells. My lab is developing new experimental techniques that combine mechanical perturbation of cells and molecules with visualization of key protein and macromolecular structures to explore the physical side of these topics. Our toolbox includes unique combinations of optical microscopy, optical trapping, atomic force microscopy, as well as biophysical modeling and simulation.