Scattered across the west Indian and Southern oceans, the French Southern Lands and Antarctic Territories, also known by its French abbreviation TAAF, collectively provide several of the planet's last significant wilderness areas and host some of the largest concentrations of marine birds and mammals globally, including endemic and critically endangered species such as albatross and bigeye tuna.
People do not live in the territory permanently, but a few hundred military personnel, researchers, and support staff visit the island every year to study and research biodiversity and species. Sharks, turtles, whales, penguins, seals, and krill live vibrantly and practically undisturbed.
The Pew Bertarelli Ocean Legacy Project is supporting efforts to expand marine protections within this French overseas territory to preserve these thriving ecosystems. Protecting biodiversity in TAAF is essential to the global ocean health.
Pew Bertarelli Ocean Legacy Project
The Pew Charitable Trusts and Dona Bertarelli joined forces in 2017 to create the Pew Bertarelli Ocean Legacy Project, with the shared goal of establishing the first generation of ecologically significant, large, and effective marine protected areas (MPAs) around the world; today, the Pew Bertarelli Ocean Legacy Project also seeks to connect MPAs and help conserve key migratory species and entire marine ecosystems. These efforts build on more than a decade of work by Pew and the Bertarelli Foundation, led by Dona Bertarelli, to create large-scale highly or fully protected MPAs. Between them, they have helped to obtain designations to safeguard nearly 9 million square kilometers (3.5 million square miles) of ocean by working with communities, local leaders, philanthropic partners, Indigenous groups, government officials, and scientists. Dona Bertarelli is a philanthropist, investor, sportswoman, and strong advocate for ocean conservation. The Pew Charitable Trusts addresses the challenges of a changing world by illuminating issues, creating common ground, and advancing ambitious projects including the need for effective marine conservation.
OUR WORK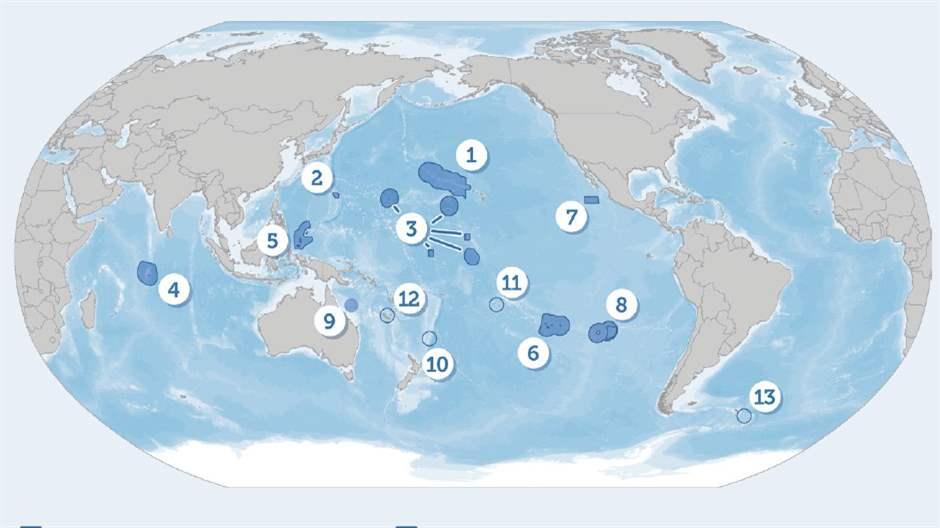 Where We Work
Explore