New Report Lists Steps to Improve Patient Matching Across Electronic Health Records
Short- and long-term opportunities can provide better accuracy, quality of care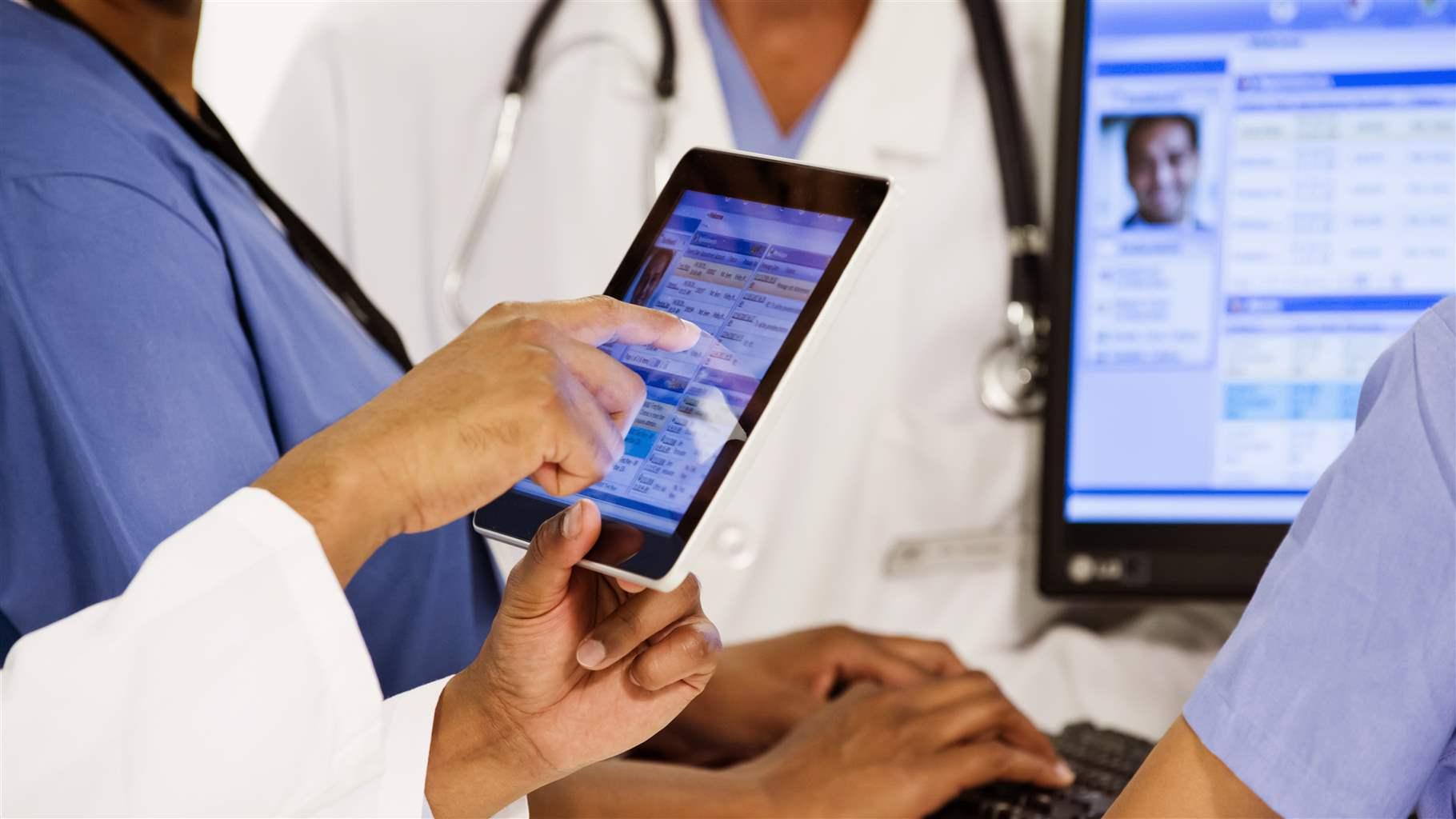 Most hospitals and doctors' offices have moved from paper medical charts to electronic health records (EHRs) over the past decade. This change can help equip providers and patients with more complete information to inform care decisions. However, accurate patient matching — linking records for the same individual that are held in different locations — remains a challenge, preventing patients and clinicians from realizing the full potential of EHRs to help coordinate care.
As many as 1 in 5 patients may not be matched correctly at a health care facility they've previously visited; that rate can rise to 50 percent when records are sent between organizations. This can cause delays in care as providers search for information missing in a patient's record. Even worse, a person can be inaccurately matched with the record of someone with a similar name or birth date but a different medical history, and receive improper and potentially dangerous treatment.
The Pew Charitable Trusts examined possible solutions to this challenge, including adopting unique identifiers; giving patients more control over having their records matched; standardizing how demographic elements, such as birth dates, are entered into EHR systems; and using third-party data, such as information from the U.S. Postal Service, to help improve matching.
The findings—summarized in a new Pew report —show that while there is no single solution that can fully resolve this issue, there are several short- and long-term steps that could help significantly boost matching rates.
Pew proposes several efforts that government, EHR vendors, and hospitals can make to ensure patients are accurately matched to their records wherever they go. In the short term, some steps can be taken using existing methods, such as standardizing how demographic data are recorded, to improve match rates. The Office of the National Coordinator for Health Information Technology, the agency that oversees EHRs, can help advance the standardization of those data.
In the longer term, EHR vendors, hospitals, and others should begin discussing more significant shifts to improve matching rates. One area that patients interviewed in Pew-sponsored focus groups generally agreed on was a desire to use biometrics, such as fingerprint or iris scans, to help link records. There are challenges to this approach, though, such as ensuring that each care setting could recognize different types of biometric requests, coordinating across facilities, and maintaining privacy. This approach is viable only if the technical barriers are addressed—including ensuring that patient preferences are respected and privacy is not compromised.
Along with insights from patient focus groups, the report incorporates interviews with executives at hospitals and doctors' offices, and conversations with experts. It also includes findings from a Pew-sponsored Rand Corp. study on solutions that give patients more control over sharing their data, and discusses upcoming research from Indiana University's Regenstrief Institute on the benefits of standardizing demographic elements. The report also highlights the importance of a single organization to help guide efforts to improve patient matching, as laid out in a July article in the Journal of the American Health Information Management Association that followed a Pew-hosted meeting in 2017.
Improvements to matching can help realize the potential of a truly interoperable health care system, one where patients and clinicians have the data they need, when and where they need them. Achieving that goal is possible, but it will require action from across the health care industry to make it a reality.
Ben Moscovitch directs The Pew Charitable Trusts' health information technology initiative.