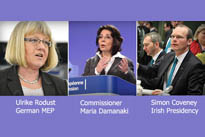 "Early this morning, the Fisheries Council and European Parliament made history by securing a political deal on reform of the EU's Common Fisheries Policy. They agreed to rebuild fish stocks, set a legally binding target to end overfishing, and committed to reducing by-catch and discarding. They rejected the controversial proposal for mandatory transferable fishing concessions. And they also agreed that when distributing fishing opportunities, member States shall use transparent environmental and social criteria, such as the impact of the fishery on the environment, the history of compliance and the contribution to the local economy." said Uta Bellion of OCEAN2012 and The Pew Charitable Trusts.
"This is a well-deserved success for Commissioner Maria Damanaki, and a testament to her vision. Throughout the negotiations, German MEP, Ulrike Rodust, has displayed considerable skill building consensus throughout the European Parliament for an ambitious reform. Rodust has played a pivotal role in clinching this deal, setting a precedent for responsible fisheries policy in the face of thirty years of mismanagement by fisheries ministers. And finally, Irish Fisheries Minister, Simon Coveney, is to be commended for succeeding in shifting the Council from its original general approach. However, none of this could have come about without the massive support by civil society across Europe. People really wanted to see an end to overfishing and wasting precious resources. The reform is not completely over, there are technical issues to be resolved and a future EU fisheries subsidies regime to be agreed by Parliament and Council." continued Bellion.
"On a sober note, although an agreement was also reached to rebuild fish stocks, Ministers rejected the Parliament's request for a clear deadline. We look forward to the implementation of the reform to ensure the early rebuilding of depleted stocks," concluded Bellion.