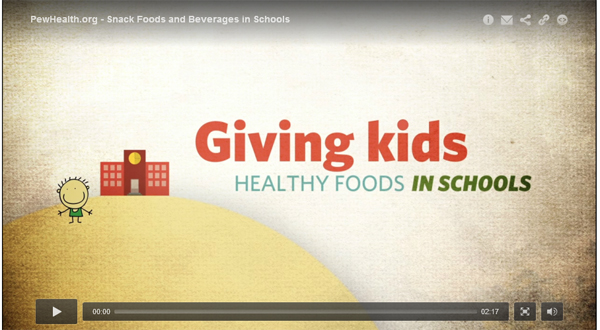 WASHINGTON — Jessica Donze Black, director of the Kids' Safe and Healthful Foods Project, issued the following statement regarding the U.S. Department of Agriculture (USDA)'s proposed nutrition standards for snack foods and beverages sold in U.S. schools. The guidance represents the first update of the rules in more than 30 years.
"We applaud USDA for taking this important step to ensure that all foods and beverages sold in schools, including snacks, meet minimal nutrition standards. This is the kind of positive change we need to help reduce obesity rates among children and teens, which are now more than triple what they were four decades ago.
"Millions of students currently have widespread access to snacks and beverages that are high in sugar, fat and salt. When fully implemented, the standards USDA has proposed today will help provide kids with healthier snack foods and beverages in a la carte lines, vending machines and school stores.
"With many students consuming up to half of their daily calories at school, these guidelines could make a real difference in the health of our nation's kids. Now it's up to us—parents, teachers, pediatricians and everyone who cares about children's health—to tell USDA that we support efforts to provide students with healthy snacks and drinks. That requires a strong final rule."
BACKGROUND: USDA has opened a 60-day comment period during which nutrition experts, school leaders, parents and other members of the general public are invited to review the proposed nutrition standards for snack foods and beverages and submit comments. This proposed rule complements USDA's standards for school meals, which took effect this school year. Comments may be provided online at www.regulations.gov.
What are healthy snacks?

What is the cost to schools?

Do Americans want healthy snacks in schools?

How does my state rank?

Infographic:
Find out with this snack foods infographic.

Report:
Will nutrition standards cause schools to lose money?

Press Release:
Find out voters' opinions on snack foods.

Report:
Search the list of states to find out if yours provides healthy snacks in schools.