Philadelphia, PA- The Pew Center for Arts & Heritage has awarded $1,108,700 through the Philadelphia Exhibitions Initiative (PEI) to seven visual arts and culture organizations in the Philadelphia area. This year's grants include five exhibition and two planning projects. Two of the recipients are first-time grantees.
The 2012 funded projects, several of which will completely transform the galleries in which they are presented, promise audiences a dynamic range of visual arts experiences.
For instance, the Philadelphia Art Alliance will present the culmination of a 12-year collaboration by Beijing-based husband and wife team Song Dong and Yin Xiuzhen. These internationally renowned artists will conclude their series, The Way of Chopsticks, which speaks to themes of domesticity and family within Chinese culture. The artists will visit Philadelphia in 2012 and 2013 and will work during this period on new sculpture made from everyday materials such as recycled clothing, plastic bags, or other ephemera. They will install these pieces, along with existing works from the series, and a new video about childhood in contemporary China, throughout the Art Alliance's historic mansion, located on Philadelphia's Rittenhouse Square.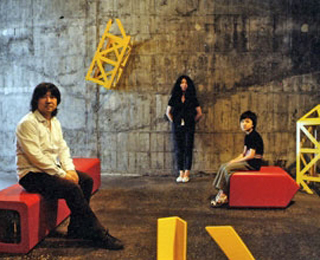 Song Dong and Yin Xiuzhen, The Way of Chopsticks III, 2011.
Image courtesy of Chambers Fine Art.
The James A. Michener Art Museum will present the first U.S. comprehensive survey of work by Bucks County artist Paul Evans, in Paul Evans: Crossing Boundaries and Crafting Modernism. The exhibition will be comprised of about 60 works that span Evans' career as a pioneer in the art furniture movement. He approached his bronze, steel, and epoxy resin works as sculpture and elevated household furniture, such as cabinetry, beyond its primary function. The retrospective will present Evans' work in the context of the cultural life of Bucks County and America's post-World War II economic boom. It will also be the Michener's first large-scale project that responds to the museum's expanded focus on regional studio crafts.
The Philadelphia Museum of Art will pay homage to its unparalleled collection of work by Marcel Duchamp in a major exhibition, Dancing around the Bride. This multidisciplinary exhibition, which will include artworks, stage sets, prerecorded music and videos, and live performances, will trace the seminal artist's influence on four major postwar artists who shared a highly experimental spirit and often collaborated: composer John Cage, choreographer Merce Cunningham, and visual artists Jasper Johns and Robert Rauschenberg. Visitors will explore four sections of the exhibition that acknowledge shared themes across their work, presented in an immersive environment designed by noted French contemporary artist Philippe Parreno—a reinvention of the museum's gallery space as an interdisciplinary venue for a range of visitor experiences.
"This year's PEI grants demonstrate the multidisciplinary and international nature of contemporary visual arts," notes Paula Marincola, Executive Director of The Pew Center for Arts & Heritage and PEI Director. "They also offer viewers the opportunity to encounter a range of exhibitions from craft and design to sculpture and installations, all created specifically for a variety of sites and including artists of significant reputation. We're delighted by this diversity of projects and their potential to enlighten and inspire many different audiences."
For the complete list of 2012 Philadelphia Exhibitions Initiative grant recipients and full project descriptions, please visit www.pcah.us/exhibitions. For press images, please contact Nicole Steinberg, Communications Specialist, at nsteinberg@pcah.us.
"We are pleased to support such a wide array of exhibitions," says Greg Rowe, Director of Culture Initiatives at The Pew Charitable Trusts. "Audiences throughout our region will have rare opportunities over the next two years to see the work of highly respected and influential artists in their fields, across generations and media. It is further proof of the vitality of our region's visual arts scene."
Philadelphia Exhibitions Initiative grants are awarded annually on a competitive basis and are selected by a panel of internationally recognized visual arts professionals. These grants foster artistic development and excellence in the region's art community by supporting those exhibitions and accompanying publications which are of the highest artistic caliber and engage the public through innovative means. For a full list of 2012 panelists, advisors, and their credentials, please visit www.pcah.us/exhibitions.
The Philadelphia Exhibitions Initiative was established in 1997 and has since funded 119 projects, investing over $13 million in bringing outstanding visual arts exhibitions to the region's audiences, as well as the field.
---
The Pew Center for Arts & Heritage is dedicated to stimulating a vibrant cultural community in the five-county, Southeastern Pennsylvania region. Established in 2005, the Center houses seven funding Initiatives of The Pew Charitable Trusts, and through them supports area artists and arts and heritage organizations whose work is distinguished by excellence, imagination, and courage. Each year, the Center's grants make possible more than 800 performances in dance, music, and theater as well as history and visual arts exhibitions, and other public programs for audiences in Philadelphia and its surrounding counties. The Pew Center for Arts & Heritage is funded by The Pew Charitable Trusts and administered by The University of the Arts, Philadelphia. For more information, visit www.pcah.us.