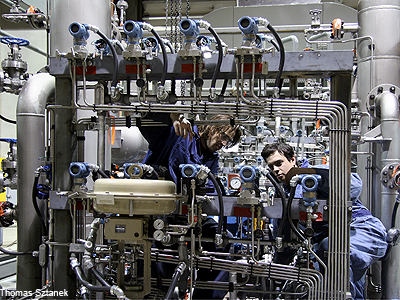 The Pew Clean Energy Program today launched Americans for Energy Innovation, a project to achieve a strong and enduring national commitment to energy research, development, and demonstration (RD&D). This announcement comes as government and business leaders gather at the third annual ARPA-E Energy Innovation Summit in Washington this week. Pew, as sponsor of the summit, seeks to optimize and expand federal investments in RD&D, with the long-term goal of tripling the federal budget to $15 billion annually.
"Innovation is the engine of American prosperity. Economists have estimated that up to 80 percent of modern economic growth arises from the invention of new technologies," said Phyllis Cuttino, director of the Pew Clean Energy Program. "Ground-breaking concepts such as the Internet and biotechnology were the beneficiaries of U.S. leadership. Advancements in clean energy need that same focus and commitment to strengthen our competitive position in this rapidly expanding sector of the global economy, reduce our dependence on foreign oil, and expand high-tech manufacturing."
Americans for Energy Leadership (AEL), a national nonprofit founded in 2009 to advance federal energy innovation policies, will join with Pew on this initiative. Teryn Norris, founder and president of AEL, has been a leading national voice on the critical need to improve U.S. competitiveness through stronger RD&D policies. The group has worked to mobilize supporters at hundreds of universities, provide policy analysis and commentary, and train the next generation of energy policy leaders. In 2010, for example, its campaign to support a federal proposal for energy science and engineering education generated support from over a million Americans.
"We are pleased to join with Pew to build on our past efforts and advance greater federal investment in energy research and development," Norris said. "In an age of austerity, it's even more vital for the United States to support strategic growth industries like clean power and fully unleash the creative capacity of our scientists, entrepreneurs, and universities. Together, we can raise awareness of the critical need to secure this global market opportunity."
Pew will leverage its national field operation, work with its network of more than 2,000 clean energy businesses, and engage a wide variety of stakeholders, including entrepreneurs, academics, policy advocates, business leaders, and investors to encourage and advocate for federal RD&D investments targeting energy innovation. This effort will mobilize ideas and resources across the country to promote the U.S. clean energy innovation agenda.