Holly Binns, a project director for the Pew Environment Group, issued the following statement today in response to U.S. Commerce Secretary John Bryson's approval of new catch limits on some species in the Gulf of Mexico. The Gulf of Mexico Fishery Management Council gave initial approval to the plans in August.
"These plans are a proactive approach and are significant for fish in the Gulf of Mexico. About two dozen species, from black grouper to gray snapper, are now protected under catch limits designed to prevent overfishing.
"However, 13 important species, such as red hind and dolphinfish, were not included in the plans and remain vulnerable to overfishing. Failing to grant protections to these species raises serious concerns for their future. If we do not conserve these popular fish today, they likely will suffer population declines. At that point, severe fishing restrictions may be the only recourse to help them recover. Preventing overfishing is more prudent than waiting for a crisis.
"More needs to be done to ensure the plans work well and the limits are enforced. But overall, we are pleased to see the start of a more preventive approach to policies in a region where fish are vital to a healthy ocean ecosystem and our coastal economies."
See how the new limits compare to average catch: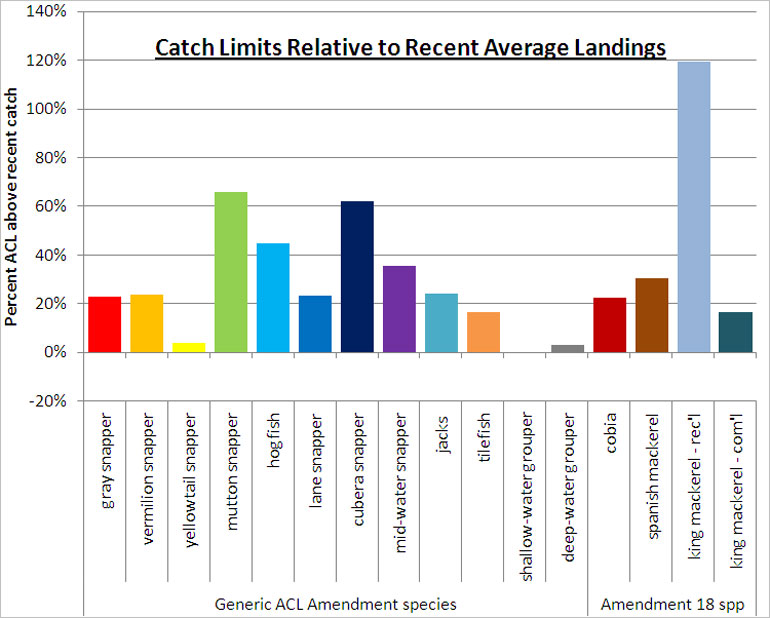 Background:
These two protection plans are formally known as the Generic Annual Catch Limits Amendment and Coastal Migratory Pelagics Amendment 18. They both set annual catch limits but address different sets of species. The GACL, authored by the Gulf of Mexico Fishery Management Council, covers mostly snappers and groupers. Amendment 18, which was authored jointly by the Gulf council and South Atlantic Fishery Management Council, covers migratory fish offshore in the open ocean, such as king mackerel. The two councils jointly manage these species which move between the two jurisdictions. The new rule are effective Jan. 30.
Pew had asked the Secretary of Commerce, which has the final say in regional fishery decisions, to alter the plans to cover 14 more species, including dolphin fish, little tunny, red hind and dog snapper. However, he declined to add in those species.