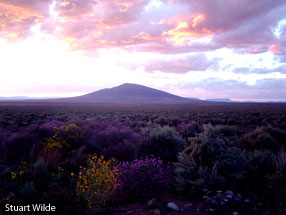 Senator Jeff Bingaman (D-NM), Chair of the Senate Energy and Natural Resources Committee, late yesterday introduced the "Rio Grande del Norte National Conservation Area Establishment Act." Representative Ben Ray Lujan (D-NM) introduced companion legislation in the House. The bills will protect more than 236,000 acres northwest of Taos, N.M., including more than 21,000 acres of designated wilderness and over 214,000 acres as a national conservation area. Senator Tom Udall (D-NM) is an original cosponsor.

"Senator Bingaman's bill will forever protect some of America's most valuable natural and cultural resources, including Ute Mountain, a forested extinct volcano that is emblematic of northern New Mexico's natural beauty," said Jim Mathews of the Pew Environment Group. "With Congressman Lujan's help, we look forward to seeing it become law in this Congress."

The bill will designate two wilderness areas: 13,420 acres of the Ute Mountain area as the Cerro del Yuta and approximately 8,000 acres as the Rio San Antonio.

"This wilderness is vital to the local economy," said Mathews. "Its scenic beauty attracts visitors from all over the world, and its clean water helps rural communities thrive. The protections in this legislation will safeguard the way of life the people of New Mexico have enjoyed for generations, and ensure that this land will stay as it is for our grandchildren and theirs to experience and enjoy."

First introduced in 2009, the bill is the product of years of conversation and collaboration among northern New Mexico communities and stakeholders. "Passage of this legislation will be a much deserved tribute to the local collaborative process and a natural legacy for all New Mexicans," said Mathews.

The legislation will also designate as a conservation area parts of the Rio Grande Gorge, which stretches up to 150 feet across the Rio Grande River some 200 feet below. Herds of pronghorn and elk forage the grass and sagebrush mesas on its wild western plateau. The area is also one of the great bird migration routes in world, as the gorge walls offer nesting places to falcons, eagles and hawks.
# # #

The Pew Environment Group is the conservation arm of The Pew Charitable Trusts, a non-governmental organization that works globally to establish pragmatic, science-based policies that protect our oceans, preserve our wildlands and promote clean energy. www.PewEnvironment.org